Professional IP video surveillance and video management
Video Management & Recording - Recorder
NVR and DVR
Smart video management for beginners and experts
For professional IP video surveillance, good video management is indispensable. After all, the filmed content should also be recorded and stored for the purpose of preserving evidence. A good way to do this is via the network video recorder (NVR). The NVR stores the images in the course of your IP video surveillance and makes them easily retrievable at the same time. This way, you are well protected in case of an incident.
Professionelle IP-Videoüberwachung
Unser Sortiment umfasst eine Vielzahl von unterschiedlichen NVR für alle erdenklichen Einsatzgebiete.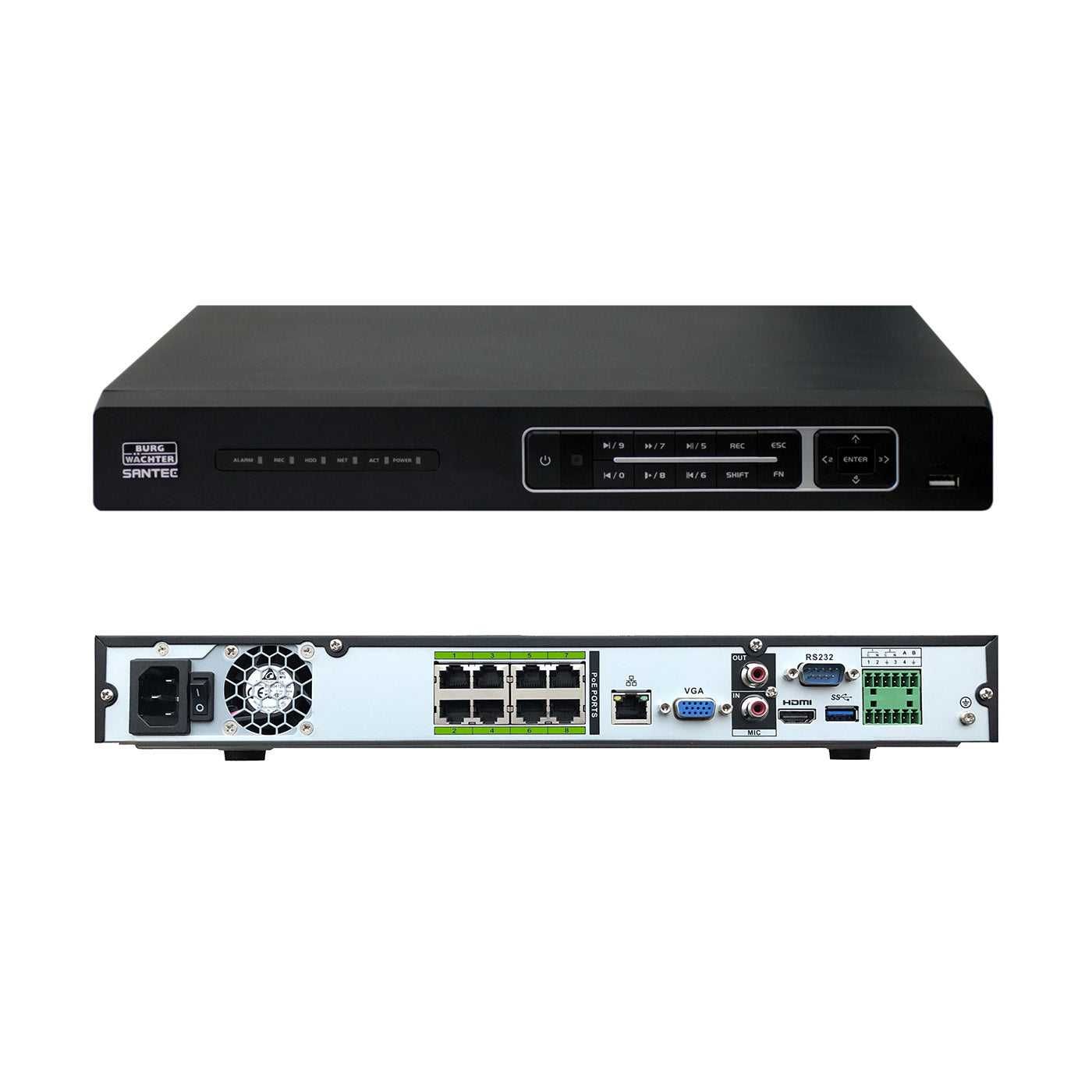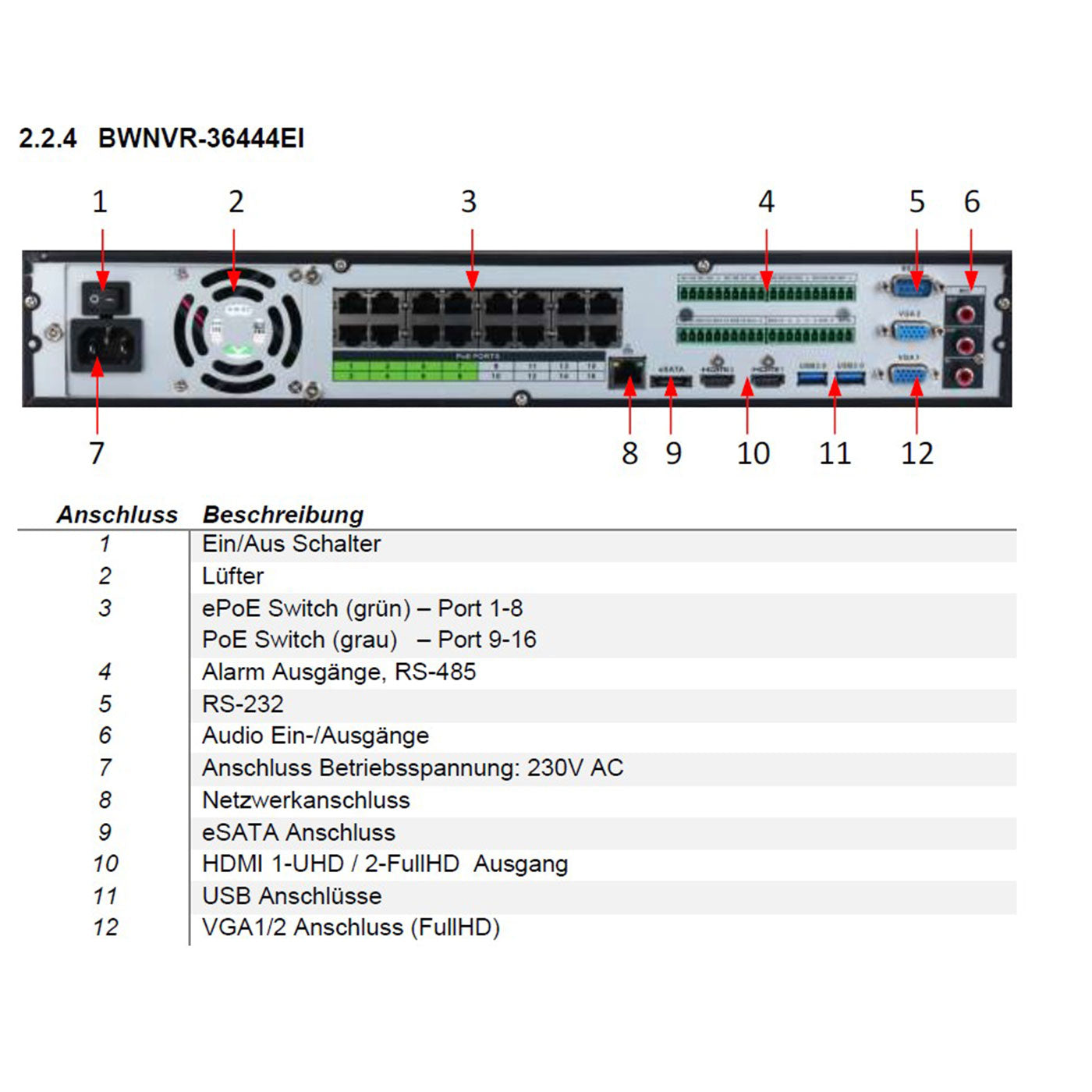 SNVR Network Recorder
Up to 12 MP (4K/UHD) support
Advanced technologies for your security:
See more, recognise more, evaluate more

There are always new trends and technologies in video surveillance that are "in fashion" at the moment. From this multitude, we always conscientiously select those that sensibly complement our cameras and recorders and thus offer you real added value.
Feature
- Support IP cameras up to 12 MP resolution (4K/UHD)
- H.265, H.264, MJPEG support
- HDMI and VGA monitor outputs
- UHD image outputIntegrated PoE switch
- Camera and recorder updates can be done via USB connection
- P2P (BURGcam App) as well as BURG-WÄCHTER Cloud capable
- Plug and Play: Automatic integration of new BURG-GUARD cameras (when connected to a PoE port)
- RS-232 and RS-485 interfaces for POS or PTZ control
- Subsequent video analysis of recordings possible
- 4-eyes principle
- License plate or face list insertion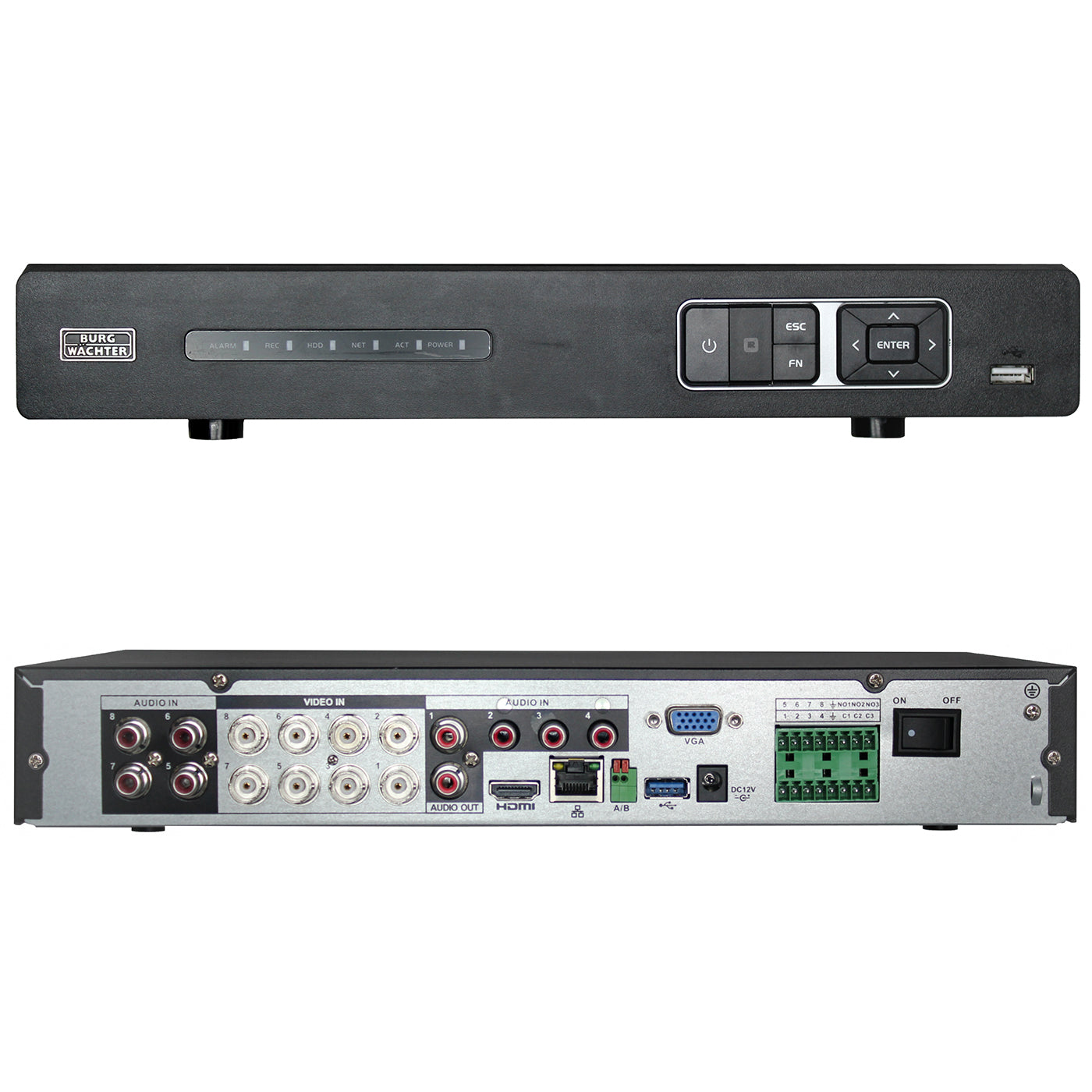 SPVR Universal Recorder
For IP / CVI / AHD / TVI / analogue mixing systems
The SPVR series is ideal for recording and displaying IP, CVI, AHD, TVI and analogue signals. It can be used to combine mixed networks with old analogue systems, modern AHD/CVI/TVI systems and network cameras. Thanks to its versatility and affordable price, the system is a must-have for anyone who operates mixing systems and modernises old systems. SPVR recorders are available with 4-16x BNC channels.
Feature
- Supports cameras with up to 8 MP resolution
- H.265(+), H.264(+), MJPEG
- HDMI and VGA monitor outputs
- UHD HDMI image output (3840 x 2160)
- Updates via USB or Internet
- 4-eye principle
- ONVIF support for third-party devices
- App (P2P) and BURGcloud capable
- Integrated BURGai video analysis for SFC cameras on selected models.
NUUO
NUUO is an independent manufacturer of video surveillance products designed to meet the needs of our global customers through award-winning industry firsts, solution-based system approaches and a
trustworthy staff of professionals.
NUUO NVR products are found in a variety of vertical market segments including, but not limited to, healthcare, education, government and retail. Simple but value-rich designs are developed with a focus on quality and durability, differentiating our products from those of our competitors. The award-winning feature sets of these NVRs are in high demand to provide solutions to an increasingly complicated security environment.

NUUO systems are channel licence bound.
The smart network recorder
NUUO NVRsolo
NUUO NVRsolo - the smart stand-alone from NUUO makes IP video surveillance a breeze. The new NUUO NVRsolo is a Linux-based stand-alone network recorder, which has an HDMI or VGA video output. On a connected monitor, the system is displayed in full HD resolution (1080p) and with 25 frames / second. So you can use the NVR locally but also use it via remote access. The NUUO NVRsolo is also ideally suited for demanding users of surveillance technologies
The scalable
NUUO Crystal
NUUO Crystal systems are ideal for large systems that rely on scalable solutions. The Crystal is available in several performance classes and can optionally be used in fail-over operation. Recordings of up to 256 channels per server are possible with up to 10 Gigabit (optional) bandwidth. The largest model supports 24 SATA III hard disks and can be further expanded via two external SATA ports. RAID 0,1,5,6,10 is supported and the system can be expanded accordingly in a network of several servers.
Please contact us!
Do you have questions about recording and network recorders? Contact us - we will work out the perfect solution with you.