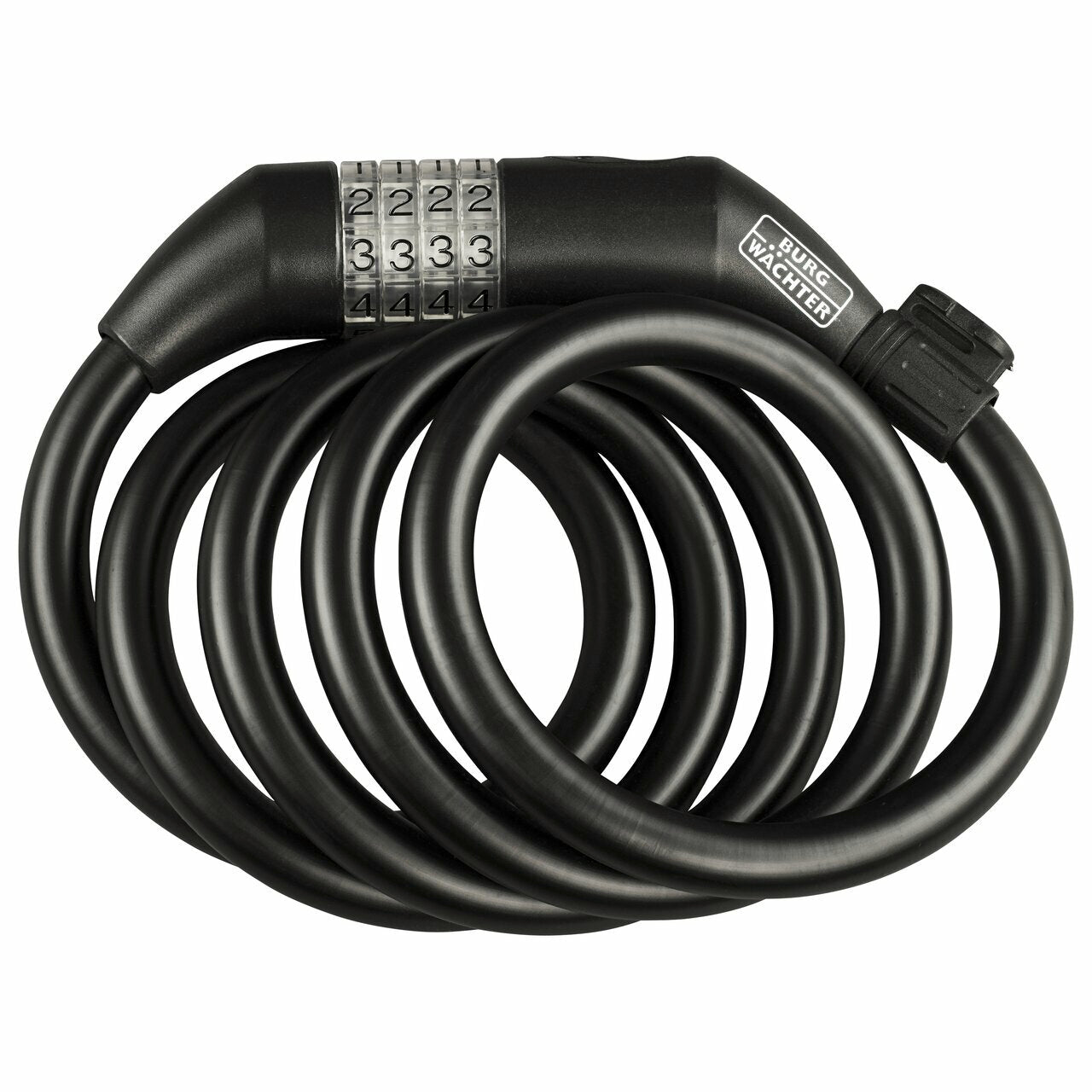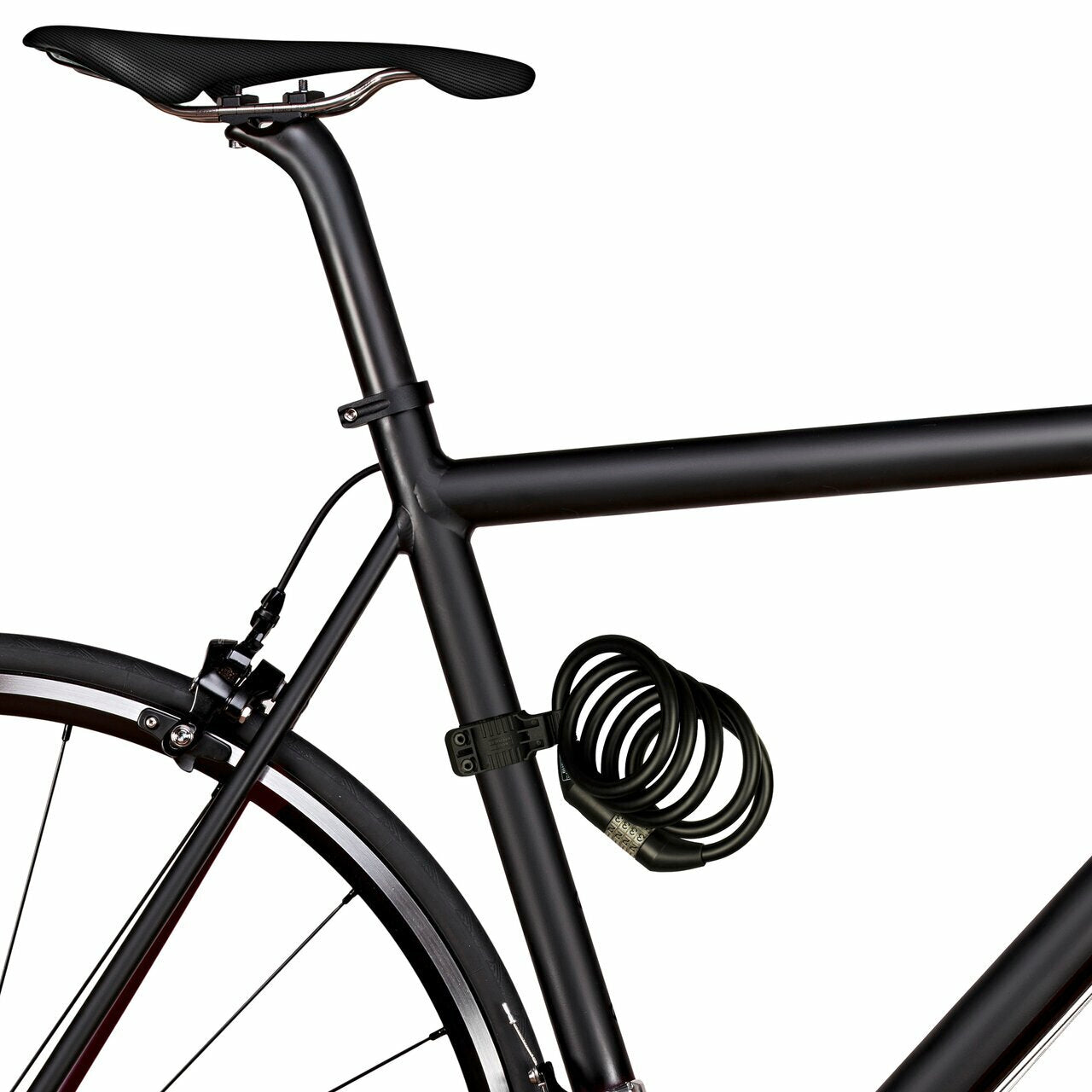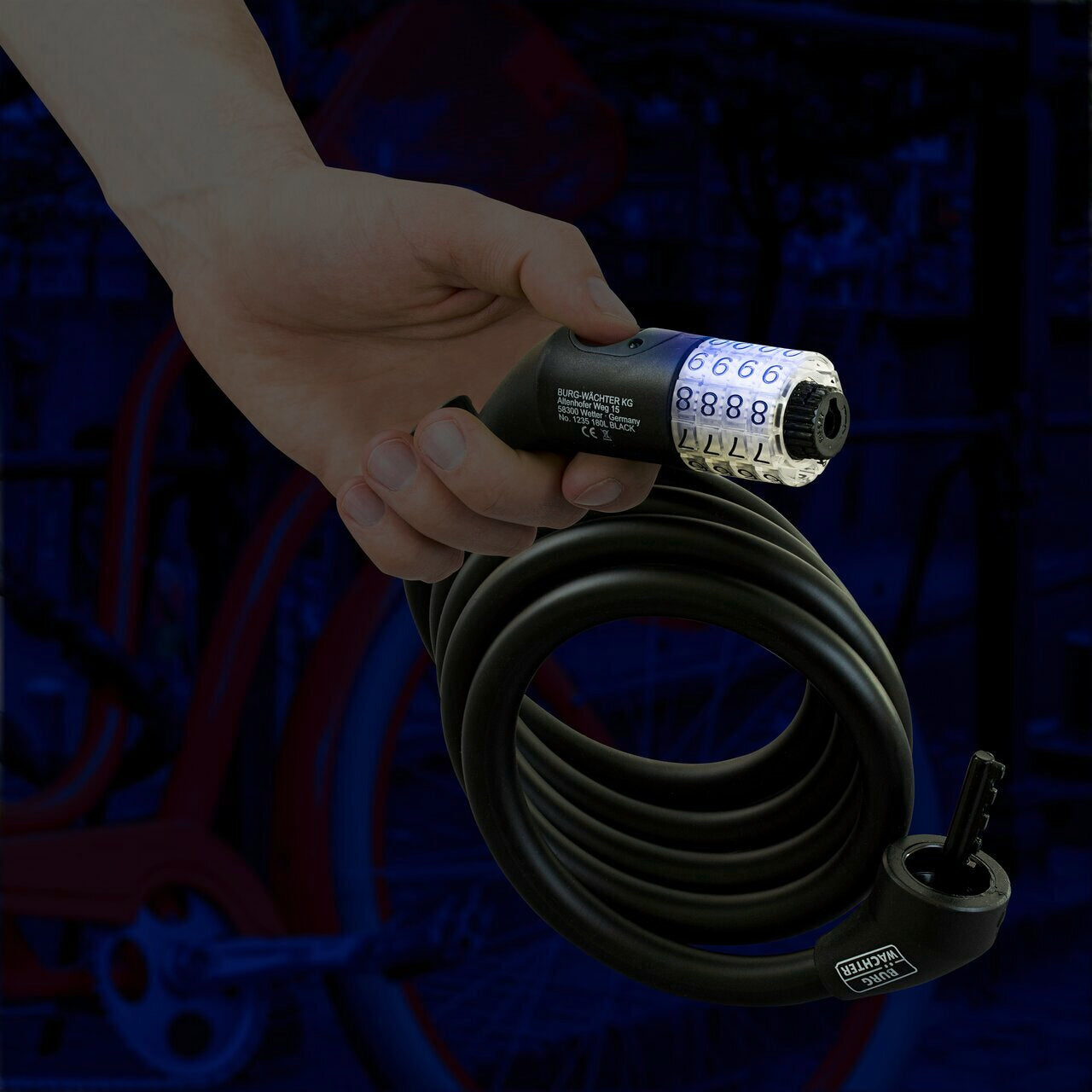 Seile-,Ketten-,Fahrradschlösser-Zahlenschlösser | 1235 180 L
1235 180 L black
Convenient bicycle lock - 1.80 metre long spiral lock.
The spiral lock 1235 180 L combines increased security with maximum comfort. After all, the bicycle lock offers many advantages. Not only does the cyclist attach it to the bicycle frame with the practical holder (included), but the user also does not need a key. The spiral lock can be opened and closed with a four-digit combination. This makes losing the key a thing of the past. Of course, the cyclist can adjust the code at any time and choose his favourite four-digit combination.
Easy to open and close in the dark thanks to light
But how do you operate the number rollers in the dark? It's easy: at the touch of a button! An integrated light illuminates the number wheels. The cyclist can easily open the wheel even in pitch darkness. Simply press the "light switch" on the spiral lock and the number rollers are illuminated. After about ten seconds, the light goes out automatically. So you can easily set the correct code with two hands during this time. Incidentally, the battery lasts for many years and thus provides light for a long time. The lock body is available in green and black.
15 millimetre thick steel cable secures the spiral lock 1235 180 L
If brazen bicycle thieves want to strike, they will find a solid, 15 millimetre thick steel cable. It takes time and heavy equipment to cut it. Furthermore, a sturdy rubber casing secures the bicycle lock 1235 180 L.
Also secure garden furniture and craftsmen's supplies
Another big plus is the length of 1.80 metres. With such a long spiral lock, a bicycle with front and rear wheel as well as frame can be locked in a secure place. Of course, the model is not only suitable for bicycles. Other possible uses include securing craftsmen's supplies. Securing garden furniture is also no problem. Table and chairs are put together, then the spiral lock is passed through the garden furniture and the combination lock is closed. The garden furniture is securely chained. The spiral lock is even suitable for securing surfing and sailing equipment.
• strong coil cable lock with
illuminated combination
• resettable combination
• easy fit mounting bracket
Number of batteries
2
Location (indoor/outdoor)
n.a.
Product outer depth
1.800,00 mm
Verpackungseinheit
5.00 Stk
Weight
0,766 kg
Rope, chain length
180,00 mm
Rope, chain diameter
15,00 mm
Battery type
CR 927
Main material
Steel
Incl. fixing material
yes
Packaging width mm
210,00 mm
Packaging depth mm
63,40 mm
Type of packaging (carton, blister)
Cardboard sleeve
Type of fixing material
; Innensechskantschlüssel 4mm + Klemmhalter;
Matching key blank
OUTDATED
Properties | Recommendations for use