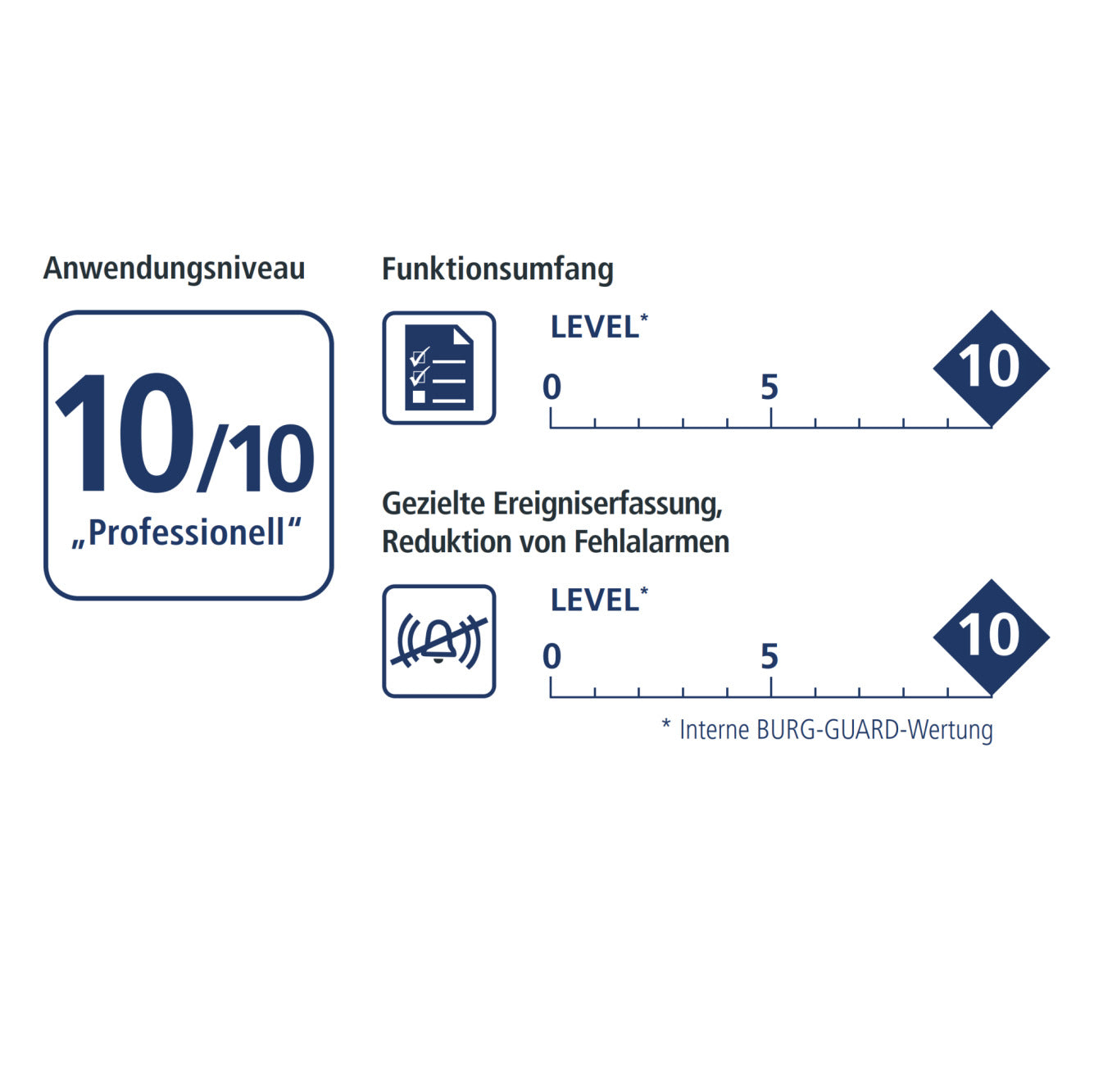 Network Cameras-IP Bullet Cameras | BWNC-1242DBIAe
BWNC-1242DBIAe
Die Kameras der BWNC-1242DxIAe Serie sind hochleistungsfähige AI Nertwerk Kameras der neusten Generation mit 12MP Auflösung. Erdacht für High-Performance Anwendungen im Innen- und Außenbereich. BURGaiva Video Analysen ermöglichen dabei gezielte Ereignisdetektionen durch das Klassifizieren von Objekten und erfassen der umfangreichen objekttypischen Merkmale.
Deep Learning Objektklassifikation
schnell und effizient Unterscheidung von Personen, Kraftfahrzeugen und Zweirädern in Kombination mit BURGaiva ermöglicht es enge Passagen für Fahrzeuge zu sperren, um Fußgängern einen sicheren Durchgang zu gewährleisten.
Im Fokus steht Ihr Wohlbefinden
Technik und Design passen zu dem modernen Stil. Automatisierte KFZ Kennzeichenerkennung ermöglicht eine unbeschwerte Zufahrt zu Ihrem Grund. Unnötige Fehlalarme lassen Sie mit BURGaiva Algorithmen nicht stetig aufschrecken.
Smart wie unsere Kunden - Das sind Sie
schon im Auslieferungszustand sind unsere Systeme mit allen Lizenzen ausgestattet. Dies vereinfacht die Vorbereitungen vor der Installation, minimiert die Kosten und bietet maximale Vielfalt und maximalen Komfort. DIAMANT Kameras können mehr – viel mehr – deshalb werden die Systeme auch beim Einsatz der Personenzählung in Einkaufszentren oder bei der Optimierung von Warteschlagen in Baumärkten, Lebensmittelmärkten und Möbelhäusern eingesetzt.
Details im Fokus
Die akkurate Erfassung von Details und deren Verarbeitung als Metadaten, erleichtert die Suche und ermöglicht eine gezielte Auswertung von Ereignissen. Suchen Sie noch den blauen Van von Zapfsäule 3? Mit BURGaiva finden Sie blitzschnell was Sie suchen.
Robuste Hardware ermöglicht Mehrwerte
Dank integriertem ePoE Modul können Netzwerkdaten bis zu 800m über Netzwerk- oder Koaxialkabel übertragen werden. Mittels SmartAI H.265 (+) Codec, wird die benötigte Bandbreite für die Ultra hochauflösenden Bilder minimiert.
Automatisierung und Optimierung
BWNC-1242D Komponenten sind optimale Zukunftsgestalter. Für Smarte Parklösungen, Shop Optimierungen und Überwachungen mittels Systemlösungen von BURG-GUARD ist die DIAMANT Serie die richtige Wahl.
Höchstauflösende 12 MP DIAMANT Netzwerk Kamera
LowLight 1/1.7" Sensor
lichtstarkes motorisiertes 4x Zoom-Objektiv für bequeme Einrichtung und flexiblen Einsatz
2,8-12mm Brennweite mit Sichtfeld (H): 103°(W)-44°(T)
integrierter IR Scheinwerfer
Audio Ein- und Ausgänge
Alarm Ein- und Ausgänge
Gigabit Netzwerkanschluss
H.265/H.264(+) Codec, SVC, Smart Video, MJPG (Substream)
dynamischer Kontrast über WDR, HLC, BLC konfigurierbar
Tag/Nacht Profile individuell konfigurierbar
Entnebelung/Defog Funktion
BURGaiva Videoanalyse Funktionen: virt. Stolperdraht, Bereich betreten/verlassen, Objekt zurückgelassen/entfernt, Parkverbotszone, Gruppenansammlung, Herumlungern
Unterstützt IVA über ONVIF Motion
AI Objektklassifikation: Personen, Fahrzeuge, Zweiräder
Buisness Intelligence: Heatmap, Warteschlangenanalyse, Personenzählung gekommen/gegangen, Personen im Bereich
AI KFZ Kennzeichenerkennung
Metadaten Analyse für Objekte (Typ, Farbe, ..)
Identifikation: Gesichtserkennung
Unterstützung beim Datenschutz durch:
Privatzonen, Szenen Änderung Detektion (Verdreh-Erkennung)
Personen Verpixelung, Gesichter Verpixelung, zeitlich begrenzte Zugriffsrechte
Sicherheitsfunktionen:
HTTPS, Login Verschlüsselung, Netzwerk Filter, Semi-Login Blocker,
Video Verschlüsselung, Benutzerrechte Verwaltung, Deaktivierung nicht benötigter Funktionsblöcke, Log, Account Sperrung, Zeitbegrenzte Zugriffe, Firmware Verschlüsselung, Konfigurationsdaten Verschlüsselung, Auto-Logout, 802.1x, Trusted Boot, Trusted Execution, Trusted Update
RTMP Videostream Upload z.B. zur Einbindung in Streaming Dienste oder Webseiten
Betrieb über (e)PoE, =12Vdc, ~24Vac
Witterungsbeständig nach IP67
ONVIF kompatibel
BURGcam PRO kompatibel
BURGvms und BW-IP-CVI VMS kompatibel
BURG-WÄCHTER Cloud kompatibel
Material number
500358
Packaging units
1
Type
Error: No field specified
Max. Image resolution [pixels]
12MP (4000 x 3000)
Edge recording
NAS(NFS), Lokal auf dem PC, Micro SD Karte,FTP
Imaging sensor
progressive scan CMOS
Light sensitivity [lux]
0.001 Lux@F1.8 (B/W,30IRE)
Aperture
Auto/manuell
Video codec
H.264, H.264+, H.265, H.265+, MJPEG(Substream)
Viewing angle vertical
75°–33°
Viewing angle (horizontal)
103°–44°
Shutter
Auto/Manual 1/3 s–1/100,000 s
Aperture control
automaticallymanual
Max. Frame rate
25/30
Bit rates control
VBRCBR
Title overlay
Ja
Zoom (optical / digital)
4x / 16x
Lens type
motorised zoom lens
Lens Focal length
2.7 - 12mm
D-O-R-I max.
208m - 83m - 41m - 20m
D-O-R-I min.
85m - 34m - 17m - 8.5m
I/O switching contacts
3/2
Alarm outputs
3 Eingang: 5mA/5VDC
Alarm inputs
2 Ausgang: 1000mA/30VDC
Audio inputs/outputs
1 / 1
Ethernet port
RJ-45
Ethernet standards
10/100/1000 Base-T
PoE Standard
IEEE802.3at, ePoE
Max. Power consumption (watts)
<19,3 (24Vac) < 15.2 (12Vdc)
ePoE / Long-Range PoE
Ja
Long Range PoE
Ja
Maximum cable length
100m Netzwerk (Daten), max. 400m ePoE
Control interface
RJ-45
Spotlight range [m]
60
LED wavelength
850 nm (IR)
Headlight range
60
Day/night changeover
Yes
Noise reduction
2DNR3DNR
Translation missing: en.technical_info_table.products.verstärkungsregelung
Yes
Private zones
Ja, 4 Zonen
Region of Interest (ROI)
Yes
Backlight compensation
WDRHLCBLCSSA
Change of scene
Yes
Watermark
Yes
Safety functions
HTTPS, SSL, IP/MAC Filter, Video Verschlüsselung, Rechteverwaltung, Funktion deaktivieren
Sabotage alarm
Yes
Alarm management
HTTP, FTP, SMTP, ONVIF
ANR (Automatic Network Reproduction)
Ja (für Aufnahmen)
Translation missing: en.technical_info_table.products.unterstützebrowser
IE: IE9 und neuer, Chrome: Chrome 42 und neuer, Firefox: Firefox 48.0.2 und neuer
Audio detection (IVA)
Yes
Video analysis (IVA)
AI Videoanalyse
Tripwire (IVA)
Yes
Zone monitoring (IVA)
Yes
People counting (IVA)
Yes
Fast movement (runner) (IVA)
Yes
Crowd (IVA)
Yes
Loitering (IVA)
Yes
Object added / left behind (IVA)
Yes
Heatmap (IVA)
Yes
Face recognition (IVA)
Yes
Face recognition (IVA)
No
Queue analysis (timing) (IVA)
Yes
Object classification by AI/KI
Yes
Persons in the area (census) (IVA)
Yes
Face pixelation (IVA)
Yes
Pixelation of persons (IVA)
Yes
License plate recognition (IVA)
Yes
ONVIF Motion
Yes
Camera setting
Webinterface, CGI, App, VMS
CCTV video output
Ja (für Einrichtung)
Communication method
Unicast / Multicast / RTSP / RTMP / HTTP / UDP / TCP
Number of video streams
5
ONVIF
ONVIF Profile S, G
Supported software
BURGvms, BURG-IP-CVI-VMS, NUUO Mainconsole, Diverse VMS
Supported protocols
IPv4; IPv6; HTTP; HTTPS; TCP; UDP; ARP; RTP; RTSP; RTCP; RTMP; SMTP; FTP; SFTP; DHCP; DNS; DDNS; QoS; UPnP; NTP; Multicast; ICMP; IGMP; NFS; SAMBA; PPPoE; 802.1x; SNMP; Bonjour
Supported software
ONVIF (Profile S/Profile G/Profile T); CGI; Milestone; Genetec; P2P;RTM
P2P support
Yes, BURGcloud
smartphone app
BURGcam PRO
Mounting type
Wand / Decke
Protection classes
IP 67
Operating voltage
24VAC , 12VDC, PoE+, ePoE
Operating temperature
-40 bis +65
Heating
Yes
Housing type
Bullet
Manual language
deutsch
SD card slot
Ja, max. 256GB
Packaging units
1
Active image elements
4000 (H) x 3000 (V)
White balance
Auto; Sunny; Night; Outdoor; Manual
Audio codec
G.711a / G.711Mu / AAC / G.726
Adjustment possibility
Dreh-Schwenk-Kippbar am Halter
Max. Number of users
20
Signal/Noise ratio
>56dB
Housing colour
weiß
Plug type
2-Pol Schraubklemme
Dimensions w (width) x h (height) x t (depth)
340.1 mm × 108.5 mm × 92.9 mm
Weight
1,6 kg
Storage temperature
0 bis +60
Relative humidity
bis 95, nicht kondensierend
Lieferumfang
Kamera inkl. abgebildetem Halter und Anschlussbox (Teil der Kamera)
Special features
Hochauflösende Sicherheitskamera mit erweiterter AI Videoanalyse
Note
Eine SD-Karte ist nicht im Lieferumfang enthalten. Die Reichweite der IR- Strahler ist stark abhängig vom Einsatzort und von der Umgebung. Stark absorbierende Flächen, wie z.B. dunkle raue Strukturen (Boden, Rasen, Asphalt) können zu einer deutlichen Verringerung der maximalen Reichweite führen. Für beste Ergebnisse bei der Videoanalyse ist ein zur Objektdetektion passender Installationsort und Blickwinkel auf die Szene, mit ausreichend hohem Kontrast zwischen Objekt und Hintergrund vorzusehen.
Marking
CE