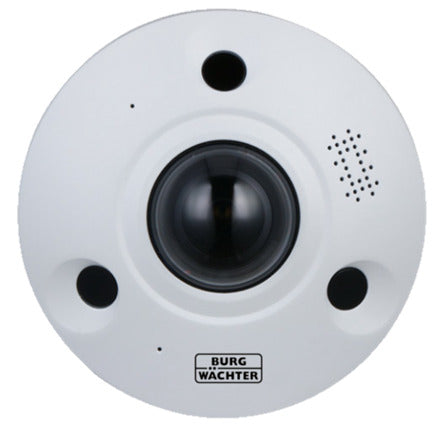 Netzwerkkameras-IP Fisheye Kameras | BWNC-1242DFIF
BWNC-1242DFIF
Fisheye Panorama Kamera
Die BWNC-1242DFIF ist eine 12MP, 360° Fisheye-Panorama-Kamera, die wegen Ihrer robusten Video Analysen sowohl im Innenbereich als auch im Außenbereich für vielfältigste Anwendungen eingesetzt werden kann. Dank des integrierten IR-Strahlers mit bis zu 10m Reichweite stellt auch die Überwachung bei völliger Dunkelheit oder Dämmerung kein Problem dar. Tripple Streaming, virtuelles PTZ Steuerung, Aufnahme auf SD Karte und die umfangreichen AI Videoanalysen runden das Modellprofil ab.
Überwältigend Vielseitig - Ihre Möglichkeiten
Die Kuppel dieses robusten, flachen Modells ist nach IK10 vandalismusgeschützt. Ein Einsatz an niedrigen Decken, wie in Tiefgaragen, Passagen oder Shops ist somit gut realisierbar. Mit dem Infrarotstrahler, dem integrierten Dual-Mikrofon und Lautsprecher können individuelle und automatisierte Durchsagen veranlasst werden. Die Videoanalyse unterscheidet Personen und Fahrzeuge und reduziert mögliche Fehlalarme durch Wind/Regen/Tiere usw.
Anwendungsbeispiel: Beispielsweise kann mit dieser Kamera nachts, durch Detektion einer sich nähernden Person, in einer Passage die Beleuchtung eingeschaltet oder beruhigende Musik abgespielt.
Mit AI Wartezeiten minimieren
Als Fisheye-Kamera unterstützt dieses hochauflösende Modell mit 12 Megapixeln Auflösung (4000x3000 Pixel) multiple AI Videoanalysen. Es können bis zu vier Kassen- Wartebereiche gleichzeitig analysiert werden. Die dadurch möglichen Einsparungen bieten echte Mehrwerte für Kunden und Händler.
Anwendungsbeispiel: Staut es sich an der Kasse, kann die Kamera automatisiert Durchsagen veranlassen, zum Beispiel um Personal herbeizurufen. Durch die Auswertung der Wartezeiten können Personaleinsatzpläne optimiert werden, anhand von Personenzählung die täglichen Besucher gemessen und Werbewirksamkeit nachverfolgt werden.
BWNC-1242DFIF

Hochauflösende 12MP DIAMANT Netzwerk Fisheye Kamera mit IR
1,85mm Festbrennweite ca. 360° Sicht (Halbkugel)
Dewarping und Panorama Ansichten 
IR Scheinwerfer mit bis zu 10m Reichweite
Tag/Nacht Profile individuell konfigurierbar
Smart H.265/H.264(+) Codec, SVC, Smart Video, MJPG (Substream)
Audio Ein- und Ausgänge
Alarm Ein- und Ausgänge
AI Videoanalyse onBoard

Perimeter, Personenzählung, Warteschlangenmanagement, Heatmap

Unterstützung beim Datenschutz durch:

Privatzonen, zeitlich begrenzte Zugriffsrechte

Sicherheitsfunktionen:

HTTPS, Login Verschlüsselung, Netzwerk Filter, Semi-Login Blocker, Video Verschlüsselung, Benutzerrechte Verwaltung, Deaktivierung nicht benötigter Funktionsblöcke, Log, Account Sperrung, Zeitbegrenzte Zugriffe, Firmware Verschlüsselung, Konfigurationsdaten Verschlüsselung, Auto-Logout, 802.1x, Trusted Boot, Trusted Execution, Trusted Update

Betrieb über 12Vdc oder PoE
Witterungsbeständig nach IP67
Schlaggeschützt nach IK10
ONVIF kompatibel

Unterstützt IVA über ONVIF Motion

BURGcam PRO kompatibel
BURGvms und BW-IP-CVI VMS kompatibel
BURG-WÄCHTER Cloud kompatibel
Material number
500367
Packaging units
1
Type
IP Tag/Nacht IR-Fisheye Kamera
Max. Image resolution [pixels]
12MP (4000 x 3000)
Imaging sensor
1/1.7" Progressive Scan CMOS
Light sensitivity [lux]
0,01 (Farbe) / 0,0 (IR ein, 10m)
Aperture
F2.0
Video codec
H.265, H.265+, H.264, H.264+, MJPEG(Substream)
Viewing angle vertical
180°
Viewing angle (horizontal)
~180° | ~360°
Low Light Sensor
Yes
Shutter
1/3 - 1/100.000
IR cut filter
Yes
Aperture control
fix
Max. Frame rate
25 @ 12MP, 25/30 @ 8 MP
Bit rates control
VBRCBR
Title overlay
Ja
Zoom (optical / digital)
1x / 16x
Lens type
Intern
Lens Focal length
1,85
D-O-R-I max.
40m – 16m – 8m – 4m
I/O switching contacts
2 / 2
Alarm outputs
2x Eingang: 5mA/5VDC
Alarm inputs
2x Ausgang: 1A/30VDC
Audio inputs/outputs
1 + Mikrofon / 1
Integrated loudspeaker
Yes
Ethernet port
RJ-45
Ethernet standards
10/100/1000 Base-T
PoE Standard
IEEE802.3at / IEEE802.3af
Max. Power consumption (watts)
max. 13W(DC), 13.9W(PoE)
ePoE / Long-Range PoE
Nein
Long Range PoE
Nein
Maximum cable length
typisch: max. 100m
Control interface
RJ-45
Spotlight range [m]
10
LED wavelength
850 nm (IR)
Headlight range
10
Headlight dimming
Yes
Day/night changeover
Yes
Noise reduction
3DNR2DNR
Translation missing: en.technical_info_table.products.verstärkungsregelung
Yes
Private zones
Ja, 4 Zonen
Region of Interest (ROI)
4 Zonen
Backlight compensation
BLCHLCWDR
Watermark
Yes
Safety functions
HTTPS, SSL, IP/MAC Filter, Video Verschlüsselung, Rechteverwaltung, Funktion deaktivieren
Sabotage alarm
Ja
Alarm management
HTTP, FTP, SMTP
ANR (Automatic Network Reproduction)
Ja (für Aufnahmen)
Translation missing: en.technical_info_table.products.unterstützebrowser
Edge (Internet Explorer 11), Chrome, Firefox, und mehr
Bewegungserkenunng
Yes
Motion detection
Yes
Video analysis (IVA)
Videoanalyse
Tripwire (IVA)
Yes
Zone monitoring (IVA)
Yes
People counting (IVA)
Yes
Heatmap (IVA)
Yes
Queue analysis (timing) (IVA)
Yes
Queue analysis (people counting) (IVA)
Yes
Persons in the area (census) (IVA)
Yes
ONVIF Motion
Yes
Camera setting
Webinterface, CGI, App, VMS
Communication method
Unicast / Multicast / RTSP / RTMP / HTTP / UDP / TCP
Number of video streams
3 (1x Main, 2x Sub)
ONVIF
ONVIF Profile S, T
Supported software
BURGvms, BURG-IP-CVI-VMS, NUUO Mainconsole, Diverse VMS
Supported protocols
HTTP, UDP, UPNP, BONJOUR, DHCP, FTP, SMTP, RTSP
Supported software
ONVIF, PSIA, CGI
P2P support
Yes
smartphone app
BURGcam PRO
Cloud service
Yes
Mounting type
Wand, Decke
Protection classes
IK 10IP 67
Operating voltage
=12V DC, PoE
Operating temperature
-30 bis +60
Housing type
Metall
Manual language
DE, EN
SD card slot
ja, max. 512GB
Packaging units
1
Active image elements
4000 (H) x 3000 (V)
White balance
Auto; Manual and more
Audio codec
PCM; G.711A; G.711Mu; G.726; G.723
Max. Number of users
20
Signal/Noise ratio
> 56 dB
Housing colour
Weiß
Plug type
DC-Buchse
Dimensions diameter [mm]
150 x 60
Weight
0,79 kg
Storage temperature
0 bis +60
Relative humidity
Bis 95, nicht kondensierend
Lieferumfang
Kurzanleitung, Montageplatte
Special features
360°, 180° und Panoramamodi inkl. Dewarping, Lautsprecher und Mikrofon
Note
Eine SD-Karte ist nicht im Lieferumfang enthalten. Die Reichweite der IR- Strahler ist stark abhängig vom Einsatzort und von der Umgebung. Stark absorbierende Flächen, wie z.B. dunkle raue Strukturen (Boden, Rasen, Asphalt) können zu einer deutlichen Verringerung der maximalen Reichweite führen. Für beste Ergebnisse bei der Videoanalyse ist ein zur Objektdetektion passender Installationsort und Blickwinkel auf die Szene, mit ausreichend hohem Kontrast zwischen Objekt und Hintergrund vorzusehen.
Marking
CE