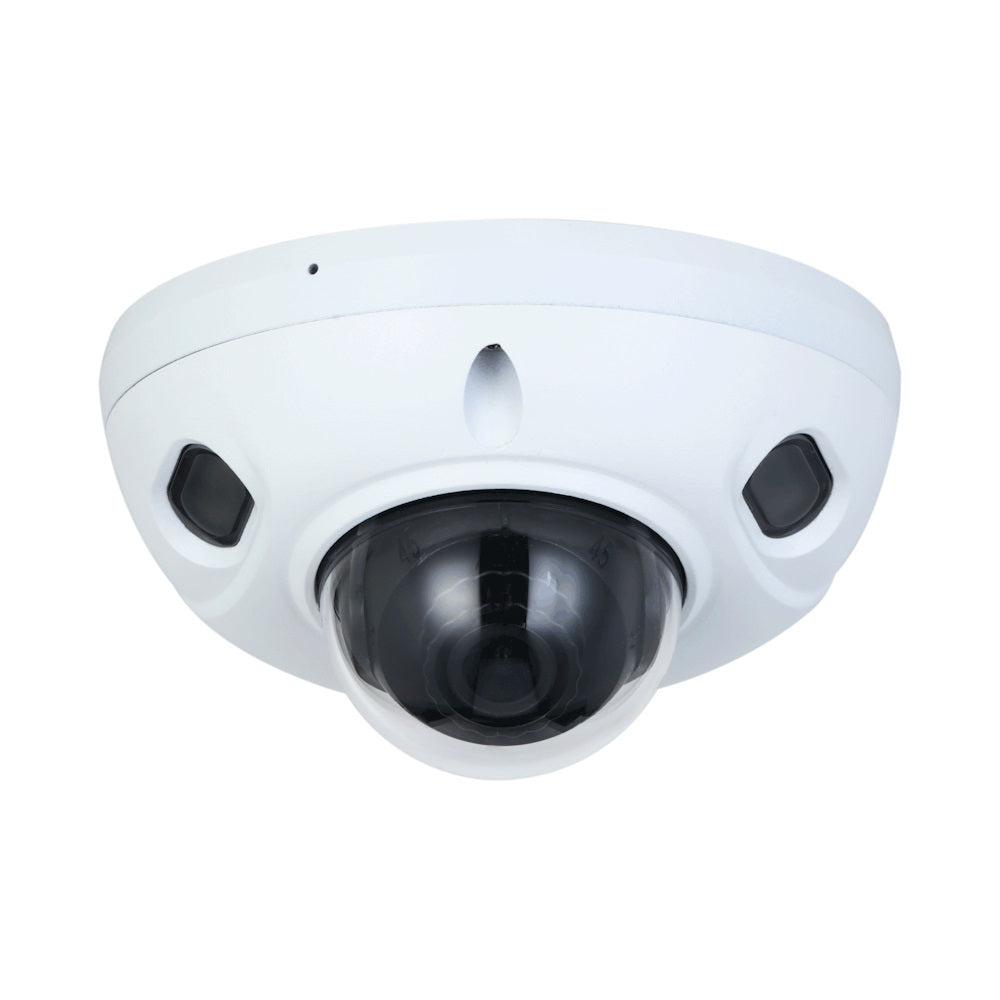 Netzwerkkameras-IP Dome Kameras | BWNC-442FDIF-G2
BWNC-442FDIF-G2
4MP Mini Dome IP Kamera 
Die Kameras der BWNC-442-G2 Serie verfügen über wettergeschützte Gehäuse mit integriertem IR Strahler und sind für den Einsatz im Innen- und Außenbereich geeignet. Dieses Modell verfügt über IR Strahler außerhalb des Kuppel Gehäuses, was eine noch bessere Ausleuchtung der Umgebung und ein besseres Bild bei Nacht ermöglicht.
Smarte AI Funktionen
Neben den AI Objektfiltern unterstützt dieses Modell den AI H.265(+) Codec und kann die benötigte Bandbreite der Videostreams, bei gleicher Bildqualität ,nahezu halbieren. Neu ist auch die Smarte Szenen Anpassung per AI Steuerung (AI SSA). Diese nimmt eine automatische Einstellung der Bildeinstellungen vor, so dass ein komplexes eintellen der einzelnen Funktionen entfallen kann.
Mit den integrierten AI Video Analyse Funktionen kann die Kamera universell für Überwachungsaufgaben, in Bereichen wie Touristik, Retail, Objektüberwachung, Produktionsüberwachung, usw. eingesetzt werden. Die Algorithmen erlauben dabei AI Alarmfilter für Personen und Fahrzeugen zu nutzen und zwischen den Objektklassen zu unterscheiden. Dies ermöglicht es Fehlalarme durch Tiere/Regen/Blätter/Wind/usw. zu minimieren.
Lizenzen onBoard
Damit Sie direkt loslegen können sind alle Lizenzen für die Videoanalyse vorinstalliert, so dass keine zusätzlichen Kosten, auch bei Updates, anfallen. 
Einfache Installation und sicherer Betrieb
Die Kamera ist Staub- und Vandalismusgeschützt nach IK10, so dass sie flexibel eingesetzt werden kann. Der Betrieb dieses Modells kann über =12Vdc und PoE erfolgen, was für eine hohe Flexibilität bei Auswahl des Installationsorts sorgt. Unterstütz wird dies durch die einfache Ausrichtung des Sensors per Kugelkopf, an dem die eingestellte Ausrichtung durch Winkelangaben gekennzeichnet ist.
Für das Modell finden Sie umfangreiches Zubehör im Bereich 'Zubehör IP Kameras'
4 MP IR FAVOR Netzwerk Dome Kamera

2,1mm Brennweite mit horizontalem Sichtfeld von 137°
H.265(+) Codec, H.264, MJPG (Substream)
bis zu 30m Infrarot Scheinwerfer Reichweite
Tag/Nacht Profile individuell konfigurierbar
Gegenlichtkompensation durch 120dB TrueWDR, BLC, HLC und auto. Profilen wie AI SSA und SSA
BURGai Videoanalyse Funktionen
AI Objektfilter für Personen und Fahrzeugen
AI Bewegungserkennung zur Reduktion von Fehlalarmen
Unterstützt IVA über ONVIF Motion
Unterstützung beim Datenschutz durch:

Privatzonen, zeitlich begrenzte Zugriffsrechte
Sicherheitsfunktionen:
HTTPS, Login Verschlüsselung, Netzwerk Filter, Semi-Login Blocker, Video Verschlüsselung, Benutzerrechte Verwaltung, Deaktivierung nicht benötigter Funktionsblöcke, Log, Account Sperrung, Zeitbegrenzte Zugriffe, Firmware Verschlüsselung, Konfigurationsdaten Verschlüsselung, Auto-Logout, 802.1x, Trusted Boot, Trusted Execution, Trusted Update

RTMP Videostream Upload z.B. zur Einbindung in Streaming Dienste oder Webseiten
Betrieb über PoE oder =12Vdc
Witterungsgeschützt nach IP67
Schlaggeschützt nach IK10
ONVIF kompatibel
BURGcam PRO kompatibel
BURGvms und BURGvms kompatibel
Material number
500150
Packaging units
1
Type
IP-Tag/Nacht IR Kuppelkamera
Max. Image resolution [pixels]
4MP (2688x1520)
Edge recording
NAS(NFS), Lokal auf dem PC, Micro SD Karte,FTP
Imaging sensor
1/3" Progressive Scan CMOS
Light sensitivity [lux]
0 Lux, F1.6 (IR an)
Aperture
F2.0
Video codec
(AI) H.264, H.264+, (AI) H.265, H.265+, MJPEG(Substream)
Viewing angle vertical
70°
Viewing angle (horizontal)
137°
Image sensor (real image)
progressive scan CMOS
Low Light Sensor
Yes
Shutter
1/3 - 1/100.000
IR cut filter
Yes
Aperture control
automaticallymanual
Max. Frame rate
25/30 @ 4MP
Bit rates control
CBRVBR
Title overlay
Ja
Image mirroring vertical
Yes
Image mirroring horizontal
Yes
Zoom (optical / digital)
1x / 16x
Lens type
Fixed focal length
Lens Focal length
2,1mm
D-O-R-I max.
57m - 23m - 11m - 6m
Minimum object distance
1m
I/O switching contacts
1 / 1
Alarm outputs
1
Alarm inputs
1
Audio inputs/outputs
1+Micro. /1
Integrated loudspeaker
No
Ethernet port
RJ-45
Ethernet standards
10/100Base-T
PoE Standard
IEEE802.3af
Max. Power consumption (watts)
3,8W (DC, mit aktivem IR); 7,2W (PoE, mit aktivem IR)
ePoE / Long-Range PoE
Nein
Long Range PoE
Nein
Maximum cable length
typisch: max. 100m
Control interface
RJ-45
Spotlight range [m]
30
LED wavelength
850 nm (IR)
Headlight range
30
Headlight dimming
Yes
Day/night changeover
Yes
Noise reduction
2DNR3DNR
Translation missing: en.technical_info_table.products.verstärkungsregelung
Yes
Private zones
Ja, 4 Zonen
Region of Interest (ROI)
4 Zonen
Backlight compensation
120dB TrueWDRBLCHLCSSAAI SSA
Change of scene
Yes
Watermark
Yes
Safety functions
HTTPS, SSL, IP/MAC Filter, Video Verschlüsselung, Rechteverwaltung, Funktion deaktivieren
Sabotage alarm
Ja
Alarm management
HTTP, FTP, SMTP, ONVIF,NAS(NFS)
ANR (Automatic Network Reproduction)
Ja (für Aufnahmen)
Translation missing: en.technical_info_table.products.unterstützebrowser
Edge (Internet Explorer 11), Chrome, Firefox, und mehr
Bewegungserkenunng
Yes
Motion detection
Yes
Video analysis (IVA)
Videoanalyse
Tripwire (IVA)
Yes
Zone monitoring (IVA)
Yes
ONVIF Motion
Yes
Camera setting
Webinterface, CGI, App, VMS
Communication method
Unicast / Multicast / RTSP / RTMP / HTTP / UDP / TCP
Number of video streams
3 (1x Main, 2x Sub)
ONVIF
ONVIF Profile S, G, T
Supported software
BURGvms, BURG-IP-CVI-VMS, NUUO Mainconsole, Diverse VMS
Supported protocols
HTTP,HTTPS,FTP,TCP,UDP, DHCP, SSH,NTP,ONVIF...
Supported software
ONVIF, PSIA, CGI
P2P support
Yes
smartphone app
BURGcam PRO
Cloud service
Yes
Mounting type
Wand-, Decken- und Mastmontage
Protection classes
IP 67IK 10
Operating voltage
=12 VDC (+/-25%), PoE
Operating temperature
-40 bis +60
Housing type
Dome
Manual language
DE
SD card slot
Ja, max. 256GB (optional)
Packaging units
1
Active image elements
2688(H) x 1520(V)
White balance
Auto; Natural; Street light; Outdoor; Manual
Audio codec
G.711a; G.711Mu; PCM; G.726; G.723
Adjustment possibility
Kugelgelenk im Gehäuse
Max. Number of users
20
Signal/Noise ratio
> 55 dB
Housing colour
Weiß
Plug type
DC-Buchse
Dimensions diameter [mm]
111,0 x 64,8
Weight
0,42 kg
Storage temperature
0 bis +60
Relative humidity
Bis 95, nicht kondensierend
Lieferumfang
Bohrlochschablone, Spritwasserschutz für LAN-Kabel, Sechskantschlüssel
Special features
AI H.265, AI IVA, TrueWDR(120dB), AI SSA unterstützt QUSearch
Note
Eine SD-Karte ist nicht im Lieferumfang enthalten. Die Reichweite der IR- Strahler ist stark abhängig vom Einsatzort und von der Umgebung. Stark absorbierende Flächen, wie z.B. dunkle raue Strukturen (Boden, Rasen, Asphalt) können zu einer deutlichen Verringerung der maximalen Reichweite führen.
Marking
CE