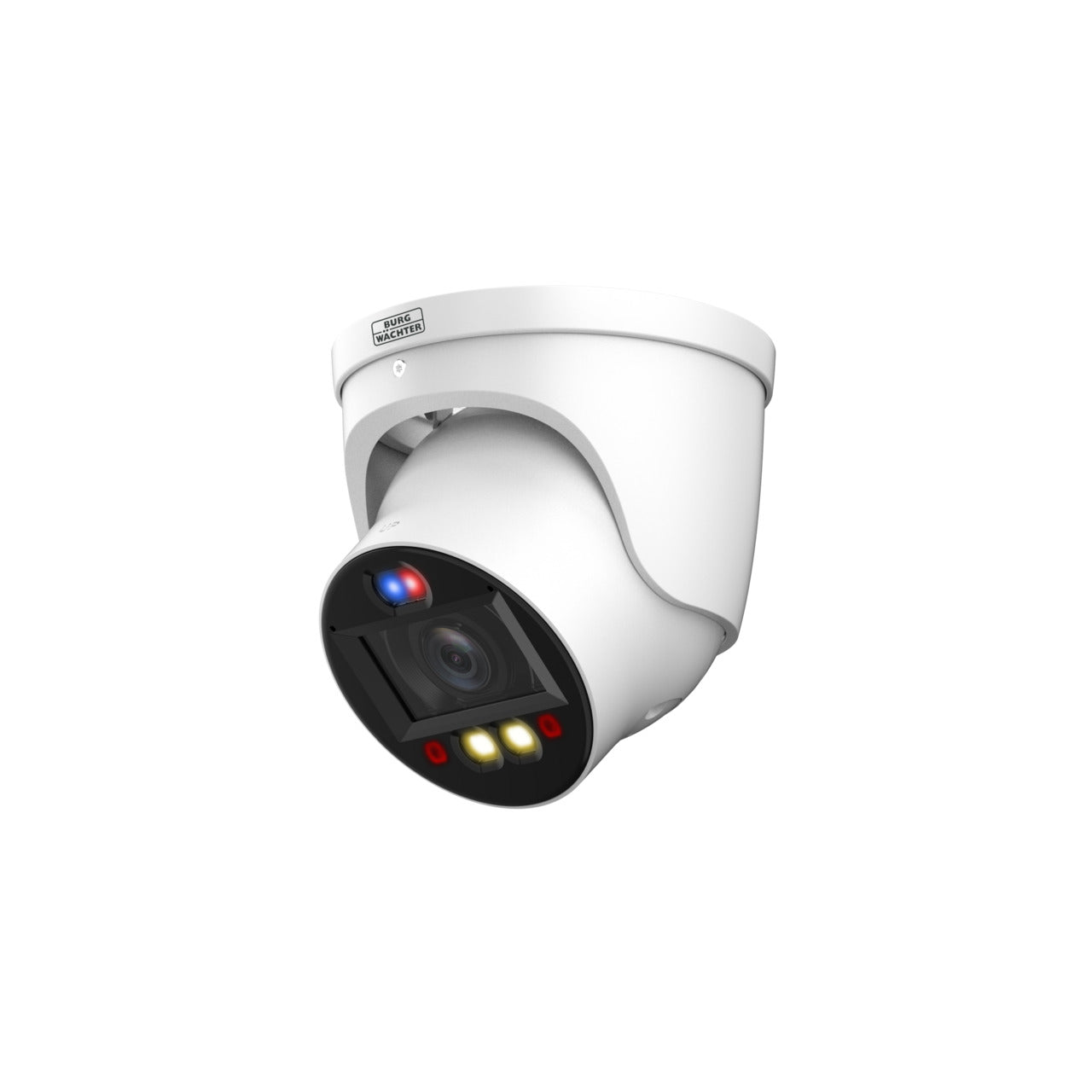 Netzwerkkameras-IP Dome Kameras | BWNC-832RDCA-G2
BWNC-832RDCA-G2
8MP IP RoyalNight++ Balleye Zoom Kamera mit Weißlichtstrahler und IR-Strahler, integriertem Lautsprecher und aktiver optischer und akustischer Abschreckungsfunktion.
Die Kameras der RoyalNight++ Serie verfügen über einen integrierten Weißlicht Scheinwerfer mit welchem sie die Nacht zum Tag werden lassen.
Die BWNC-832RDCA-G2 kann so, auf bis zu 40m Entfernung, noch gut farbige Informationen liefern. Ideal für die Nahfeld Absicherung - mit aktiver Abschreckungsfunktion durch optische und akustische Signale. Die Kamera kann auch zum Gegensprechen mit einer Person vor Ort verwendet werden. Hierfür ist für kleine Objekte die BURGcam PRO App, für große Objekt die BURGvms Software zu empfehlen.
4 MP RoyalNight++ camera
2.8mm focal length with field of view 103° (H)
H.265(+) codec, H.264, MJPG (substream)
integrated white light illuminator for day and night color images
integrated strobe light for active optical deterrence in case of alarm
integrated microphone for intercom
integrated loudspeaker for automatic announcements in case of alarm
backlight compensation by 120dB TrueWDR, BLC and HLC
AI object classification of persons and vehicles
privacy zones, time-limited access rights, twist detection/scene modification
Security features:
HTTPS, login encryption, network filtering, semi-login blocker, video encryption, user rights management, disabling unneeded function blocks, log, account blocking, time-limited access, firmware encryption, configuration data encryption, auto logout, 802.1x, trusted boot, trusted execution, trusted update
BURGai video analysis functions
Operation via PoE or =12V
Weatherproof according to IP67
ONVIF compatible
BURG-WÄCHTER Cloud compatible
Material number
500369
Packaging units
1
Type
IP-Tag/Nacht IR/Weißlicht Balleye Kamera
Max. Image resolution [pixels]
8MP (UHD)
Edge recording
NAS(NFS), Lokal auf dem PC, Micro SD Karte,FTP
Imaging sensor
1/2.8" Progressive Scan CMOS
Light sensitivity [lux]
0 Lux Farbe (Weißlicht an); 0 Lux S/W (IR Strahler an)
Video codec
AI H.264, H.264+, AI H.265, H.265+, MJPEG(Substream)
Viewing angle vertical
56°–19°
Viewing angle (horizontal)
108°-34°
Low Light Sensor
Yes
Shutter
1/3 - 1/100.000
IR cut filter
Yes
Max. Frame rate
25 @8MP
Bit rates control
VBRCBR
Title overlay
Ja
Image mirroring vertical
Yes
Image mirroring horizontal
Yes
Zoom (optical / digital)
5x / 16x
Lens type
motorised zoom lens
Lens Focal length
2.7 mm–13.5 mm
D-O-R-I max.
257,4m - 103,0m - 51,5m - 25,7m
D-O-R-I min.
89,9m - 36,0m - 18,0m - 9,0m
Minimum object distance
1,3m
I/O switching contacts
1/1
Alarm outputs
1x Eingang: 5mA/3-5VDC
Alarm inputs
1x Ausgang: 300mA/12VDC
Audio inputs/outputs
Eingebautes Mikrofon und Lautsprecher und 1/1 IO
Integrated loudspeaker
Yes
Ethernet port
RJ-45
Ethernet standards
10/100Base-T
PoE Standard
IEEE802.3af
Max. Power consumption (watts)
8.5 W (DC12 V) 11.6 W (POE)
ePoE / Long-Range PoE
Nein
Long Range PoE
Nein
Maximum cable length
typisch: max. 100m
Control interface
RJ-45
Spotlight range [m]
40m (Weiß) / 50m (IR)
LED wavelength
weiß / rot / blau / 840nm IR
Headlight range
40m (Weiß) / 50m (IR)
Headlight dimming
Yes
Day/night changeover
Yes
Noise reduction
2DNR3DNR
Translation missing: en.technical_info_table.products.verstärkungsregelung
Yes
Private zones
Ja, 4 Zonen
Region of Interest (ROI)
4 Zonen
Backlight compensation
120dB TrueWDRBLCHLCSSAAI SSA
Change of scene
Yes
Watermark
Yes
Safety functions
HTTPS, SSL, IP/MAC Filter, Video Verschlüsselung, Rechteverwaltung, Funktion deaktivieren
Sabotage alarm
Ja
Alarm management
HTTP, FTP, SMTP
ANR (Automatic Network Reproduction)
Ja (für Aufnahmen)
Translation missing: en.technical_info_table.products.unterstützebrowser
EDGE (Internet Explorer 11 Modus), Chrome, Firefox, und mehr
Bewegungserkenunng
Yes
Motion detection
Yes
Video analysis (IVA)
Videoanalyse
Tripwire (IVA)
Yes
Zone monitoring (IVA)
Yes
People counting (IVA)
No
Heatmap (IVA)
No
ONVIF Motion
Yes
Camera setting
Webinterface, CGI, BURGcam App, BURGvms
Communication method
Unicast / Multicast / RTSP / RTMP / HTTP / UDP / TCP
Number of video streams
3 (1x Main, 2x Sub)
ONVIF
ONVIF Profile S, G, T
Supported software
BURGvms, NUUO Mainconsole, Diverse VMS
Supported protocols
HTTP,HTTPS,FTP,TCP,UDP, DHCP, SSH,NTP,ONVIF...
Supported software
ONVIF, PSIA, CGI
P2P support
Yes
smartphone app
BURGcam PRO
Cloud service
Yes
Mounting type
Wand- und Deckenmontage
Protection classes
IP 67
Operating voltage
=12V DC, PoE
Operating temperature
-30 bis +60
Housing type
Metall
Manual language
DE
SD card slot
Ja, max. 256GB (optional)
Packaging units
1
Active image elements
3840 (H) × 2160 (V)
White balance
Auto; Sunny; Night; Outdoor; Manual
Audio codec
PCM; G.711a; G.711Mu; G.726; G.723
Adjustment possibility
Kugelkopf, dreh-schwenkbar
Max. Number of users
20 (72Mbit)
Signal/Noise ratio
>56 dB
Housing colour
Weiß
Plug type
DC-Buchse
Dimensions diameter [mm]
127.6 mm × Φ122.0 mm
Weight
0,89 kg
Storage temperature
0 bis +60
Relative humidity
Bis 95, nicht kondensierend
Lieferumfang
Kurzanleitung, Schrauben+Dübel
Special features
AI Videoanalye, IR und Weißlichtstrahler, Lautsprecher, Mikrofon, Alarm Warnlicht (rot/blau)
Note
Eine SD-Karte ist nicht im Lieferumfang enthalten. Die Reichweite der Strahler ist stark abhängig vom Einsatzort und von der Umgebung. Stark absorbierende Flächen, wie z.B. dunkle raue Strukturen (Boden, Rasen, Asphalt) können zu einer deutlichen Verringerung der maximalen Reichweite führen.
Marking
CE