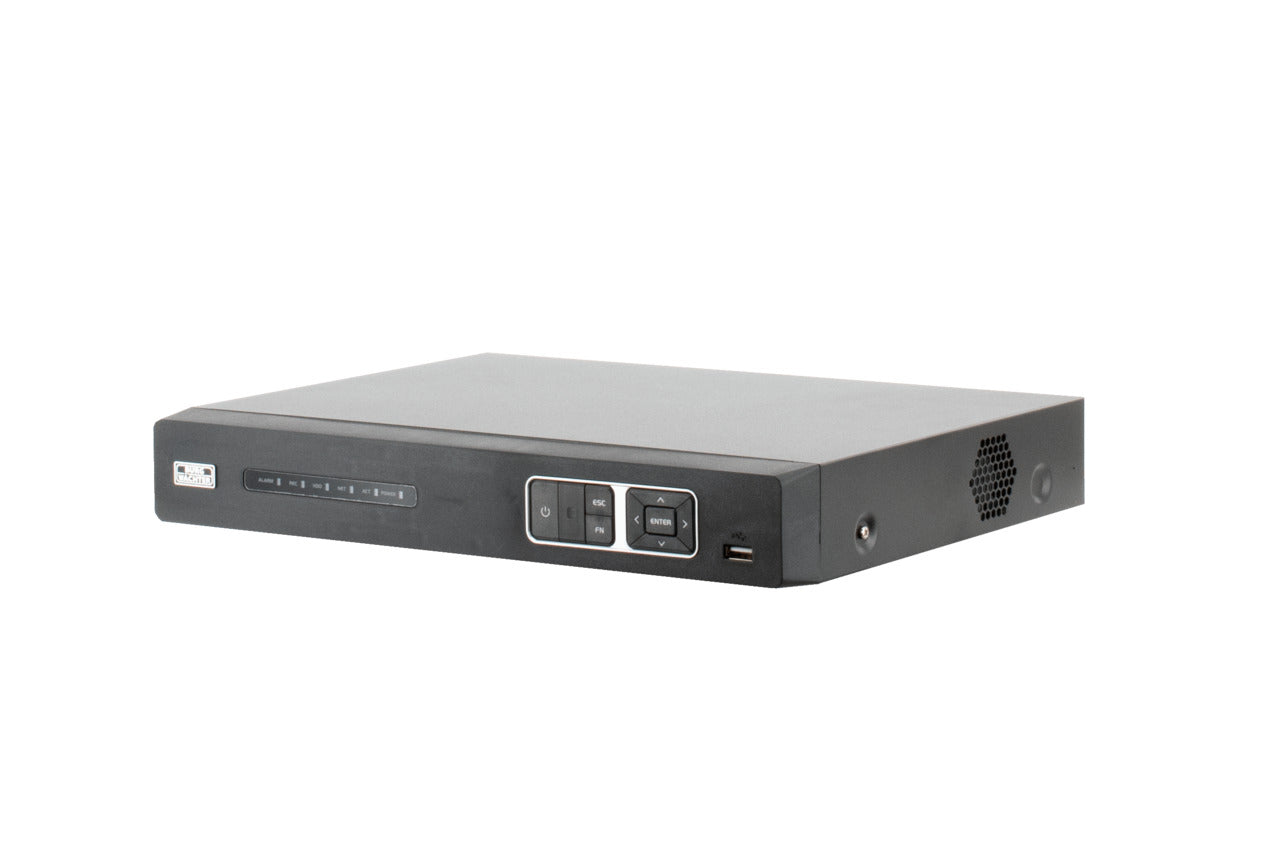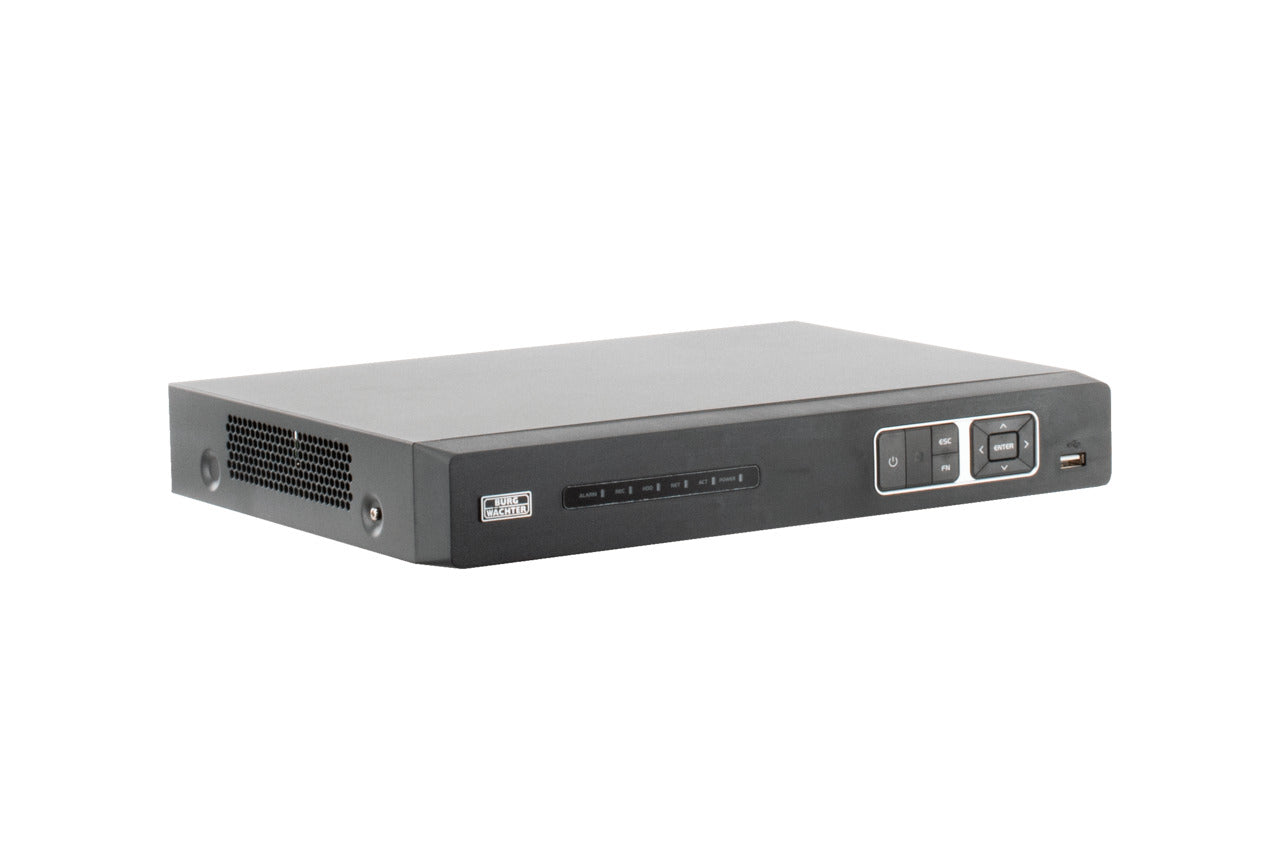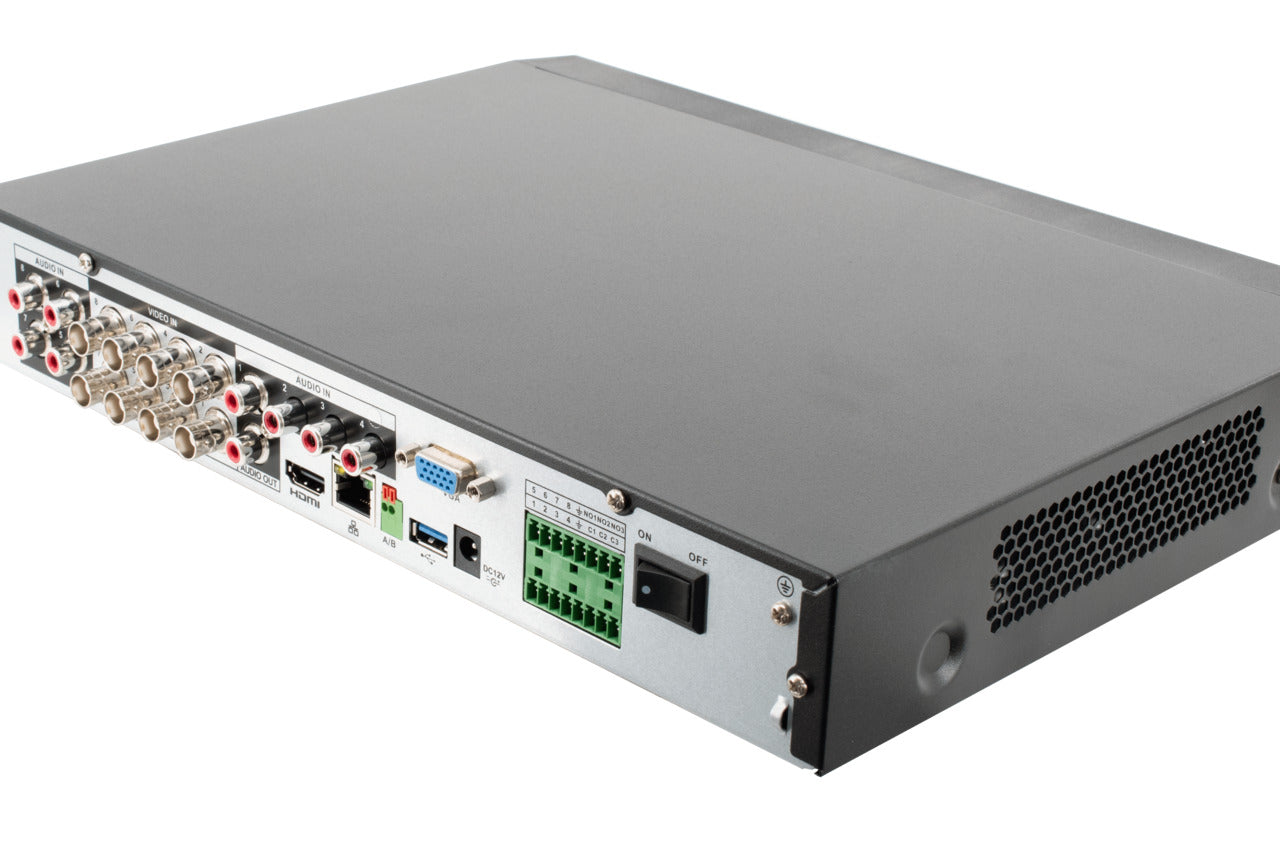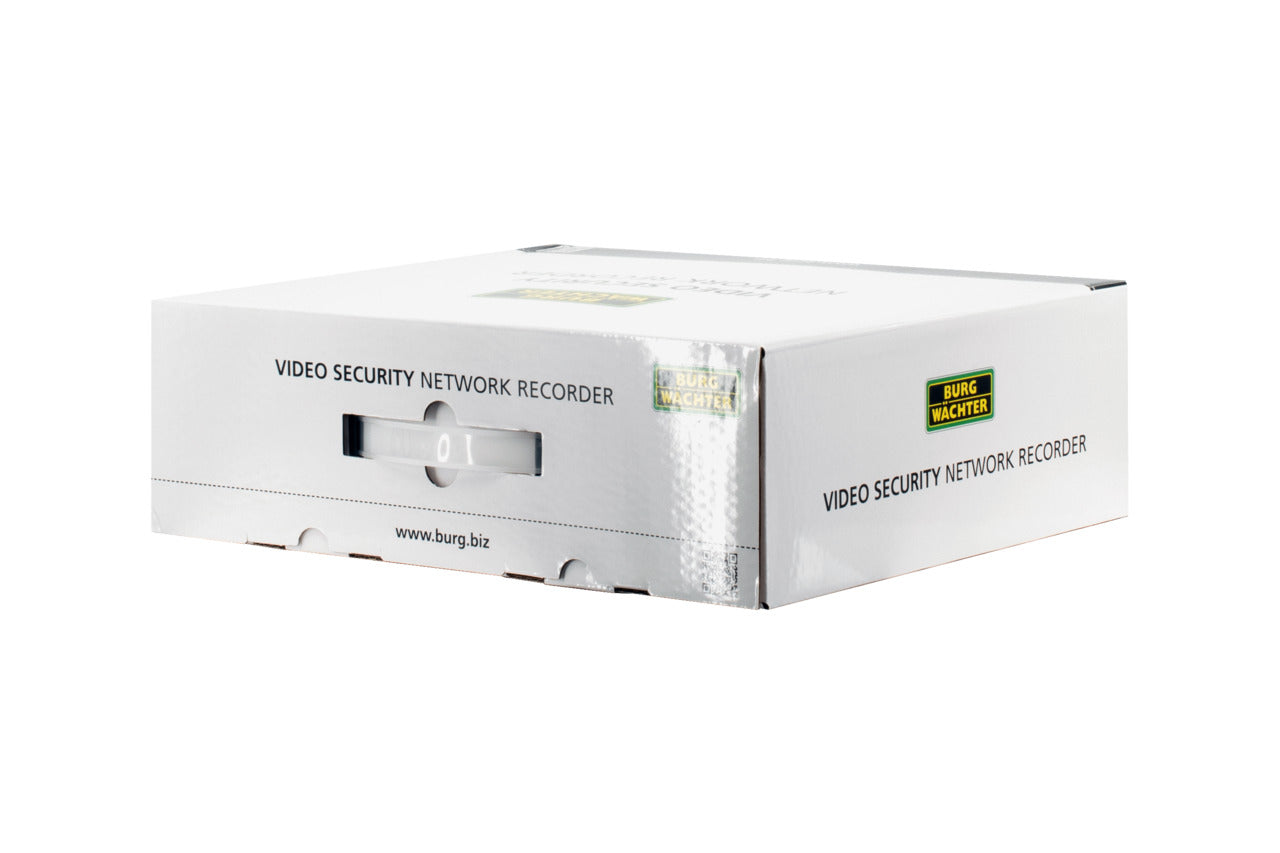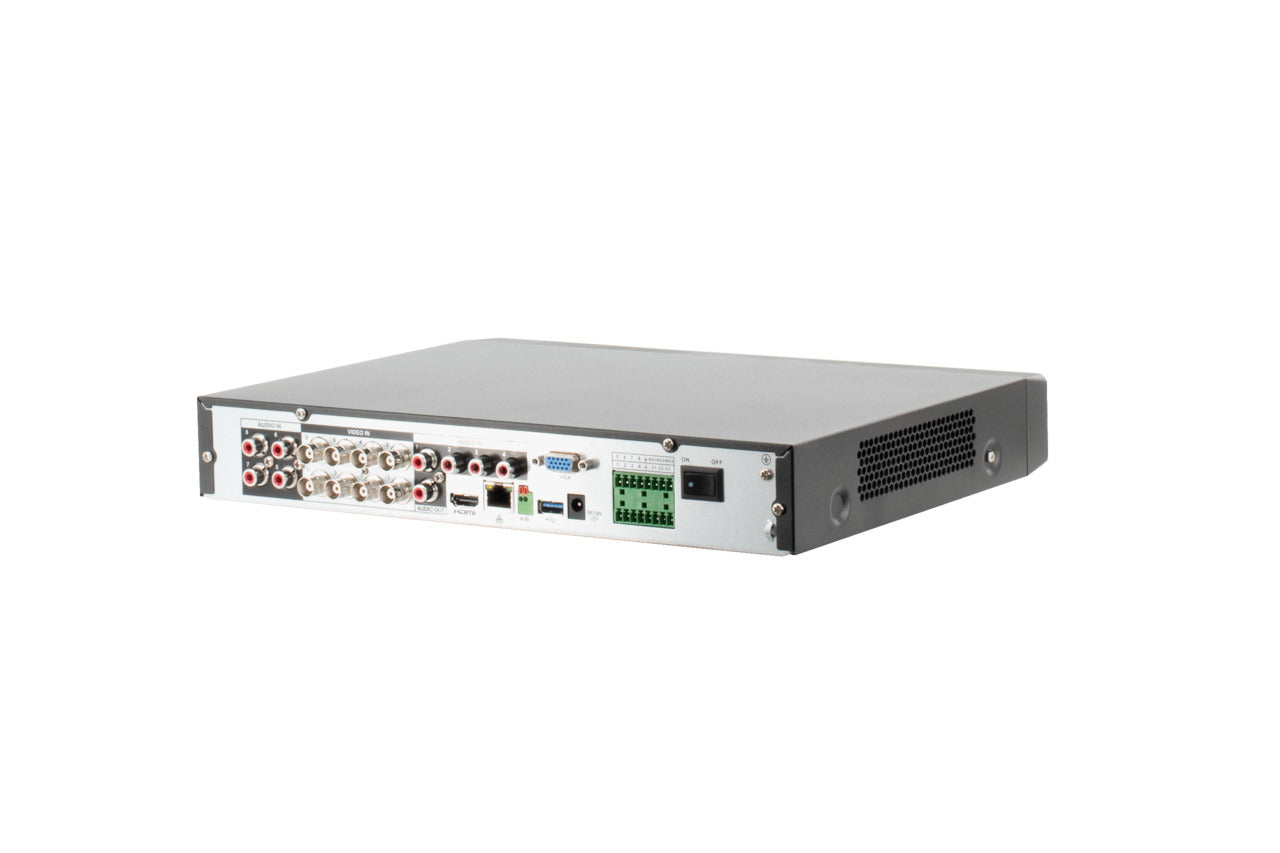 Aufzeichnung-Multinorm-Rekorder | BWPVR-4821i
BWPVR-4821i
Pentabrid Videorekorder
Dieser digitale Pentabrid Videorekorder kann Videosignale von HD-CVI, TVI, AHD und analogen FBAS (analog 960H) Kameras und IP Kameras im Mischbetrieb aufnehmen. Dies jeweils in Echtzeit mit 25 Bildern/Sek. auf jedem Kanal in voller Auflösung bis zu 8MP(CVI,AHD,TVI), 5MP(IP) bzw. 960H für analog.
Multifunktional
Die Rekorder sind netzwerkfähig und verfügen über vielfältige Funktionen wie integrierte Bewegungsdetektion mit AI Objektfilter, intelligente Videoanalyse für BNC Videosignale, automatische Kamerasignalerkennung (HD-CVI, ADH, TVI, FBAS(analog 960H)) und Aufnahme z.B. gesteuert über den Zeitplan.
Zusätzliche Kanäle im IP Betrieb
Dieses Pentabrid Modell unterstützt bis zu 8 IP-Kameras im Misch-Betrieb und insgesamt 16 im reinen IP-Betriebsmodus. Das System ist somit optimal um erschwingliche Videoüberwachungsanlagen aufzubauen oder alte Systeme schrittweise auf den neuen Stand der Technik zu upgraden.
Hinweis: Bei der Verwendung eines Digital Rekorders ist der Einsatz einer USV Anlage empfohlen. Achtung: Der Rekorder wird ohne Festplatte ausgeliefert
H.265+/H.265 dual-stream video compression
Intelligent video analysis
Supports HDCVI/AHD/TVI/CVBS/IP video inputs
In pentabrid mode, 8 IP cameras each.
In IP only mode up to 16 IP channels
Material number
523025
Type
UHD Pentabrid Digital Videorekorder
IP channels expandable
8
IP Video Channels
Ja, auf 16
Max. Recording channels
BNC: 8 - ext. IP: 16
Max. Image resolution [pixels]
1x HDMI (UHD 3840x2160), 1x VGA (FullHD 1920x1080)
Hard disk capacity (max.)
10 TB
Exportschnittstellen
USB, Web, VMS
Video codec
H.265+ / H.265 / H.264+ / H.264 / MJPEG
Title overlay
Ja
Alarm outputs
3
Alarm inputs
16
Audio outputs
1
Audio inputs
8
Number of Ethernet ports
1
Ethernet standards
10/100/1000 Base-T
Number of PoE ports
0
RTSP Stream
Yes
Private zones
Ja, 4 Zonen je Kanal
Watermark
Yes
Safety functions
HTTPS, MAC/IP Filter, QoS, Login Sperre, Rechte Verwaltung, Jam und DoS Erkennung, Blocker - Abschaltung von nicht benötigten Funktionen, Online Update Suche
User management
Ja
Firmware update
Netzwerk / USB / Cloud
Password protection
Ja
Signal lost (alarm event)
Yes
Logbook function
Ja
Translation missing: en.technical_info_table.products.unterstützebrowser
Internet Explorer 11, Chrome, Firefox
Intelligent search algorithms
Ja
Max. IVA Channels
2
Motion Detection
Yes
Zone and trip wire (IVA)
Yes
Zone / trip wire (IVA)
Yes
Spot monitor outputs
HDMI, VGA
Remote control
Yes
Operating devices
Maus, KSC-USB-NET, IR-Fernbedienung
Preset positions
Geräteabhängig (von der Kamera)
PTZ protocols
PELCO-D, PELCO-P, SAMSUNG, SONY uvm
PTZ control
Ja
PTZ Tour
Yes
RS485 interface
Yes
Fan
Yes
Supported protocols
HTTP; HTTPS; TCP/IP; DHCP; IPv4/IPv6; Wi-Fi (mit Erweiterung); 3G/4G (mit Erweiterung); SNMP; UPnP; RTSP; UDP; SMTP; NTP; DHCP; DNS; IP Filter; PPPoE; DDNS; FTP; Alarm Server; P2P; Bonjour; IP Search
Supported software
ONVIF, CGI
Cloud service
Yes
Operating voltage
12 V DC über ext. Netzteil 230 VAC/2A(50/60Hz)
Operating temperature
-10 bis +55
USB interface(s)
Yes
Time synchronization
NTP Protokoll
Noise emission [db]
50 (T_amb=-10-30°C)
Maximum resolution per channel
8MP (3840x2160)
Alarm input controlled recording
Yes
Motion controlled recording
Yes
Manual recording
Yes
Permanent recording
Yes
Schedule recording
Yes
E-mail notification
Yes
Pre-alarm recording
Yes
Post-alarm recording
Yes
Max. Number of incoming connections
128
Housing colour
Schwarz
Installation height
1
Dimensions w (width) x h (height) x t (depth)
325 x 255 x 55
Weight
1,3 Kg (ohne HDD)
Storage temperature
-20 bis +70
Relative humidity
10 - 90, nicht kondensierend
Lieferumfang
LAN-Kabel, Festplatten Montage Set, Maus
Special features
Unterstützt 4K/UHD Kameras, 4-Augen-Prinzip, H.265, AI Codec
Note
Bei der Verwendung eines Digital Rekorders ist der Einsatz einer USV Anlage empfohlen. Dieser Rekorder wird ohne Festplatte ausgeliefert. In der Kategorie "Empfohlenes Zubehör" können Sie eine passende Festplatte wählen. Diese wird dann von unserem Serviceteam kostenfrei für Sie eingebaut.
Marking
CE