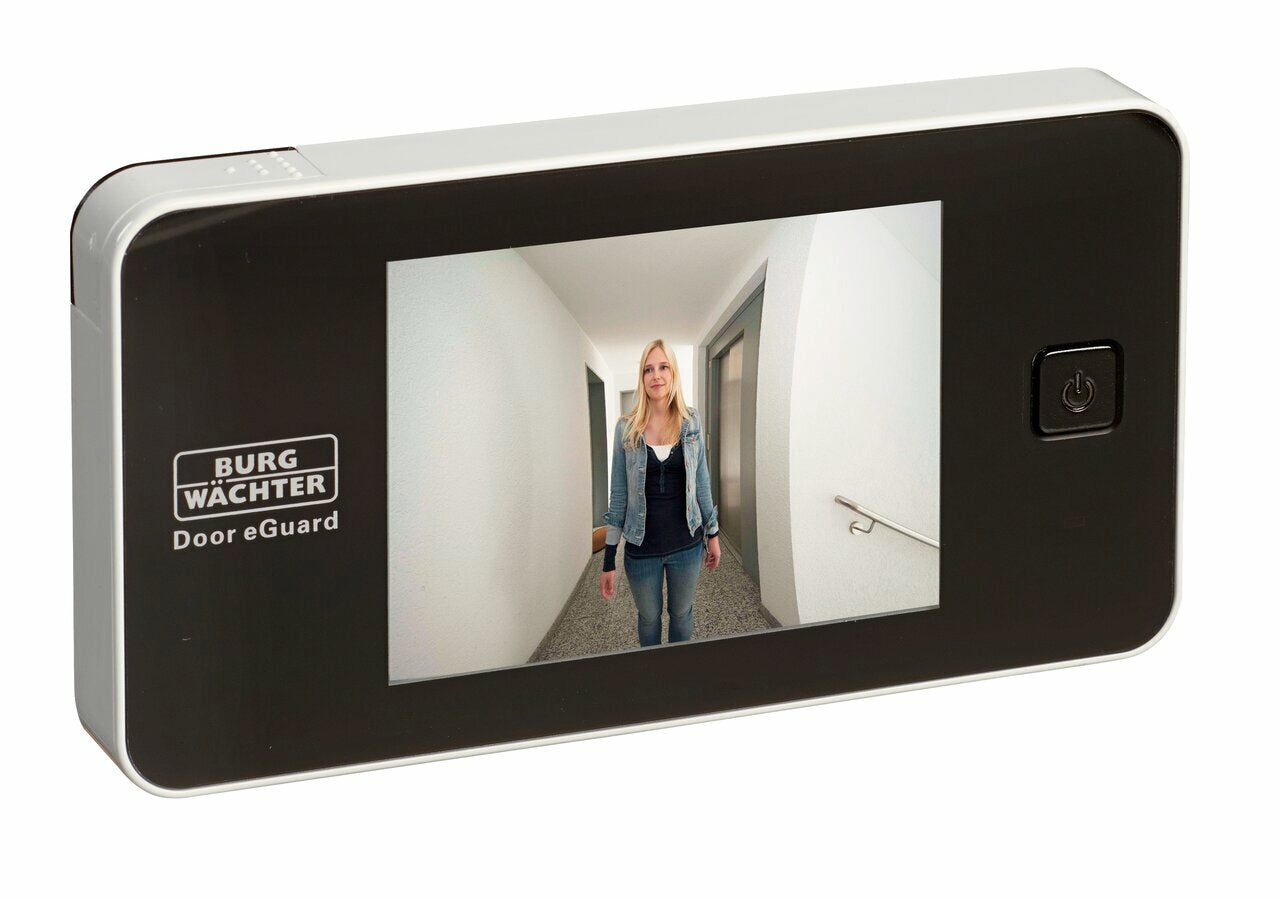 Tür & Fenstersicherheit-elektronische Zugangskontrolle | Door eGuard DG 8100
Door eGuard DG 8100
The digital door viewer Door eGuard DG 8100
The digital door viewer from BURG-WÄCHTER convinces with comfort and security With the Door eGuard 8100, you can always see who is standing in front of your door thanks to the integrated camera. A clear, sharp image is transmitted directly to the display placed on the inside of the door. Even hidden people are easy to recognise thanks to the detection angle of 105°. All you need to do is press a button on the display to see who is standing in front of the door. The door viewer is extremely easy to install on all door thicknesses between 38 and 110 mm.
Electronic door viewer provides good images even in low light
The display of the Door eGuard 8100 door viewer has a compact diagonal of  3.2 inches. The camera built into the spy has 0.3 MP. This results in a resolution of 320 x 240 pixels. This means you can easily recognise people in front of your door even in low light at the front door or in the hallway.
Easy self-assembly
You can easily install the peephole on standard doors with a door thickness of 38 to 110 mm. It should only be installed on the inside. The diameter of the hole, if not already present in your front door, should be at least 14 mm and a maximum of 22 mm. The Door eGuard 8100 is battery-operated. You do not need a power socket. The batteries are included in the scope of delivery. So you can start using your video door viewer straight away.
Easy installation (door thickness 38 - 110 mm)
Clear, sharp image day and night
Image display after just one second
Easy operation with power button
Mounting only in weather-protected area
Batteries included 
Number of batteries
2
Location (indoor/outdoor)
n.a.
Product outer width
125,00 mm
Product outer height
68,00 mm
Product outer depth
15,00 mm
Verpackungseinheit
1.00 Stk
Weight
0,139 kg
Battery type
Micro LR 03 AAA
Main material
Plastic
Incl. fixing material
yes
Infrared night vision
no
Lan operation
no
motorised pan-tilt-zoom
no
Viewing angle
105°
Motion detection
Nein
Audio transmission
Nein
WLAN features
Nein
Packaging width mm
255,00 mm
Packaging depth mm
70,00 mm
Type of packaging (carton, blister)
colour carton
Type of fixing material
Klebepads
Matching key blank
OUTDATED