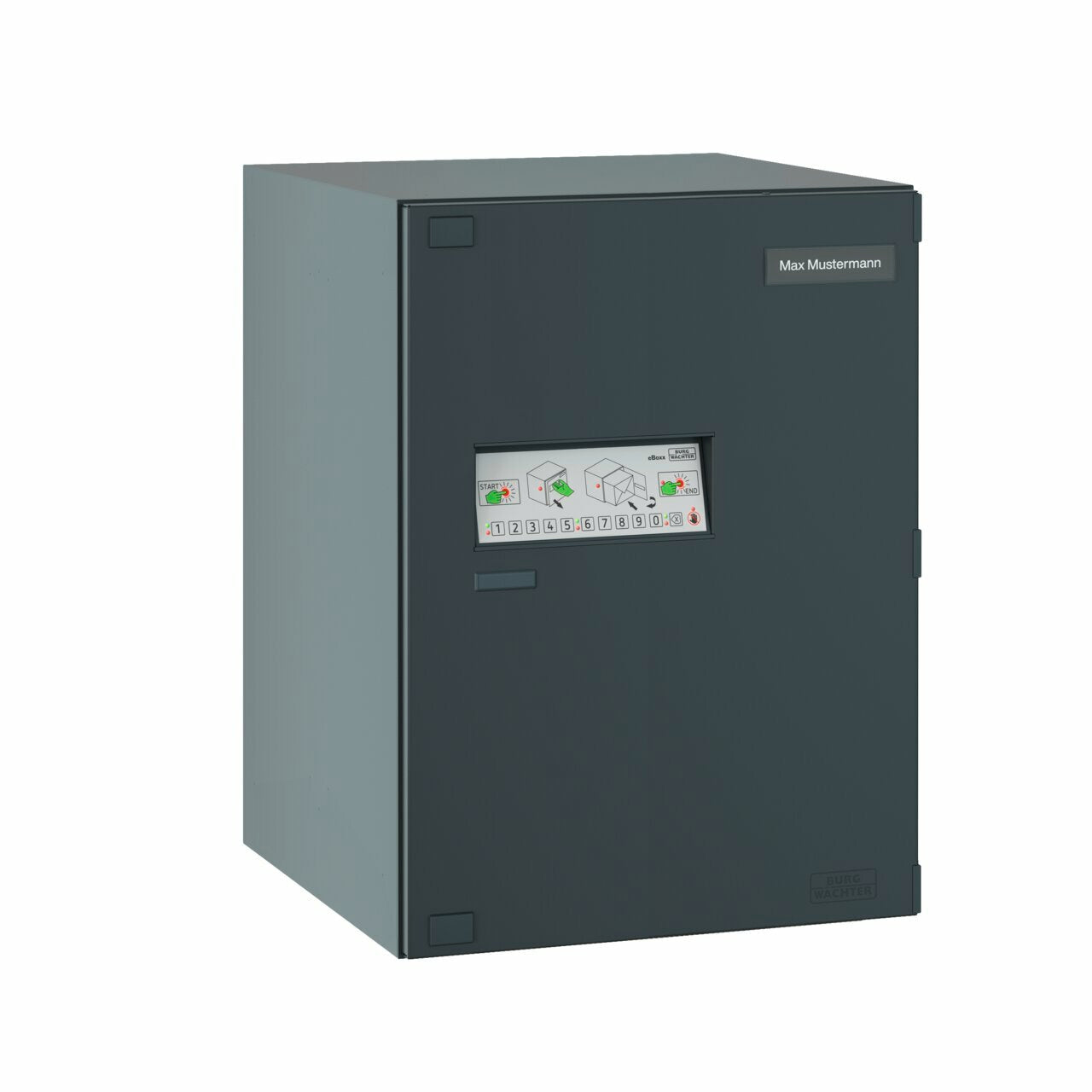 Briefkästen-Paketempfangsboxen | eBoxx GV 645 smart
eBoxx GV 645 W
Extra volume: The eBoxx EASY+ GV 645 parcel box
Online shopping could be so easy and convenient. If it weren't for the hassle of missed deliveries.
The parcel box eBoxx EASY+ from BURG-WÄCHTER "Made in Germany" is the solution
. So ringing your neighbour's doorbell or standing in line at the parcel shop are finally a thing of the past.
For all parcel services and other suppliers
Because from now on, your Paketbox accepts one or more deliveries from parcel service providers. The baker next door, the organic farmer or the drinks supplier can also place their orders simply and securely in the parcel box. By the way:
A power connection is not necessary.
The parcel box works with the batteries supplied. The eBoxx EASY+ GV 645 parcel box offers an
extra large volume of 197 litres
and is available in
white and anthracite
.
How the eBoxx EASY+ works
Parcel delivery companies will love you. Because in future, delivery staff will only need a few moments to deposit a
delivery securely in your eBoxx EASY+ parcel box
. This is how it works: Simply press the START button on the control panel, open the parcel compartment, insert the delivery and close the parcel compartment, press the END button. Your parcel is safely stowed away! Of course, it is also very easy for you to operate: You simply open the parcel box with
your personal user code
and remove one or more parcels at once.
Parcel box eBoxx EASY+ for one or more deliveries
Of course, you can also
receive several parcels from different service providers
on the same day. This is exactly what the clever
"multiple delivery"
feature makes possible. The parcel carrier or personal delivery person enters the code you have assigned to open the parcel box on the control panel and deposits the goods. This is because it is of course
securely locked
after the first delivery and can only be opened with a valid code.
With the Parcel Box, you have full control
You decide who is allowed to open the Parcel Box for multiple deliveries. Because a personal code is required for this. You create these yourself with the
free BURGsmart App 
for iOS and Android. At the touch of a button, you send the codes to your parcel box via Bluetooth. Of course, you can change all codes at any time.
These codes are available:
User code: Your personal code for opening the eBoxx EASY+ and managing delivery person and one-time codes.
Delivery person code: Fixed code with permanent validity for regular suppliers (e.g. parcel services, beverage retailers, online shops). You store the code under delivery authorisations for the respective service provider. You can assign a maximum of 20 delivery codes.
One-time code: Codes with one-time validity, e.g. for relatives, neighbours or the baker with the Sunday rolls. You can assign an unlimited number of one-time codes.
Administrator code: Authorises higher-level functions such as setting up the parcel box, managing the user code and functions such as installing firmware updates. Property managers also need the code to set up Parcel Box installations. However, the administrator code cannot be used to open the Parcel Box.
Mounting Free-standing with stand, on the floor or on the wall
The Parcel Box is
pre-prepared (marking of drilling points) for stand, wall and floor mounting.
If you would like to fasten your parcel box with a stand, these options are available.
For setting in concrete:
Universal eBoxx Ni in stainless steel
Terzo eBoxx in anthracite or white
Fastening to stands:
Terzo cast feet for Terzo stand
• Receive parcels even when you are not at home. Around the clock. Secure. Contactless.
• For all parcel services, deliveries from supermarkets, pharmacies, etc.
• Receive several parcels from different parcel services by individual opening code.
• Parcel box made of galvanised steel
• Available in two colours: white and anthracite
• Made in Germany
• Very high corrosion resistance
• With opening stop
• Supplied with two keys and assembly material
• Pulling force 400 N (security level 4): extremely robust protection against vandalism
• Load capacity: max. 50 kg
• Interior volume: 197 l
• High-strength laser welding
• Sophisticated ventilation system
• Floor stiffeners
• Corrosion-resistant boltwork
• Door stop by means of stop bar
• Emergency opening option from inside (child safety lock)
• Door catch to prevent unintentional opening
• Wall, floor, stand and system mounting possible (Universal 150 eBoxx Ni or Terzo post and crossbar required)
 
Number of batteries
2
Number of potential users
1 admin code + 1 user code
Product outer width
575,00 mm
Product outer height
760,00 mm
Product outer depth
450,00 mm
Verpackungseinheit
1.00 Stk
Weight
19,500 kg
Battery type
Mignon LR06 AA
Main material
Steel
Incl. fixing material
yes
Colour reference
lackiert
Number of delivery codes
20 (Max.)
Number of KeyApps
20 (Max.)
Insertion height mm
0,00 mm
Insertion width mm
0,00 mm
Opening stop
yes
Portrait/landscape format
n.a.
With name window
yes
Burglary protection
0*
EN 13725
no
Translation missing: en.technical_info_table.products.korrosionsbeständigkeit
high corrosion resistance
With newspaper compartment
no
History function
via BURGsmartApp
Emergency lock
yes
Packaging width mm
645,00 mm
Packaging depth mm
520,00 mm
Type of packaging (carton, blister)
colour carton
Type of fixing material
; 4x LiKo Mehrzweckschraube 4,5x70; ; ; ; 4x U-Scheibe 25x5x1,4; ; ; ; 4x Abstandhalter kunststoff 28x16; ; ; ; 4x Dübel Nylon 6x45; ; ; ; 1x Abstandhalter Gummi 20x13,5x4,5; ; ; ; 5x Schraube M5x12 DIN 7985 TX Edelstahl; ; ; ; 5x Mutter M5 DIN 1587 Edelstahl; ; ; ; 10x U-Scheibe 5,3x20x1,5 mm niro; ; ; ; 4x Verschlussstopfen für Rückwand ;
Updateable firmware
no
History function
via BURGsmartApp