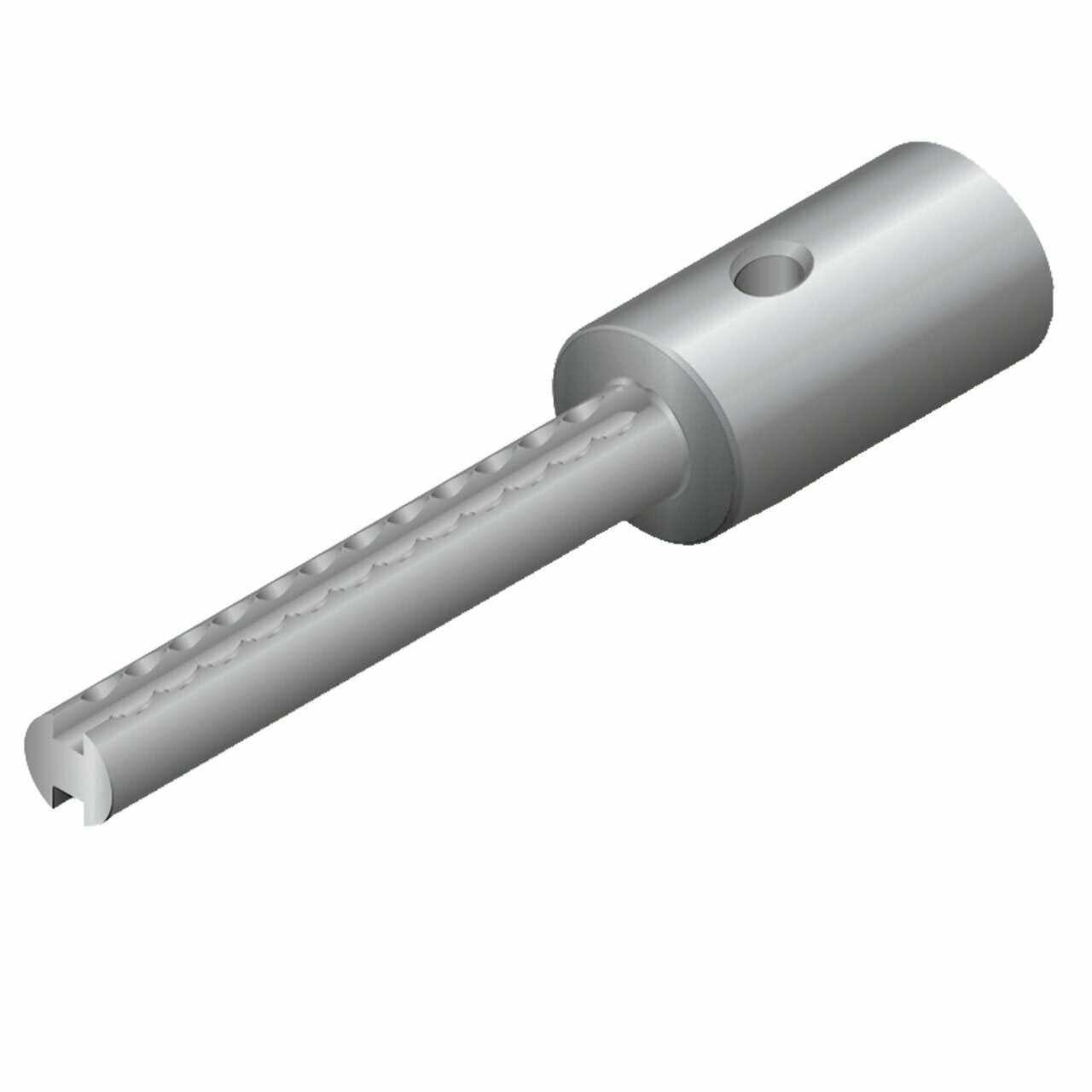 Türschlosselektronik-Software und Zubehör Türschlosselektronik | ENTRY 5671 WVE
ENTRY 5671 WVE
secuENTRY shaft extension 5671 WVE - Save on expensive custom-made products!
With the secuENTRY shaft extension 5671 you can adapt the original shaft of the secuENTRY door cylinder to the required door thickness. Like the shaft used in the door cylinder, the shaft extension is made of stainless steel. The stainless steel outer shafts are designed for the 7100, 7600 and easy cylinders. This makes the electronic door cylinders suitable for even thicker doors. Elaborate and therefore expensive custom-made products are no longer necessary!The outer shaft can be extended to a maximum of 104 millimetres. To do this, measure from the centre of the forend screw. For distances between 61 and 77 millimetres - again measured from the centre of the forend screw - you have to shorten the standard shaft by up to 16 millimetres.
Fixing cotter pin locks the stainless steel extension in place
To ensure the exact position when using the secuENTRY shaft extension, it is provided with a fastening cotter pin. With the screw already used with the original shaft, you simply lock the extension in the desired position. The knob should be flush with the door fitting. Please refer to the installation instructions enclosed with the secuENTRY door cylinder for the corresponding procedure.
secuENTRY door cylinder can be used even more flexibly
By using the secuENTRY shaft extension, your electronic door cylinder can be used even more flexibly. Thanks to the larger clearance, you can now also install the secuENTRY cylinder in much stronger doors. For comparison: The secuENTRY pro door cylinder is designed for doors between 60 and 130 millimetres thick without the stainless steel extension.
Optional cylinder extension ex works
The secuENTRY shaft extension can also be very useful when moving house or when using a new door in a house or flat. Because if this deviates from the standard door dimensions, you still have the chance to continue using your secuENTRY door cylinder. Note: Optionally, the cylinder extension can be made at the factory on request.
• Material: Edelstahl• Befestigung: Die Originalwelle muss je nach Türmaß angepasst werden• Einstellung: Für die Abstände von 61 bis 77 mm (gemessen von der Stulp-schraubenmitte) muss die Standardwelle um bis zu 16 mm gekürzt werden• Verlängerung der Außenwelle maximal: 104 mm (gemessen von der Stulp-schraubenmitte) nur für den Zylinder 7100, 7600 oder easy Zylinder• Lieferumfang: Wellenverlängerung, Befestigungssplint
Location (indoor/outdoor)
n.a.
Verpackungseinheit
1.00 Stk
Weight
0,024 kg
Fingerscan
no
Knob diameter inside
0,00 mm
Communication (Bluetooth/radio)
none
Main material
Stainless steel
Incl. fixing material
yes
Cylinder length (from/to)
bis 104/x
Max. door thickness mm
bis 104/x
Emergency lock function
no
Pincode
no
Optional transponder
none
Weather protection class
none
Packaging width mm
0,00 mm
Packaging depth mm
0,00 mm
Type of packaging (carton, blister)
PE bag
Type of fixing material
1x Spannhülse
Matching key blank
OUTDATED