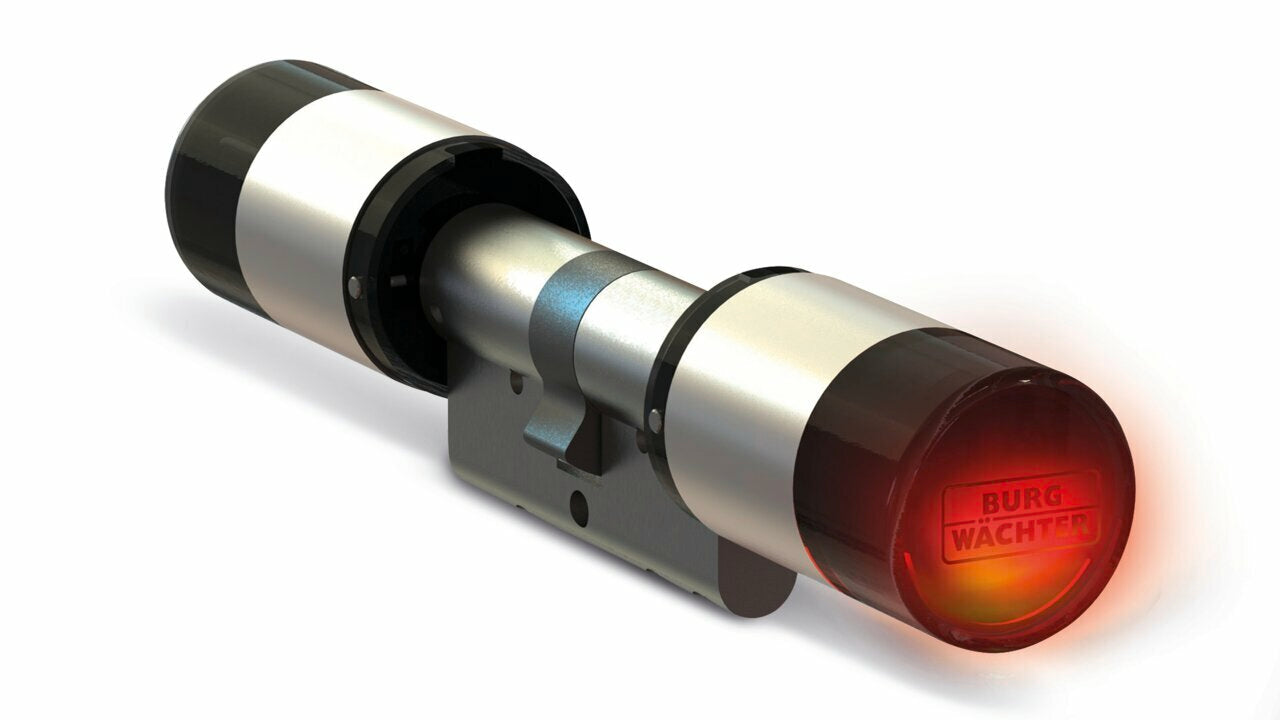 Türschlosselektronik-secuENTRY Einzelkomponenten | ENTRYpro 7000 ZYLINDER
ENTRYpro 7000 CYLINDER
secuENTRY pro 7000 - Electronic door cylinder for commercial and private use
The secuENTRY pro 7000 electronic door cylinder masters sophisticated requirements for commercial and private use. 2000 memory locations are available for the various opening methods. This makes the secuENTRY pro 7000 ideal for use in large companies and public authorities. It is precisely for these demanding applications that the secuENTRY pro series from BURG-WÄCHTER stands. Thanks to the spacers supplied, the door cylinder can be adapted to all common door thicknesses between 60 and 130 millimetres (minimum: 30/30 mm, maximum: 67.5/62.5 mm).
Five opening variants for the secuENTRY pro 7000
The secuENTRY pro 7000 can be opened in five different ways. Via the optionally available keypad with code or fingerprint, with active or passive transponder and even with the BURGsmart App. This makes losing, misplacing or lending the key a thing of the past. Thanks to the IP65 protection class, the electronic door cylinder is weatherproof. This ensures a long service life. Speaking of service life: the battery lasts for up to 65,000 openings.
Einfache Installation, moderner Bluetooth-Standard 5.2 LE
Die Montage des secuyENTRY 7000 ist denkbar einfach. Dazu muss nur die Stulpschraube an der Tür gelöst und der alte, mechanische Türzylinder entfernt werden. Schon kann der neue, elektronische Türzylinder eingesetzt werden. Die Funkreichweite vom Aktiv-Transponder und der BURGsmart App beträgt vier Meter. Des Weiteren ist das gesendete Bluetooth-Signal AES verschlüsselt. Der Zylinder verwendet den modernen Bluetooth-Standard 5.2 LE. Somit ist immer eine sichere Öffnung gewährleistet. Über die Historienfunktion lassen sich bis zu 2000 Ereignisse (Öffnen und Schließen des Türzylinders) nachvollziehen.
Approved as an anti-panic cylinder
The secuENTRY pro 7000 can also be used as an anti-panic cylinder for escape doors with anti-panic function. As standard with freewheeling and panic function FZG according to the guideline FZG, edition 2020-07-06 of the PIV. This means: A door can be opened from the inside at any time in an emergency (e.g. in the event of a fire), even if it is locked and therefore cannot be opened from the outside. (The cylinder fulfils the requirement of the class of panic function F2 and FZG from DIN 18252:2018-05. Tested by the Prüfinstitut Schlösser und Beschläge Velbert (PIV)).
• history trace: 2,000 events
Number of batteries
1
Number of potential users
2000
Location (indoor/outdoor)
n.a.
Product outer width
34,00 mm
Product outer height
162,00 mm
Product outer depth
34,00 mm
Verpackungseinheit
1.00 Stk
Weight
0,352 kg
Fingerscan
no
Knob diameter inside
30,00 mm
Communication (Bluetooth/radio)
Bluetooth 5.2
Battery type
CR 123A
Main material
Brass
Incl. fixing material
yes
Cylinder length (from/to)
30/30 - 67,5/62,5
Max. fingerprints
200-300 (45 Premium)
Max. door thickness mm
67,5/62,5
Emergency lock function
no
Pincode
no
Optional transponder
passive
Weather protection class
IP 65
Packaging width mm
60,00 mm
Packaging depth mm
55,00 mm
Type of packaging (carton, blister)
colour carton
Type of fixing material
1xStulpschraube M5x80
Matching key blank
OUTDATED