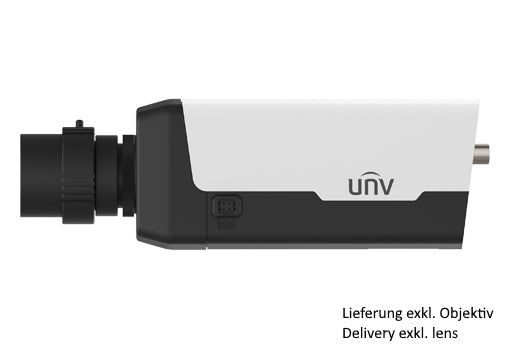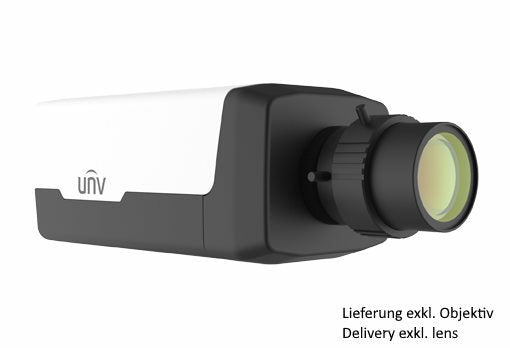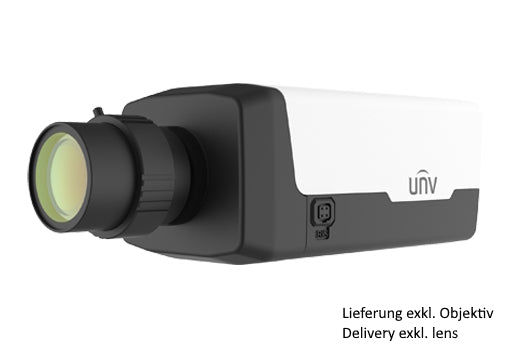 Uniview Videoüberwachung-IP Boxkamera | IPC544SE-DK-I0
IPC544SE-DK-I0
Vielfältige Einsatzzwecke
Die UNIVIEW Box Kamera IPC544SE-DK-IO ist eine kompakte Box Kamera für vile Einsatzzwecke ,die einfach zu installieren und zu bedienen ist.
Sie unterstützt PoE und Gleich-und Wechselspannungsversorgung und ist so hoch flexibel einsetzbar in bestehenden Anlagen. 120dB WDR sorgt für brillante Farben und Detailgenauigkeit auch bei schwierigen Lichtverhältnissen, dank LightHunter Technologie. Der CS-Anschluss der Kamera ermöglicht Flexibilität  im Einsatz durch austauschbare Objektive. So kann das System sowohl im Nah- wie auch zur Fernfeld Überwachung eingesetzt werden.
AI Video Analysen
Dank vorinstallierten Lizenzen für AI Videoanalyse Funktionen können Falschalarm Filter zwischen Personen und Fahrzeugen unterscheiden und klassifizieren. Insbesondere die Personenzählung und Personendichte Messung bieten Mehrwert für den Einsatz im Retail Bereich.
Maximale Details - minimale Datenrate
Das Modell unterstützt Codecs zur Minimierung der Datenrate wie Ultra H.265, so dass Bandbreite im Netzwerk und Speicher im Aufnahmesystem eingespart werden kann. So können erschwinglichere Komponenten eingesetzt werden ohne Qualität einzubüßen.
Hohe Bildqualität mit 4MP, 1/1.8'' CMOS-Sensor
2688*1520@30fps im Hauptstream
Ultra 265, H.265, H.264, MJPEG
Dreifach-Streaming
Smart Intrusion Prevention, unterstützt Falschalarmfilterung, einschließlich Cross Line, Intrusion, Enter Area, Leave Area Erkennung
Personenzählung, unterstützt die Zählung von Personenströmen und die Überwachung der Personendichte, geeignet für verschiedene statistische Szenarien
Die LightHunter-Technologie sorgt für eine extrem hohe Bildqualität in Umgebungen mit geringer Beleuchtung
Bis zu 120 dB optischer WDR (Wide Dynamic Range)
DC12V oder AC24V oder PoE (IEEE 802.3af) Stromversorgung
Großer Spannungsbereich ±25%
Audio 1 Eingang und 1 Ausgang
Alarm 2 Eingänge und 1 Ausgang
Material number
500014
Packaging units
1
Type
IP-Tag/Nacht Boxkamera
Max. Image resolution [pixels]
4 MP (2688x1520)
Edge recording
Lokal auf dem PC, FTP
Imaging sensor
1/1.8" Progessive Scan CMOS
Light sensitivity [lux]
0.0005lux (IR an)
Video codec
(U-)H.265,(U-) H.264, MJPEG
Viewing angle vertical
Objektivabhängig
Viewing angle (horizontal)
Objektivabhängig
Shutter
1/6 - 1/100000
IR cut filter
Yes
Aperture control
DCP-Iris Drive
Max. Frame rate
30 FPS
Bit rates control
CBRVBR
Title overlay
Ja
Bitrate per channel
H.265/H.265: 128-16384Kbps
Zoom (optical / digital)
digital
Autobackfocus
No
Lens type
CCS
I/O switching contacts
2 / 1 FET Open Source max. 12VDC/0,1A; 1,2W
Alarm outputs
1
Alarm inputs
2
Audio inputs/outputs
1x Input: 35 kOhm/2Vss ; 1x Output: 600 Ohm/2Vss
Ethernet port
RJ-45
Ethernet standards
1 x RJ45 10M/100M Base-TX Ethernet
PoE Standard
IEEE802.3af
Max. Power consumption (watts)
8
ePoE / Long-Range PoE
Ja, bis 250m (mit UNV- Rekorder oder -IP-Switch )
Long Range PoE
Ja, bis 250m (mit UNV- Rekorder oder -IP-Switch )
Maximum cable length
typisch: max. 100m
LED wavelength
-
Noise reduction
2DNR3DNR
Translation missing: en.technical_info_table.products.verstärkungsregelung
Yes
Private zones
Ja, 8
Region of Interest (ROI)
8 Zonen
Defog
Yes
Backlight compensation
120dB TrueWDRBLCHLC
Change of scene
Yes
Watermark
Yes
Safety functions
HTTPS, SSL, IP Filter
Sabotage alarm
Ja
Alarm management
HTTP, FTP, ONVIF
Translation missing: en.technical_info_table.products.unterstützebrowser
Edge, Internet Explorer 11
Video analysis (IVA)
Ja
Tripwire (IVA)
Yes
Zone monitoring (IVA)
Yes
People counting (IVA)
Yes
Object added / left behind (IVA)
Yes
Object removed (IVA)
Yes
Object left behind (IVA)
Yes
Camera setting
Webinterface, CGI, App, VMS
CCTV video output
BNC, 75 Ohm 1 Vss
Communication method
Unicast / Multicast / RTSP
Number of video streams
3 (einzeln konfigurierbar)
ONVIF
Profile S, Profile G, Profile T
Supported software
EZStation und weitere
Supported protocols
HTTP,HTTPS,FTP,TCP,UDP, DHCP, SSH,NTP,ONVIF...
Supported software
ONVIF, API, RTSP
P2P support
No (EZCloud)
smartphone app
EZView
Mounting type
Wand- und Deckenmontage
Operating voltage
24VAC , 12VDC (+/- 25%), PoE
Operating temperature
-20 bis +60
Housing type
Box
Manual language
EN
SD card slot
Ja, max. 256GB (optional)
Packaging units
1
Active image elements
1968(H) x 1520(V)
White balance
Auto; Manual and more
Audio codec
G.711a / G711u
Max. Number of users
32
Signal/Noise ratio
56dB
Housing colour
Weiß / schwarz
Dimensions w (width) x h (height) x t (depth)
152 x 71 x 65mm
Weight
0,38 kg
Storage temperature
0 bis +50
Relative humidity
Bis 90, nicht kondensierend
Special features
DC und P Objektive werden Unterstützt
Note
Uniview Software, z.B. um die Geräte im Netzwerk zu suchen, finden Sie unter Software bzw. Downloads&Software.
Marking
CE