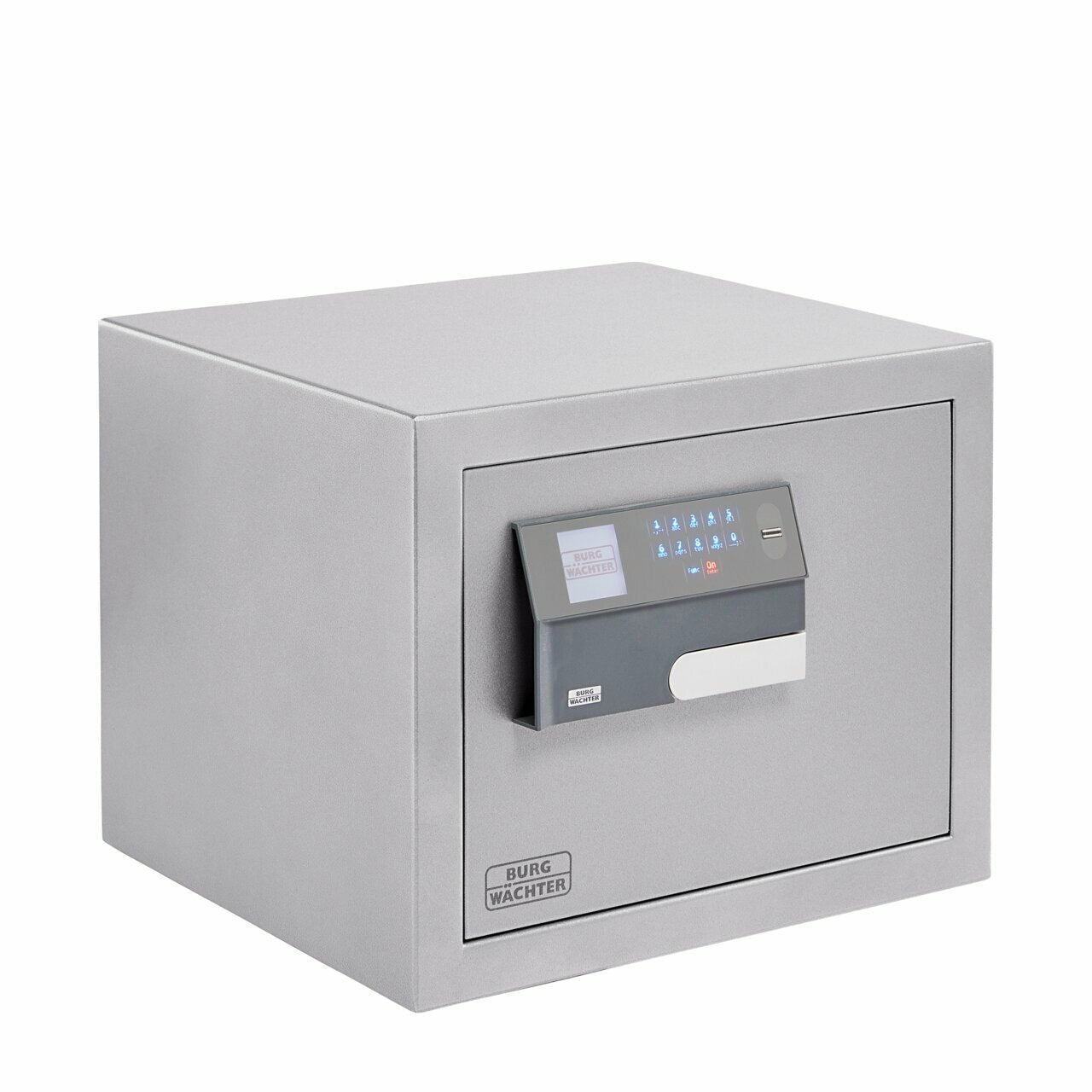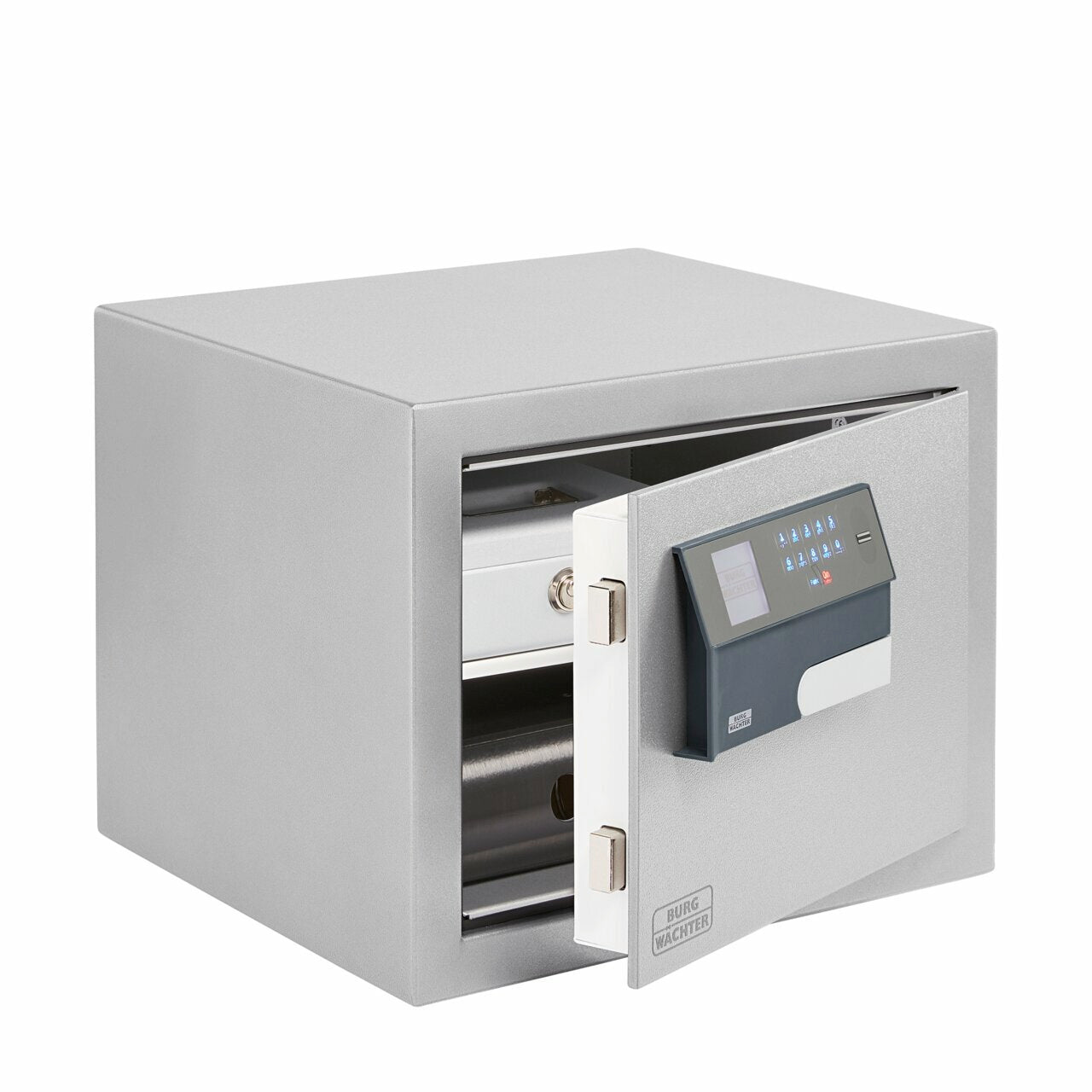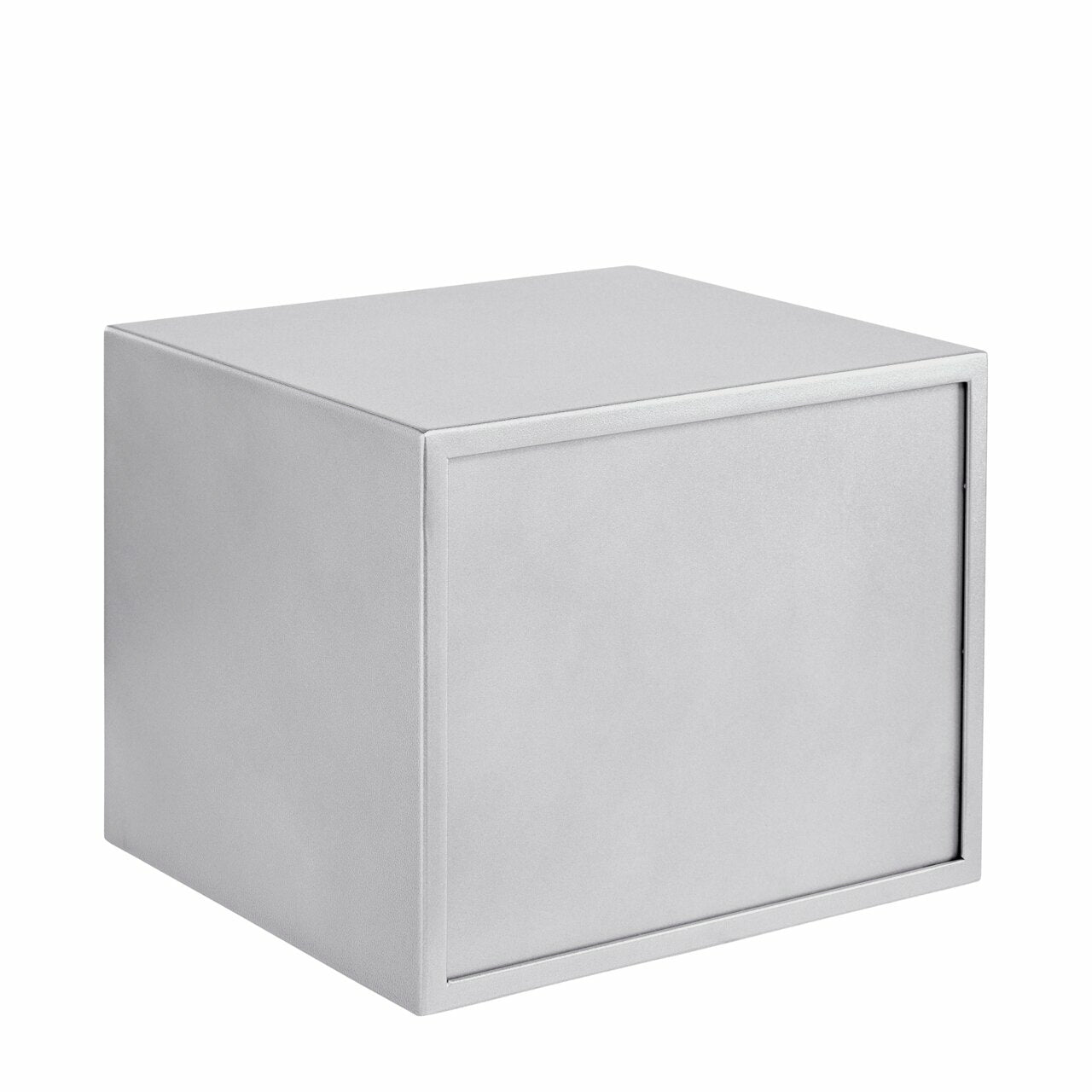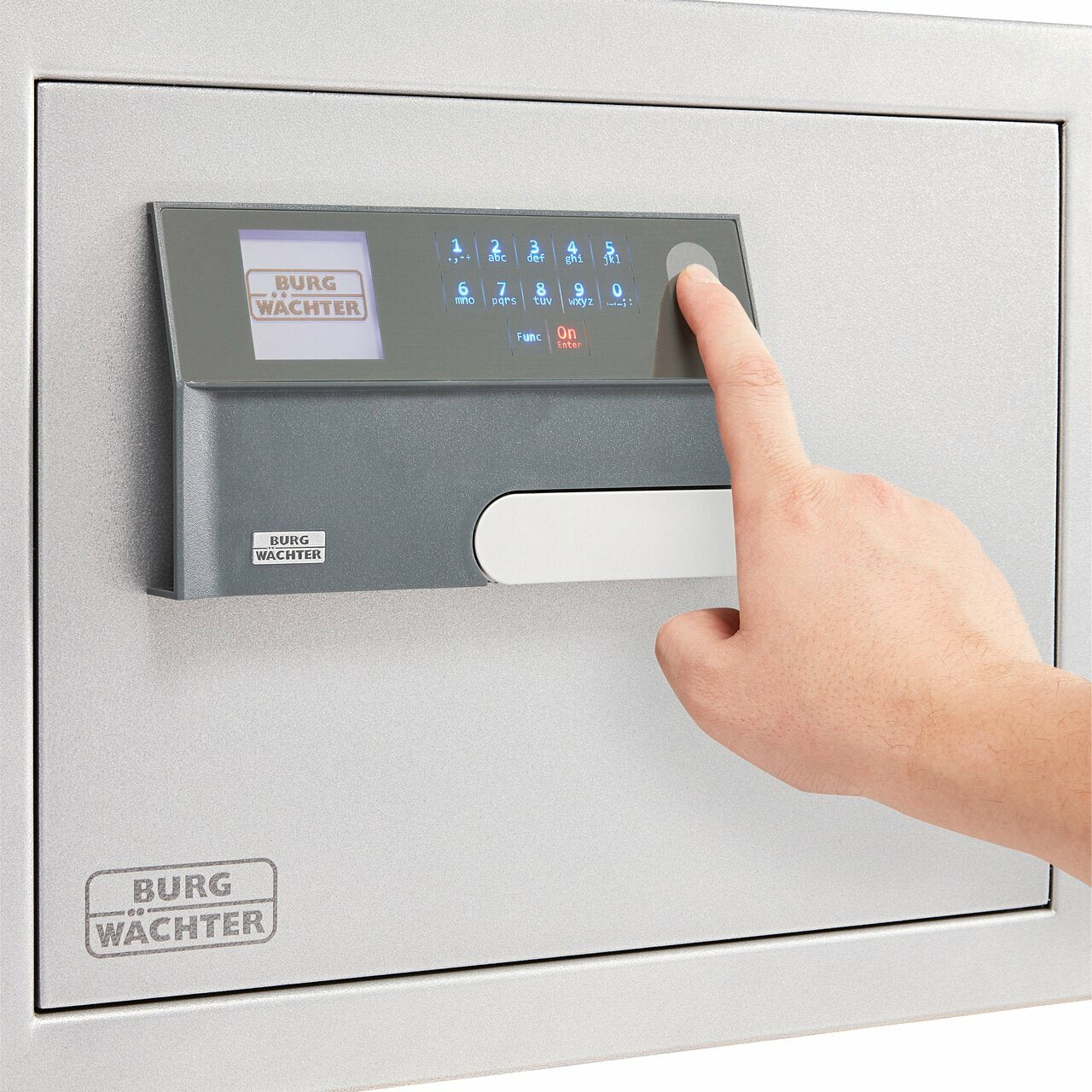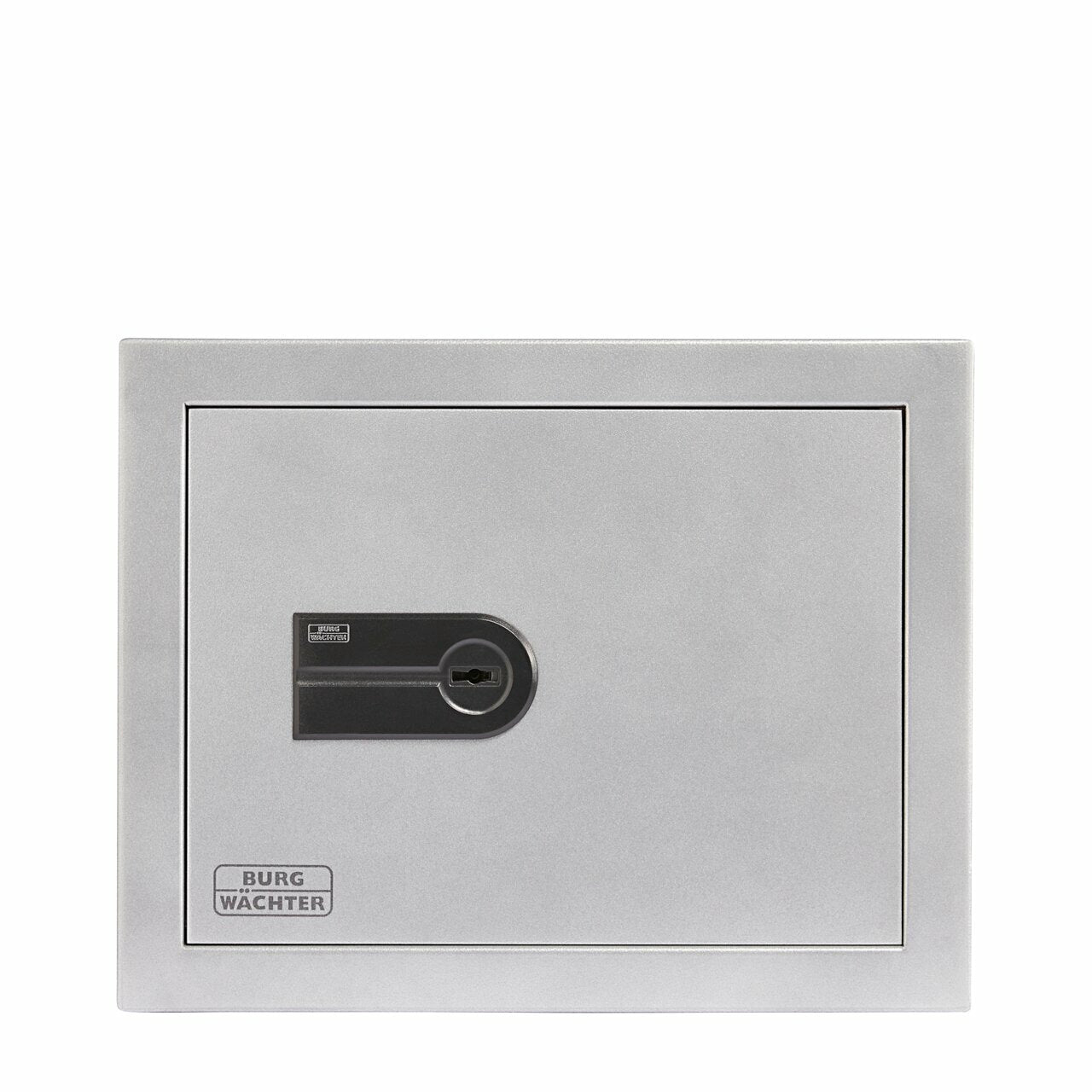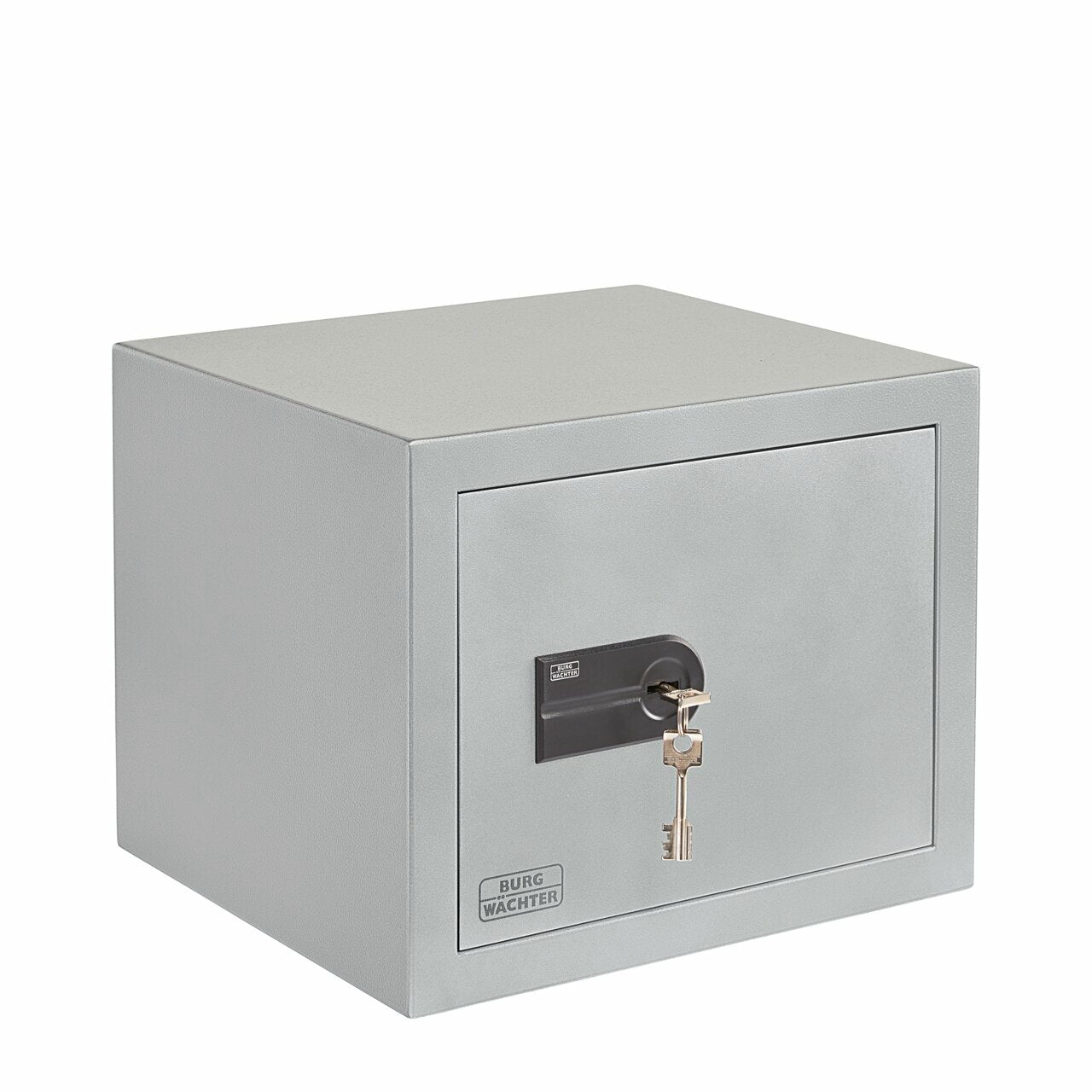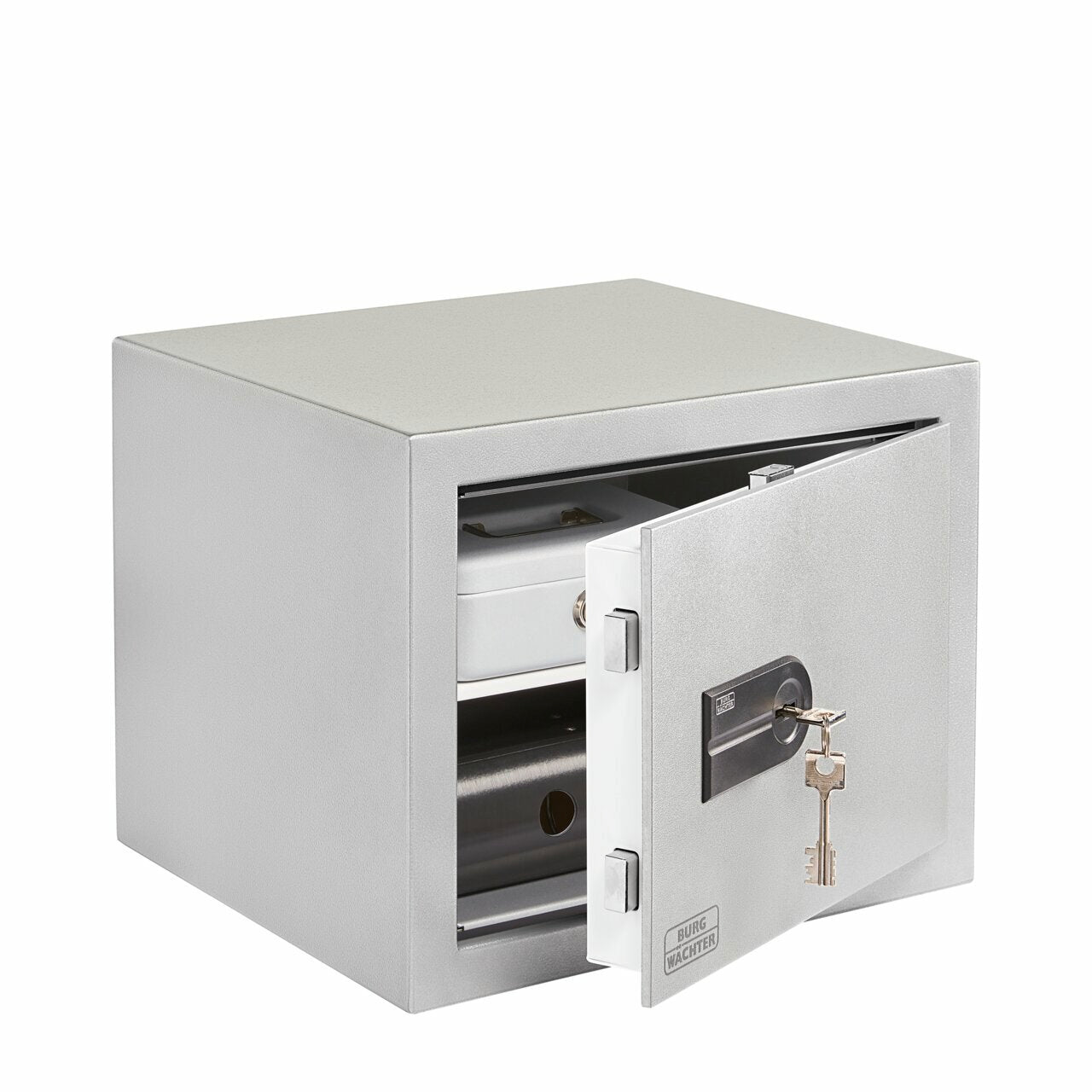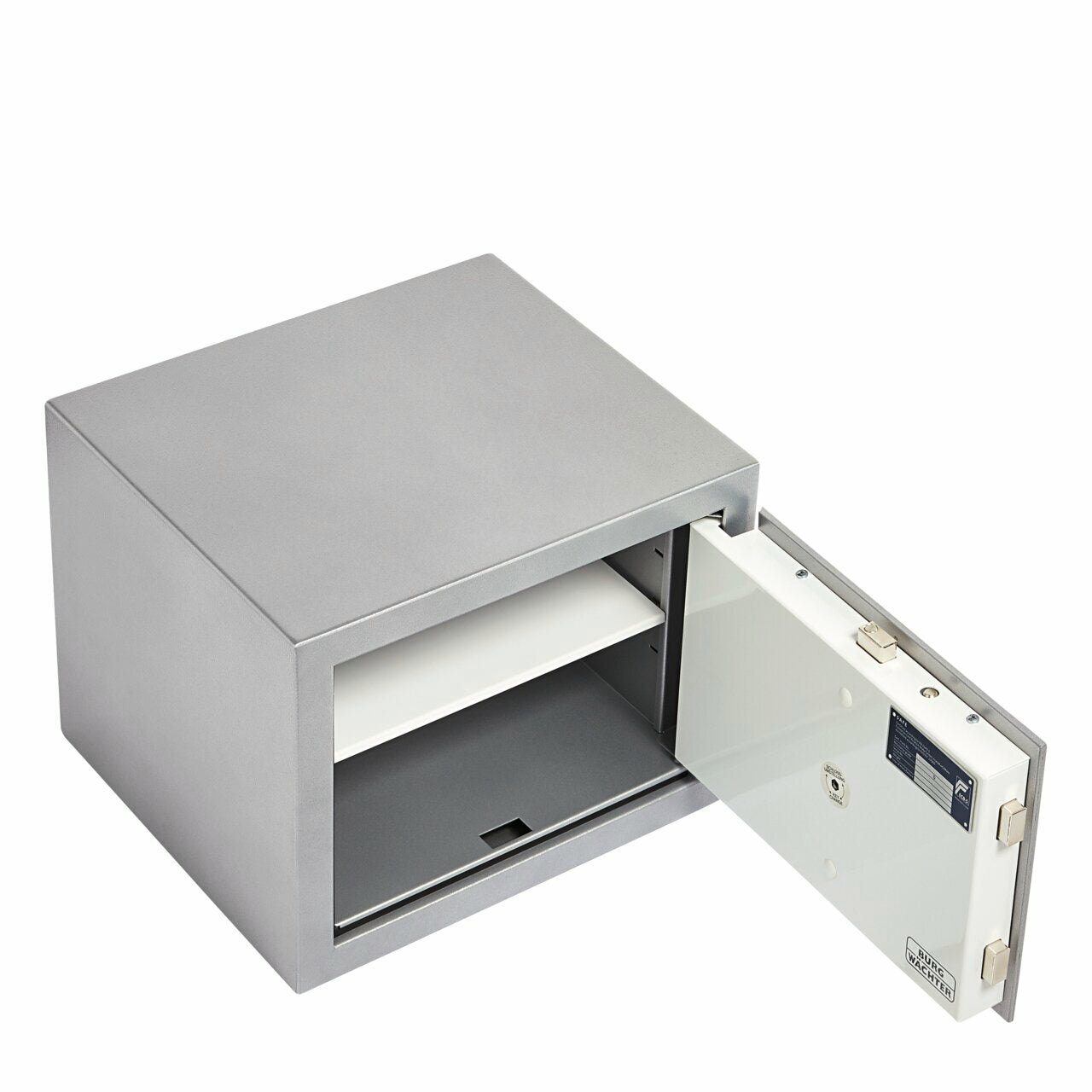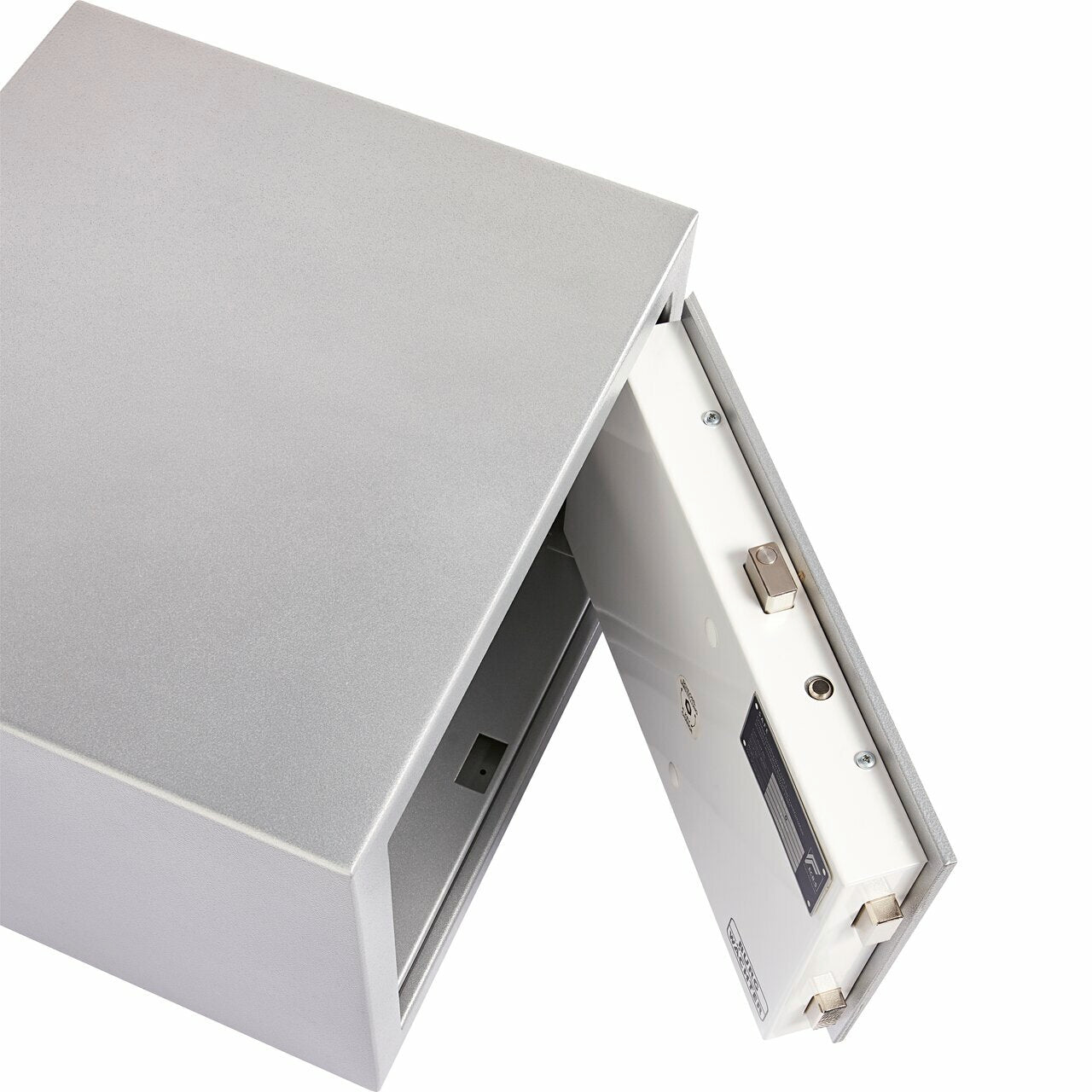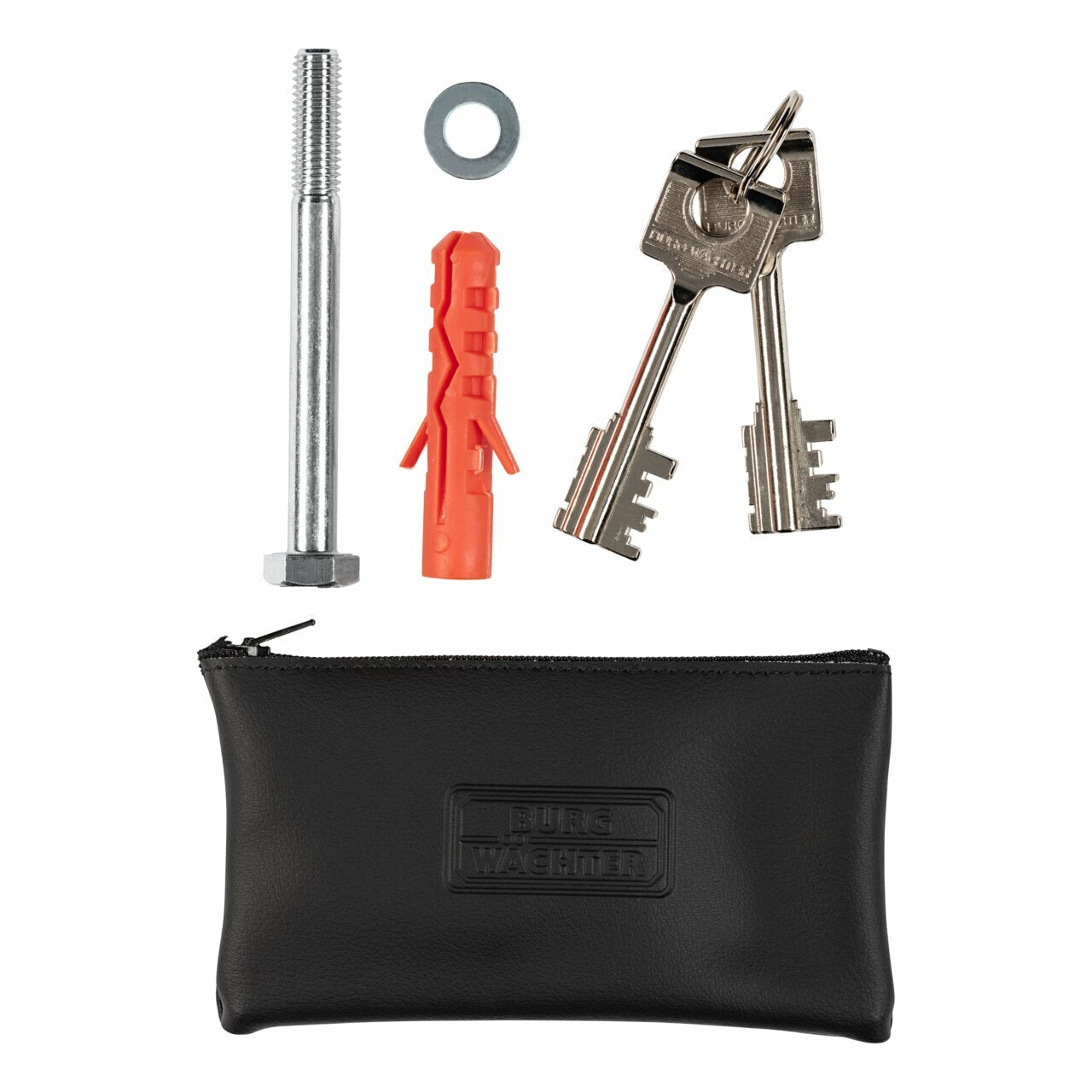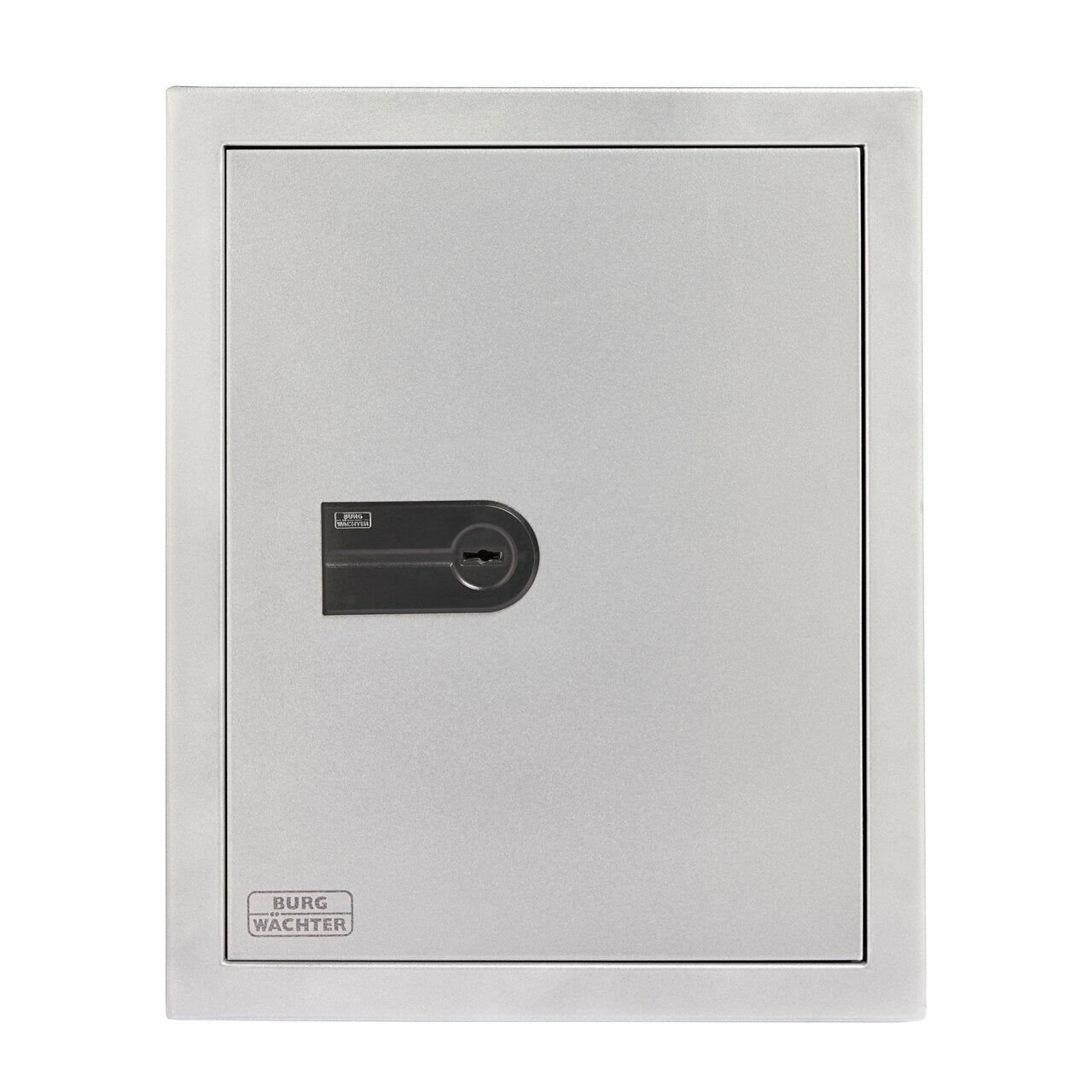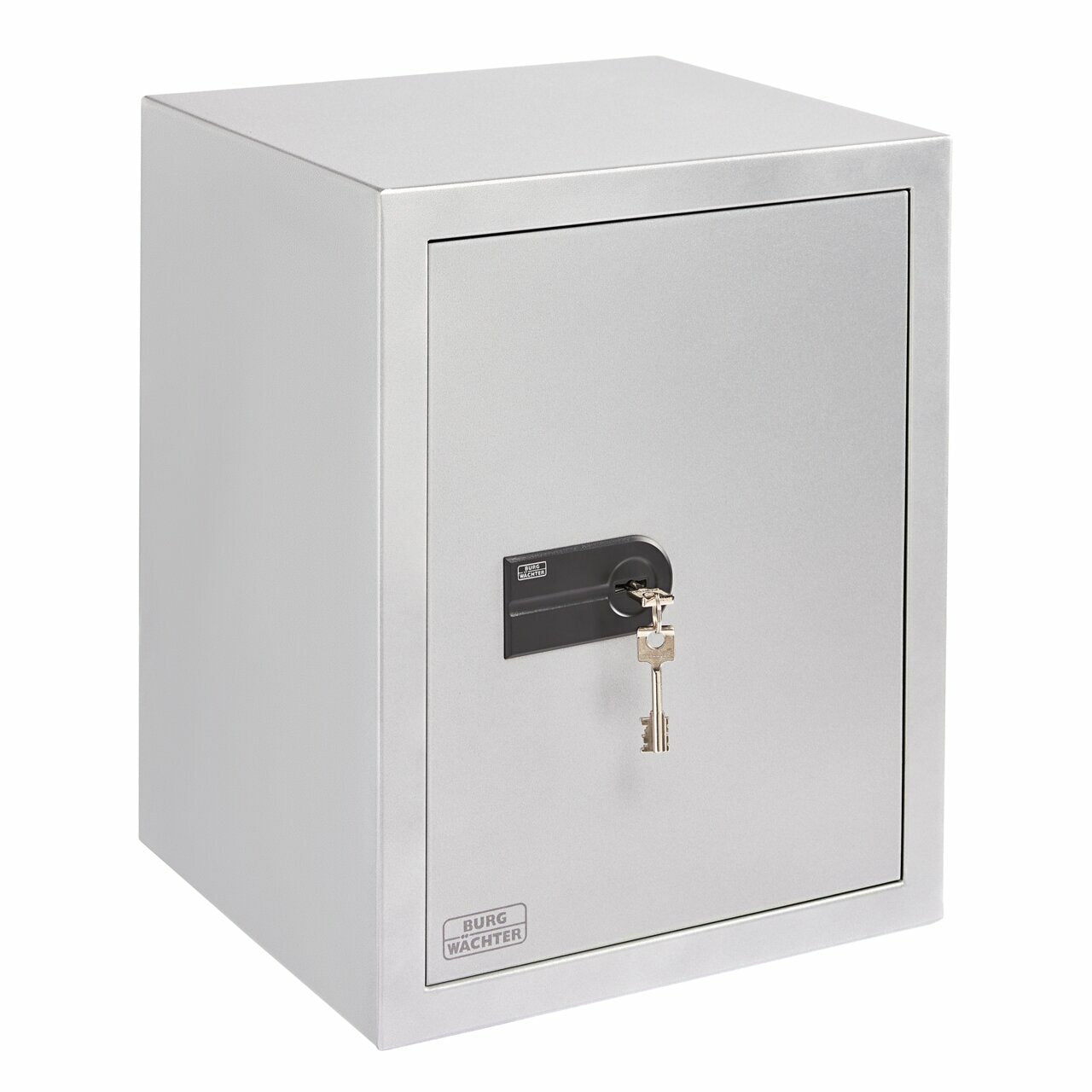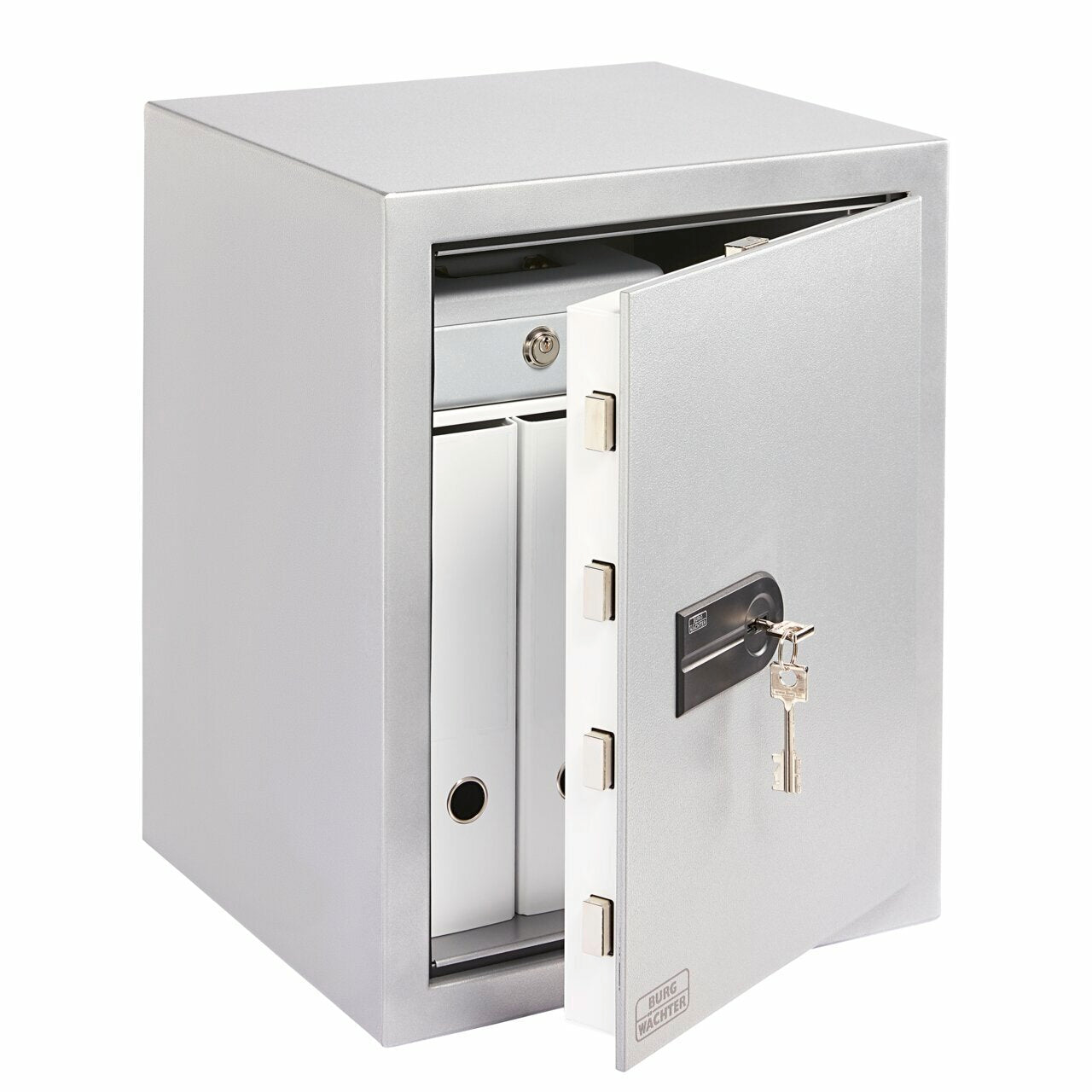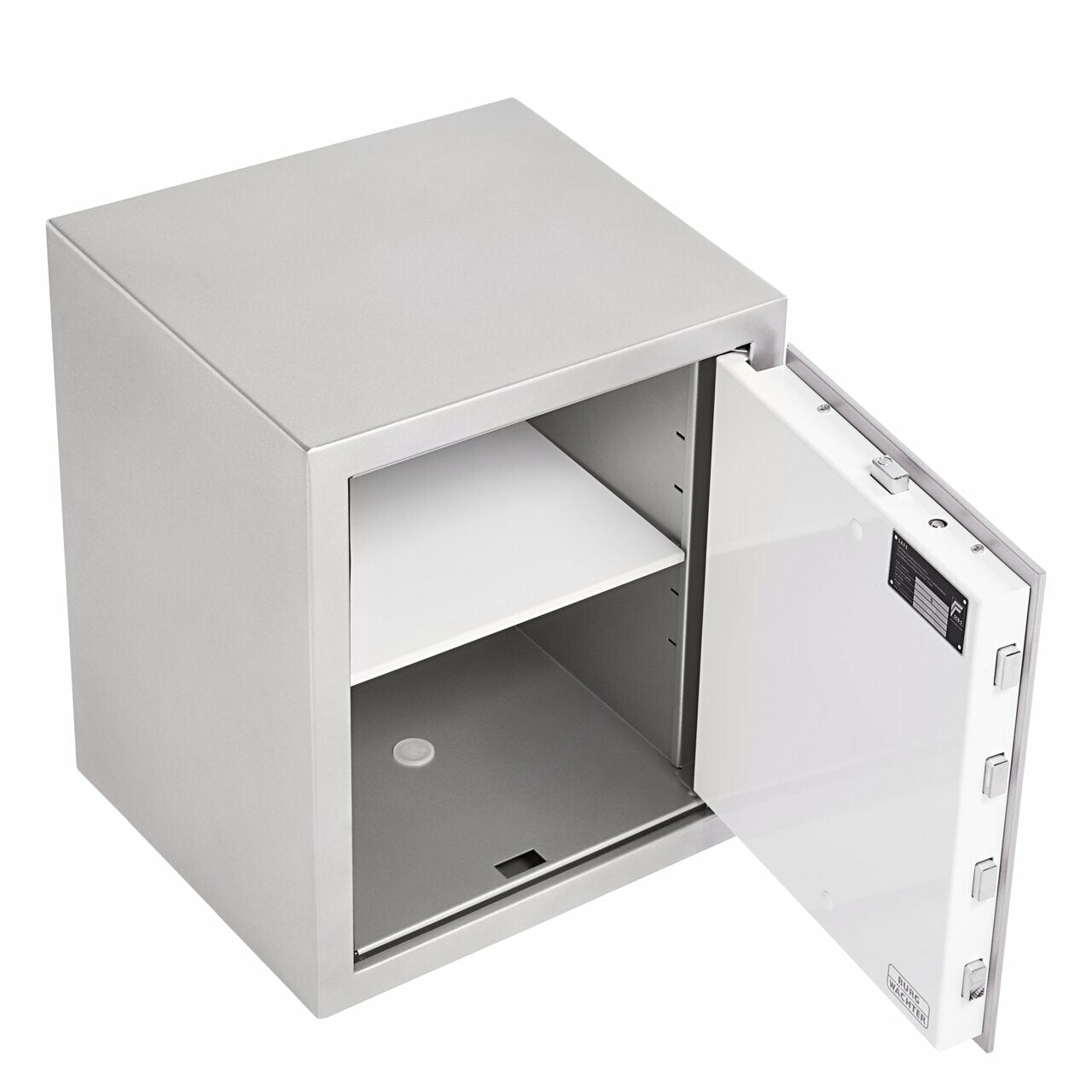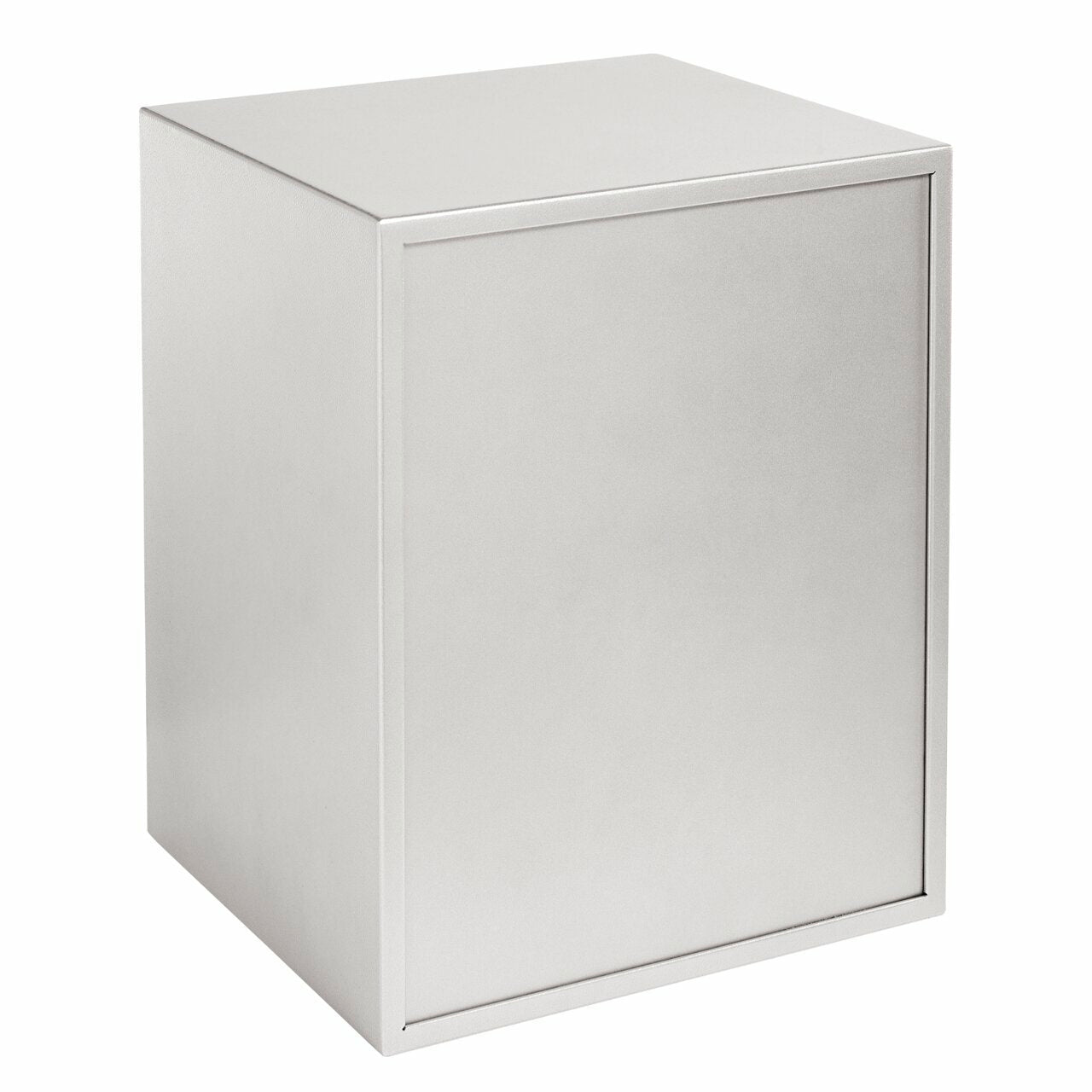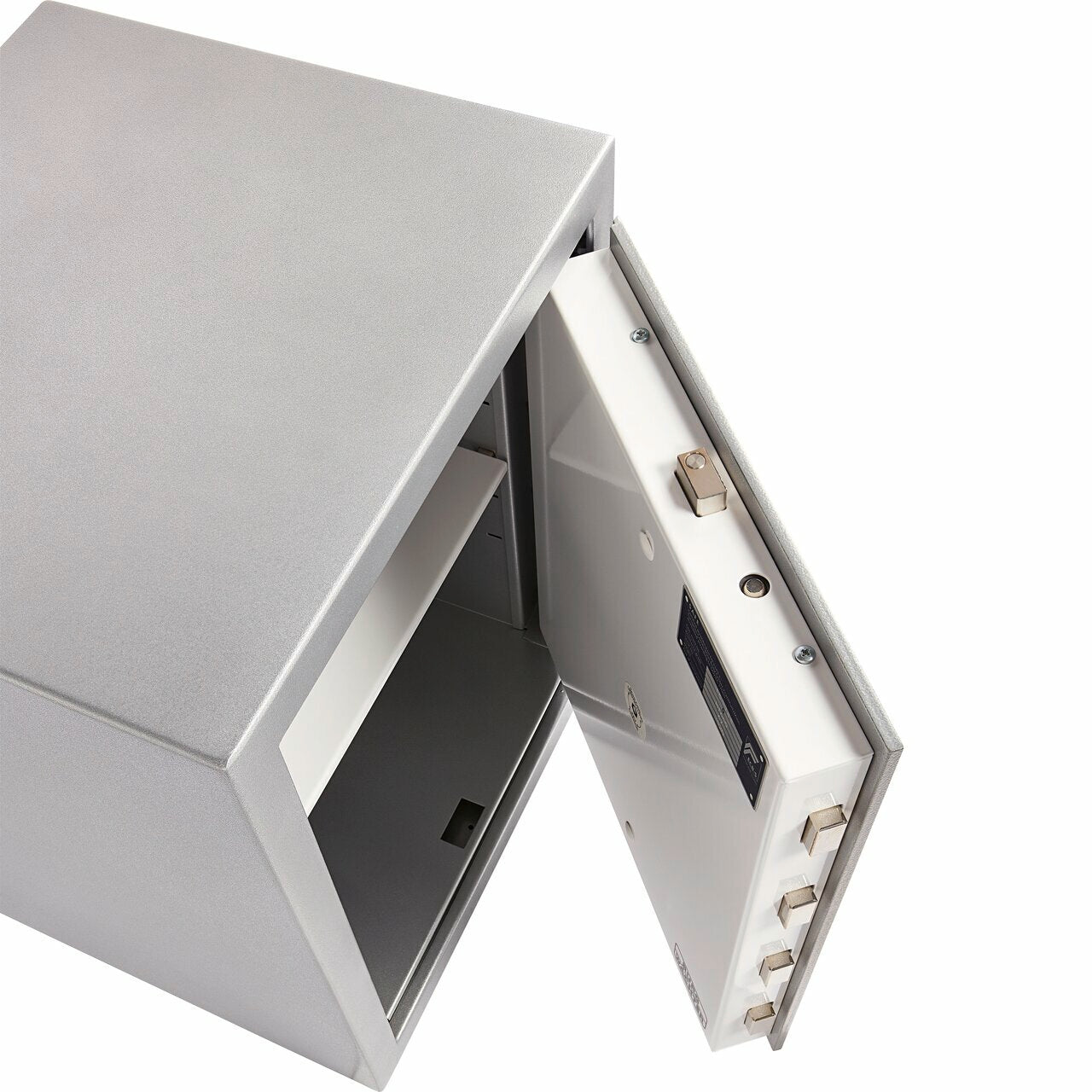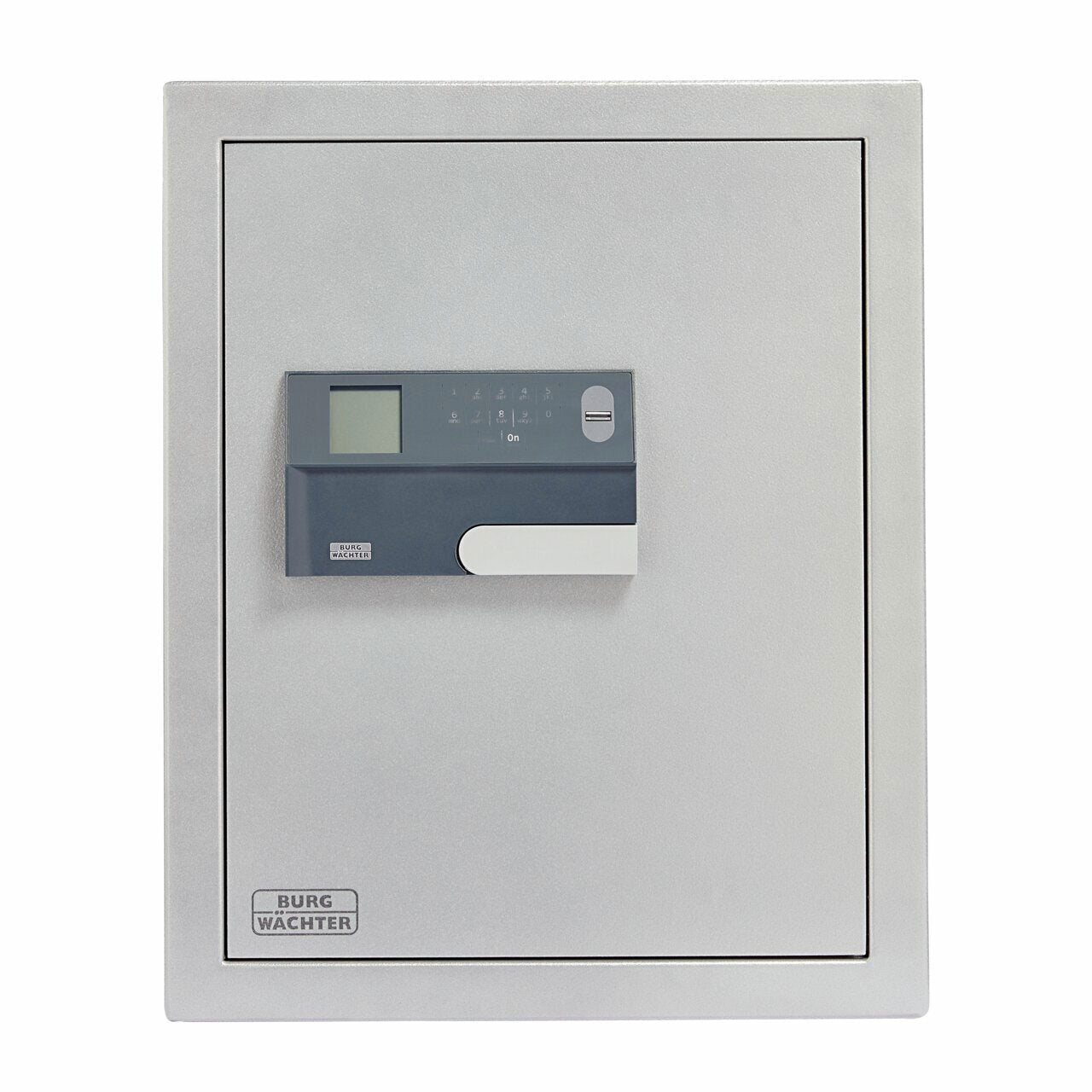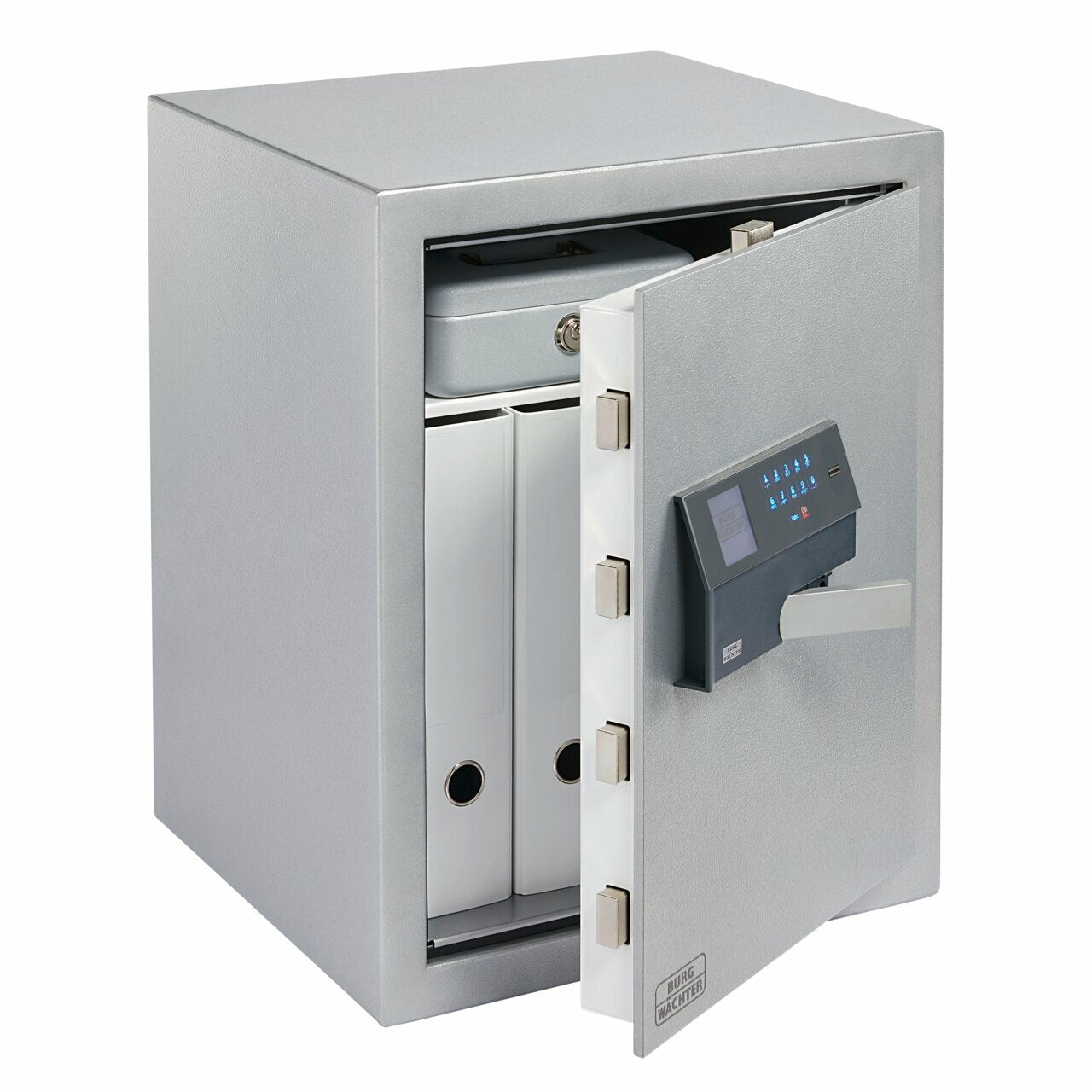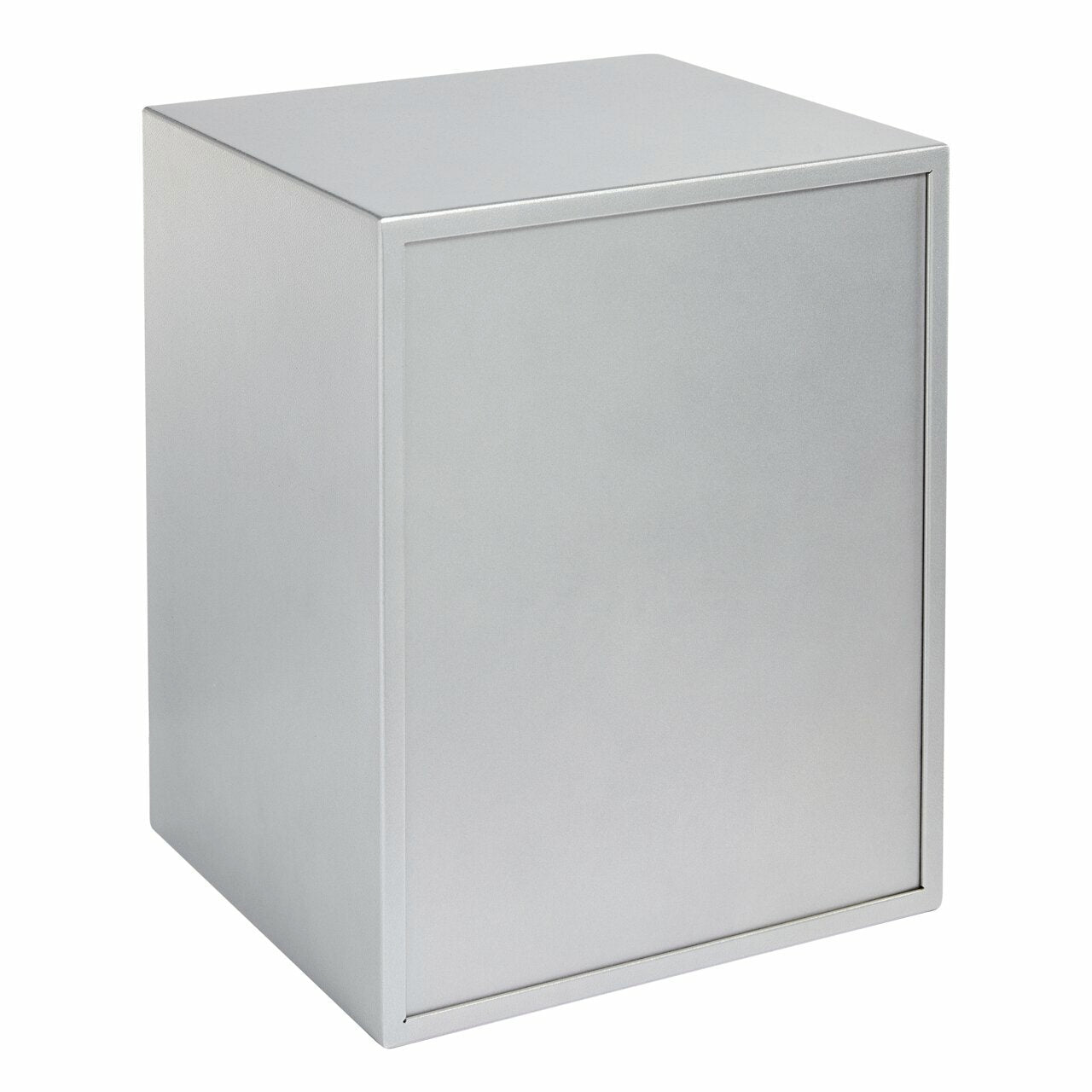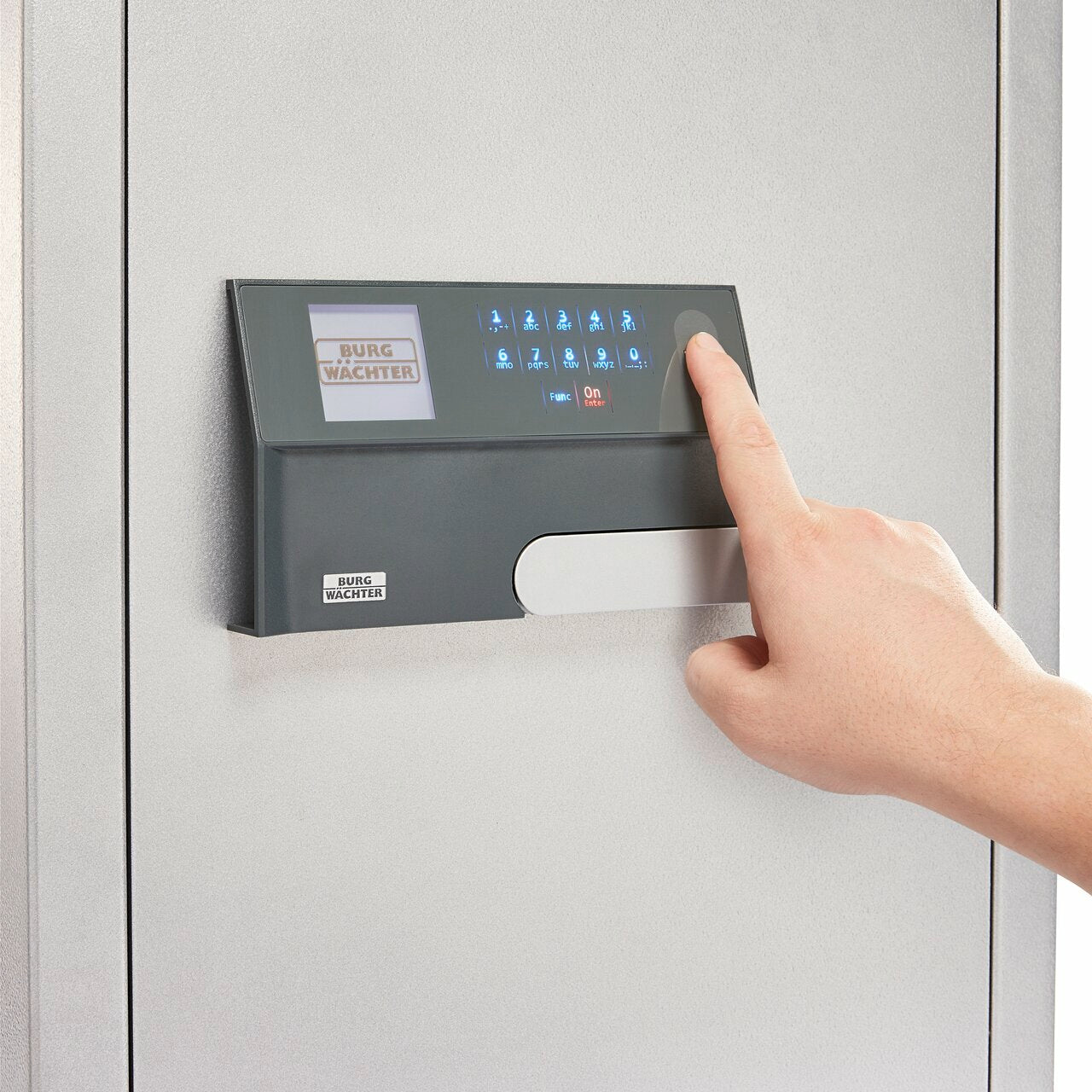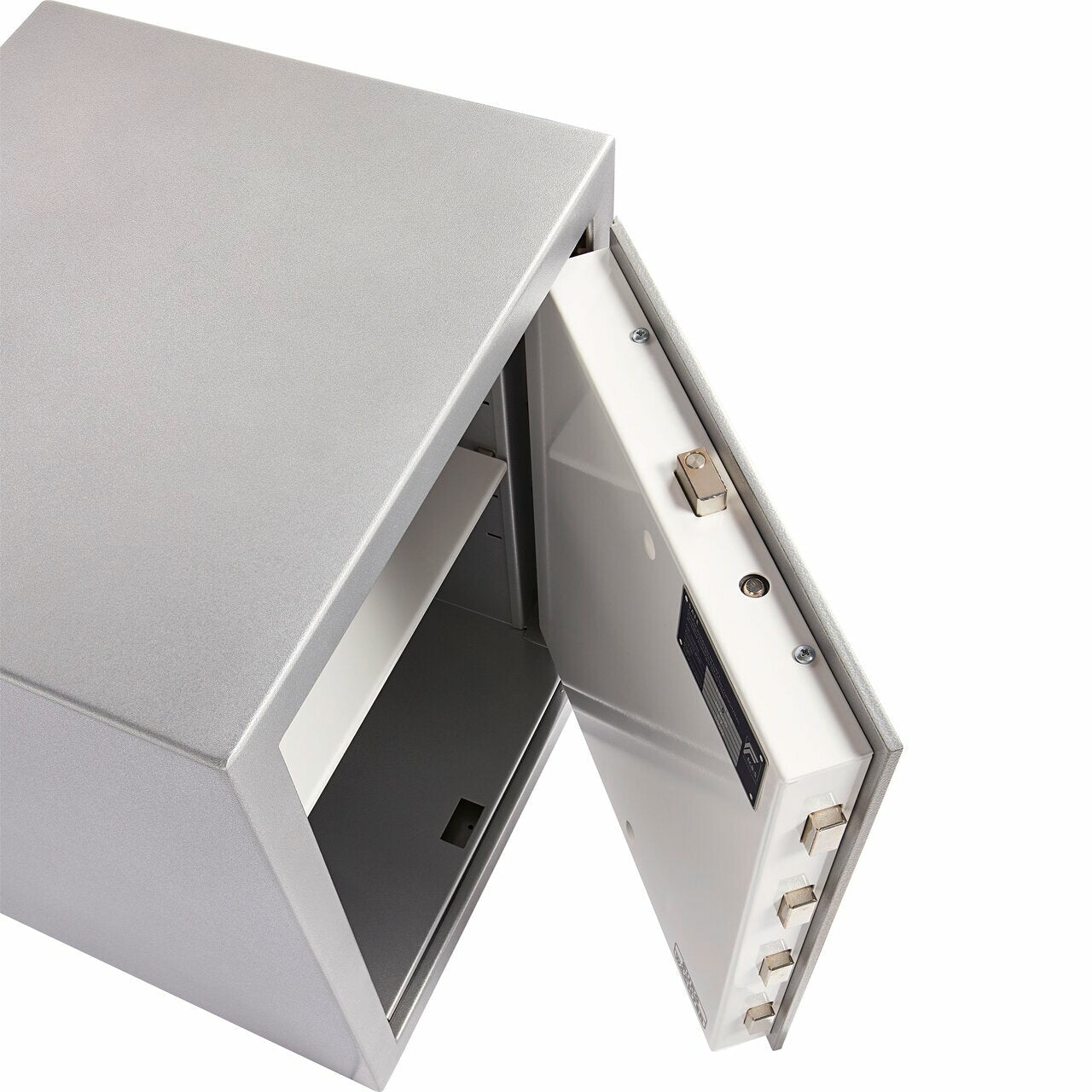 Tresore-Möbeltresore | MT Karat
MT 640 E FP
The high-carat protection for your valuables
You do not have to secure loads of carats in our safe. After all everyone has many different things that he or she holds precious and special. And exactly for these objects our Karat provides security at home. The same applies to cash money, jewelry and important documents. In fact, the security cabinet by BURG-WÄCHTER is extremely robust and provides great resistance against opening by force.
Here is how the Karat is built
The body of the Karat consists of three steel walls. Furthermore the outer surface is produced with especially hard stainless steel. This perfect interplay provides a flame-cutting protection. Especially strong steel is installed in the door. A thick plate of 7 mm SM steel in the double-walled door ensures security. The locking system works with square bolts on three sides. The bolts on the top and on the bottom are protected by an integrated steel roller. All this allows a considerable additional protection against opening by force. For instance against drilling, flame-cutting and breaking-open. A further advantage concerning security: the thermal puncture-proof emergency locking system in front of each bolt.
Protection against fire and theft
In addition to external violence the Karat resists also fire. Thanks to its fire-resistant material (according to DIN 4102-A1) and a surrounding fire-breaking seal in the body, the inside of the safe gets warm only slowly. In this way your documents and files, as well as cash money are protected for a longer time. A security cabinet can be this safe. Moreover burglars can not take it away, thanks to a stable anchoring. For this reason the Karat comes ex works as standard with drilled holes. With the fastening material – delivered with the safe – the Karat can be firmly anchored in a wall or on the floor.
In case of key loss: just reset the lock!
With both safe sizes you can choose between two locking systems. Of course with a mechanical key (model K). Or with the modern electronic locking system "SecuTronic" (E FP model) for opening by code or by fingerprint. The high security double-bit lock "SecuSafe" of the Karat safe provides an intelligent advantage. In fact, if you lose one of your keys, you just need to order a new key set and reset the lock to this new set. If someone stole your old key, the safe can not be open any more with it thanks to the resettable lock! Our video shows how it is done.
Modern electronic lock with fingerprint
The modern electronics of the safe "SecuTronic" TRSE 12 H FP combines security and comfort. In fact, the operating panel provides a sloping touch-sensitive keypad with graphic display. Instead of struggling to find the "on" button, you only need to scrim over the interface. In this way you activate it and turn the two-tone lightings on. Furthermore the sloping display guarantees also an ideal top view. Of course you can freely chose the opening code. An admin code and nine user codes are available. Moreover you can read the opening history directly on the display.
Opening the safe with just one fingerprint
The opening of the safe with only one fingerprint is completely new. This makes BURG-WÄCHTER currently the only manufacturer to offer a certified biometric opening method (ECB-S certified, lock class A).Your big advantage: You can lose a key, forget the opening code. But you always have your finger with you! A total of 20 fingerprints are available for opening the safe. Of course, the technology has a "fake finger detection" (live finger detection).
The Karat provides blocking time, opening delay
The lock "SecuTronic" TRSE 12 H FP provides an opening delay (max. 99 minutes). It means: After entering the code the set period of time passes, until the Karat gets open. After entering three wrong codes a blocking time is activated. In this way burglars have no chance to try many codes. All these details increase you security even more!
Authorized for short weapons storage
The safety cabinet is delivered with an adjustable shelf. In this way you can organize your valuables as you wish. Thanks to the slender design the inside can be optimally used. The smaller Karat model MT 24 has an interior volume of 25,8 liters, the bigger model MT 26 reaches 45,3 liters. Both have an elegant and timeless platinum grey finish. Furthermore in the Karat you can also store up to five short weapons, ammunitions included, according to the tightened German weapons law (§36) of July 2017. Thus the security cabinet Karat is a safe and responsible place to store weapons.
Version E FP "SecuTronic"
Programmable electronic lock with
fingerprint module
• ECB·S certified according to class B
• graphic display with 1 admin code,
up to 9 user codes and up to 20
fingerprints
• timer functions and assignment of rights
• incl. 4 Mignon LR 06 AA batteries
• locking armature protrudes 23 mm RESISTANCE GRADE 0
• type tested and supervised security by ECB·S
• protection against burglary and fire according to EN 1143-1
• triple walled body with exterior stainless steel walls that are
highly resistant to flame cutting
• double walled door, with additional armouring, door leaf:
7 mm SM steel
• additional lock plating for extra protection
• 3-sided locking through square bolts, bolts on the top
and on the bottom with integrated steel rolls – extreme
protection against flame-cutting, drilling and attack
• all-over rear gripping bar on the hinge side
• prepared for both wall and floor fixing, fixings included –
extremely high tear-out resistance. 1 centrally arranged drill
hole on the back wall and 1 on the bottom
• fire-protective material in body and door according to DIN
4102-A1 and fire fold in body
• convenient depth for common sized files, 1 adjustable shelf
• paintwork: platinum grey
• safety plus:
Thermal emergency locking mechanism, puncture-proof plate
in front of every bolt.
SecuSafe
Resettable high security safe lock
• Vds tested, ECB·S according to EN 1300 class 2/B
• 10 levers
• 50 million key differs
• lock can be immediately reset to a new key if a key is lost
• re-keying with an existing safe possible (Example:
Customer buys another safe and wishes to open both
safes with one key)
• available with several keys on customer request
(no waiting times)
SecuTronic
New electronics with graphic display and
fingerprint scanner
• ECB·S safe lock with fingerprint module EN 1300 class B
• programmable electronic combination lock
• 1,000,000 different codes possible
• 1 admin code, up to 9 user codes and up to 20
fingerprints can be programmed
• the fingerprint scanner features "Fake Fingerprint
Detection"to identify only live fingers. It will not identify
fake or copied fingerprints
• modern, precise and highly sensitive state-of-the-art
authentication process
• timer functions and assignment of rights
Number of batteries
4
Number of potential users
10 codes + 20 fingerprints
Product outer width
430 mm
Product outer height
340 mm
Product outer depth
390 mm
Verpackungseinheit
1.00 Stk
Weight
48,000 kg
Battery type
Mignon LR06 AA
Main material
Steel
Incl. fixing material
yes
Number of shelves
1.00 Stk
Fire protection
- without
History function
2000 events
Interior width mm
348,00 mm
Interior height mm
250,00 mm
Interior depth mm
294,00 mm
No. of max. permitted weapons
5 short
Non-binding insurance guidelines commercial*
10.000 €
Non-binding insurance guidelines private*
40.000 €
Emergency lock
no
File depth
yes
Door opening HxW in mm
250*336
Gun cabinet for short weapons
yes
Gun cabinet for long weapons
no
Storage of narcotics
Hospital subunits (departments or similar), doctors' practices, old people's and nursing homes
* The sums insured stated are non-binding guide values for Germany. The sums insured should always be agreed with the insurance company.
Packaging width mm
470,00 mm
Packaging depth mm
470,00 mm
Type of packaging (carton, blister)
colour carton
Type of fixing material
M10x100mm; Härte 109; Dübel 14mm
Matching key blank
OUTDATED
Wall thickness right
42,00 mm
Wall thickness left
42,00 mm
Wall thickness top
45,00 mm
Wall thickness buttom
44,00 mm
Wall thickness rear
43,00 mm
Optional fixing points
1x Boden + 1x Rückwand
Door thickness
52,00 mm
Protrusion locking system
23,00 mm
Door height
270,00 mm
Updateable firmware
yes
History function
2000 events
Locking bolt
32 mm * 16 mm