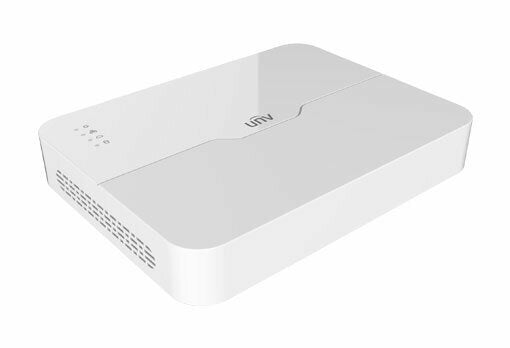 Uniview Video Surveillance IP Recorder | NVR501-08B-LP8
NVR501-08B-LP8
Der Uniview Netzwerk Videorekorder (NVR) überzeugen mit einem integrierten PoE Switch und hoher Systemleistung. Zusätzlich sorgen eine App und eine kostenfreie CMS Software für volle Flexibilität. DerRekorder kann zudem Kameras mit Ultra HD bzw. 4K Auflösung aufzeichnen (IP-Kameras mit bis zu 8 MP Auflösung (Ultra HD)). Updates können bequem über den USB Port des NVR auf die Kameras aufgespielt werden, die Rekorder sind P2P/Cloud fähig (ezCloud/ezView).
NVR501-08B-L8 von UNIVIEW

8-Kanal-Netzwerk Rekorder
Plug & Play mit 8 unabhängigen PoE-Ports am internen Switch
Unterstützung der Videoformate Ultra265/H.265/H.264
Unterstützt 3.Anbieter-Kameras mit ONVIF-Konformität (Profile S, Profile G, Profile T) und RTSP-Protokolle
Unterstützt gleichzeitige HDMI- und VGA-Ausgabe
Aufzeichnung mit bis zu 8 Megapixeln Auflösung
1 SATA HDDs, bis zu 6 TB für jede HDD
ANR-Technologie zur Verbesserung der Speicherzuverlässigkeit, wenn die Netzwerkverbindung unterbrochen ist
Unterstützt Cloud-Upgrades
Material number
524006
Manufacturer
UNIVIEW
Packaging units
1
Type
UNV Netzwerk Videorekorder
Max. Recording channels
8
Max. Image resolution [pixels]
1x HDMI (UHD 3840x2160), 1x VGA (FullHD 1920x1080)
Hard disk capacity (max.)
6 TB
RAID
No
Exportschnittstellen
USB/Netzwerk
Video codec
U-Code / H.265 / H.264
Title overlay
Ja
Audio outputs
1x RCA
Audio inputs
1x RCA
Number of Ethernet ports
5
Bandwidth [Mbit/s]
80
Ethernet standards
10Base-TX/100Base-TX
PoE Standard
IEEE802.3at / IEEE802.3af
Number of PoE ports
8
Max. Power consumption (watts)
10W (ohne HDD, zzgl. PoE)
RTSP Stream
Yes
Private zones
Ja
Watermark
Yes
Safety functions
HTTPS, SSL, IP Filter
User management
Ja
Firmware update
Netzwerk / USB / Cloud
Password protection
Ja
Logbook function
Ja
Translation missing: en.technical_info_table.products.unterstützebrowser
Internet Explorer 11, Chrome >45, Firefox >52.0, Edge > 79
Tripwire (IVA)
Yes
Spot monitor outputs
Nein, simultane Ausgabe HDMI/VGA
Operating devices
PC-Maus
Preset positions
Geräteabhängig (von der Kamera)
PTZ protocols
Netzwerk
PTZ control
Ja
ISCSI
No
Fan
Yes
Supported protocols
P2P, UPnP, NTP, DHCP, PPPoE,SSL,TLS,SNMP,HTTPS
Supported software
ONVIF, API
Software support for remote access
UNIVIEW EZstation
Operating voltage
52Vdc über ext. Netzteil 230 VAC/3A(50/60Hz)
Operating temperature
-10 bis +55
Redundant power supply
No
Housing type
Kunststoff
USB interface(s)
Yes
Manual language
EN
Packaging units
1
Maximum resolution per channel
8MP (3840x2160)
Remote connections
128
Message Monitor Popup
Yes
Playback image data
1/4/8
Max. Number of incoming connections
128
Housing colour
Weiß
Installation height
1
Dimensions w (width) x h (height) x t (depth)
205mm × 212mm × 46mm
Weight
0,98 Kg (ohne HDD)
Storage temperature
-10 bis +50
Relative humidity
10 - 90, nicht kondensierend
Lieferumfang
Netzteil, Maus
Note
Uniview Software, z.B. um die Geräte im Netzwerk zu suchen, finden Sie unter Software bzw. Downloads&Software.
Marking
CE