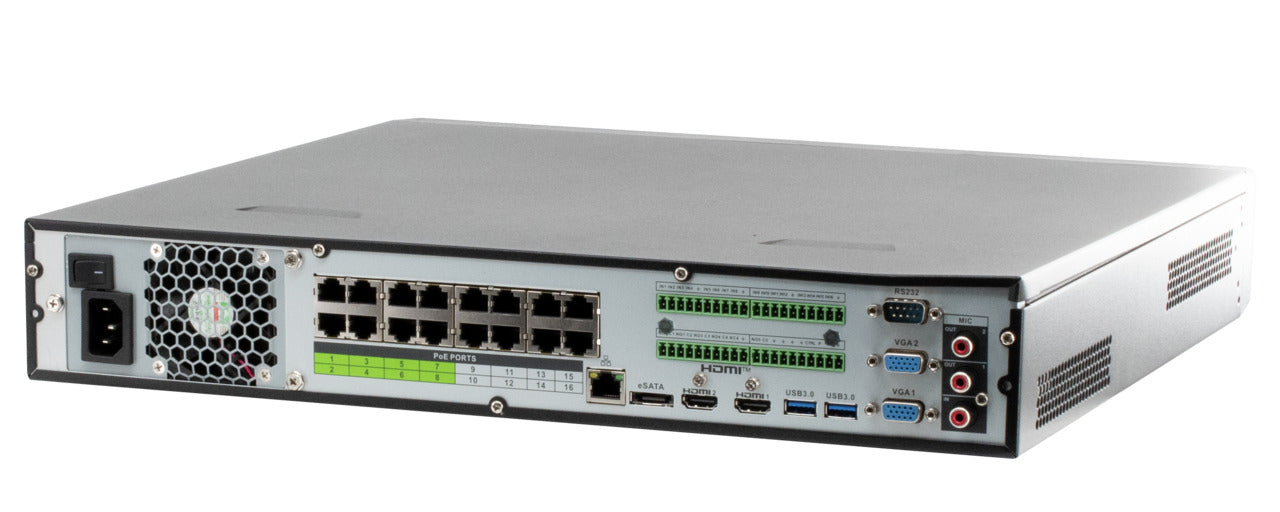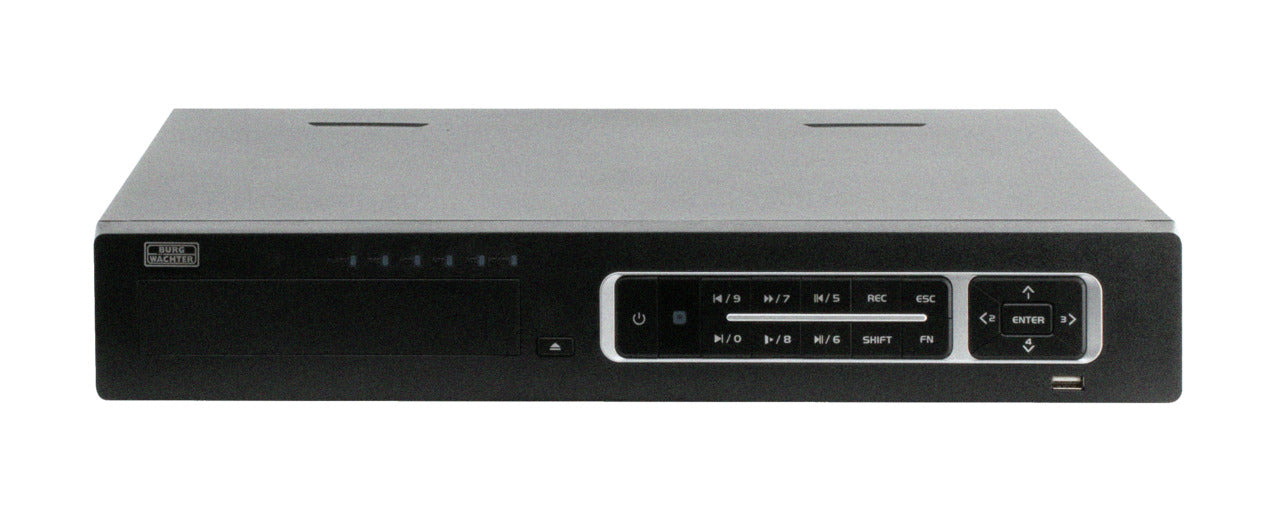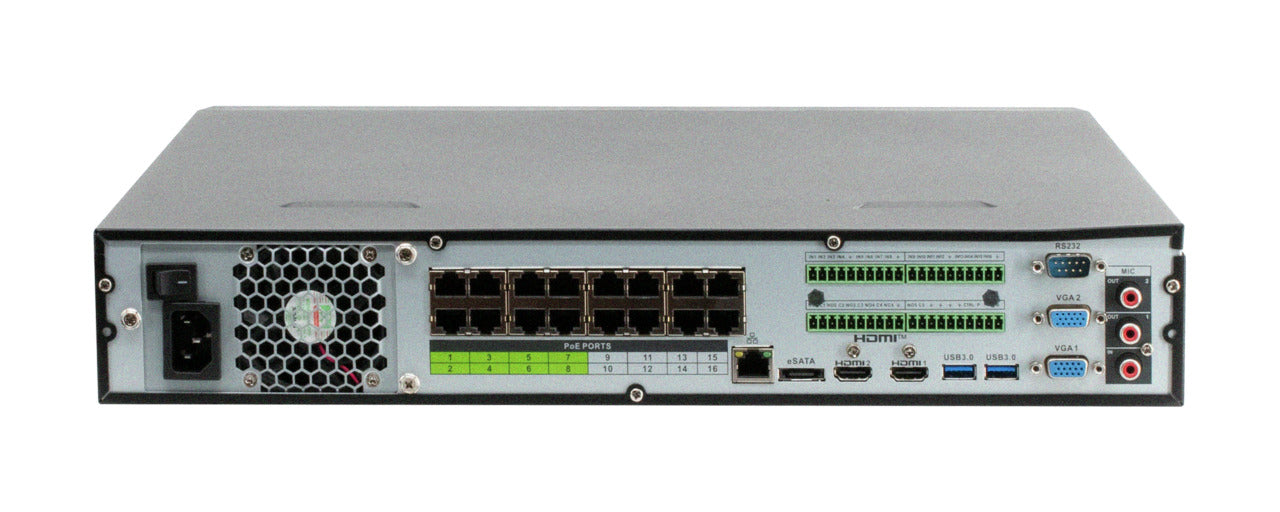 Aufzeichnung-Netzwerk Rekorder | BWNVR-36444EI
BWNVR-36444EI
AI Netzwerk-Videorekorder - die performante Lösung
Dieser Rekorder ist das neuste und performanteste Modell der BWNVR Serie. Mit einer maximalen Bandbreite von 384 Mbit/s können bis zu 64 Netzwerkkamera-Streams gleichzeitig aufgezeichnet werden. 
AI Videoanalyse onBoard
Die Performance des Chipsatzes ermöglicht es umfangreiche AI Videoanalysen direkt über der Rekorder durchführen zu lassen. Dies eröffnet zugleich die Möglichkeit alte Bestandssysteme auf den neusten Stand der Ereigniserkennung zu bringen. 
Zu den unterstützen AI Analysen gehörten:
8x AIMotion objektklassifizierte Alarmauslösung 
4x Perimeter Schutz durch virtuellen Stolperdraht oder Zonen mit Objektklassifikation
2x Gesichtswiederergekennung durch Rekorder basierte Videoeanalyse und Datenbank
Bei der Objektklassifikation wird jeweils zwischen Personen und Fahrzeugen unterschieden. Objekte wie kleine Tiere, Regen, Schnee oder Vegetation lösen so praktisch keine Fehlalarme aus.
Integrierter (e)PoE Switch mit Plug & Play Funktion
Der integrierte  Switch ermöglicht es bis zu 16 Kameras direkt am System zu betreiben. Damit auch bis zu 800m weit entfernte Systeme ohne zusätzliche Hardware eingebunden werden können bietet das System 8x ePoE Ports, zusätzlich zu den 8x Standard .at PoE Ports. Mit einer Gesamtleistung von bis zu 130W können so Kameras direkt per Plug & Play angeschlossen werden. Dabei werden die Kameras beim ersten anschließen direkt initialisiert und eingebunden, was den Einrichtungsprozess erheblich verkürzt.
Unabhängige Muti-View Ansichten
Der Rekorder verfügt über 2x HDMI und 2x VGA Monitorausgänge die jeweils, im Paar HDMI+VGA, synchron Ausgangssignale liefern. Die Paare können individuell konfiguriert werden, so dass sich die 64 Kanäle detailiert darstellen lassen. Dies kann als fixe Darstellung, als Alarm PopUp oder als Tour-Durchlauf erfolgen. 
Bei der Verwendung eines Digital Rekorders ist der Einsatz einer USV Anlage empfohlen. Dieser Rekorder wird ohne Festplatte ausgeliefert. In der Kategorie "Empfohlenes Zubehör" können Sie eine passende Festplatte wählen. Unser Service: Die ausgewählten Festplatten werden dann von unserem Serviceteam kostenfrei für Sie eingebaut. 
AI UHD Netzwerk Videorekorder mit integriertem PoE Switch für IP Kameras

8x AIMotion über Rekorder basierte Videoanalyse
4x Perimeter Schutz durch Rekorder basierte Videoanalyse
2x Gesichtswiedererkennung durch Rekorder basierte Videoeanalyse 

Unterstützt außerdem Kamera basierte AI IVA Metadatenerfassung: Perimeterschutz, Gesichtswiedererkennung und -erfassung, Video-Metadaten, ANPR (Kennz. Erk.), Personenzählung, Personenzählung pro Fläche, Wärmebild Funktionen, Heatmap
Aufnahme und Anzeige von bis zu 64 Kanäle
2x HDMI und 2x VGA für 2x unabhängige Monitoranzeigen
4x SATA III Festplatten je bis zu 10TB (max. 40TB)
1x eSATA Anschluss für externe Festplatten
1x Gigabit Netzwerk Anschluss
16 PoE-Ports davon 8 ePoE
Bis zu 150W Ausgangsleistung am internen Switch
Max. 384 Mbps eingehende Bandbreite
Bis zu 24MP Auflösung für Live-Ansicht und Playback
AI / Smart H.265+/Smart H.264+/H.265/H.264/MJPEG; automatische H.265-Umschaltung
1-Kanal-Fisheye-Dewarping (durch NVR)
Alarm Ein-/Ausgänge
Audio Ein-/Ausgänge
Bedienung und Konfiguration über integriertes Webinterface oder per Maus und Monitor
Einbindung von ONVIF Profile S kompatiblen Kameras möglich
BURGcam PRO App kompatibel
BURGcloud kompatibel
Material number
523027
Packaging units
1
Type
Netzwerk Videorekorder
IP channels expandable
64/0
IP Video Channels
Nein
Max. Recording channels
64
Max. Image resolution [pixels]
HDMI-1 (3840x2160 UHD), HDMI-2/2xVGA (1920x1080)
Hard disk capacity (max.)
40 TB (4x 10 TB)
RAID
NoRedundant recording possible
Exportschnittstellen
USB/Netzwerk
Maximum resolution at video output
UHD (3840 x 2160)
Video codec
H.265+ / H.265 / H.264+ / H.264 / MJPEG
Title overlay
Ja
Alarm outputs
6
Alarm inputs
16
Audio outputs
2 x Cinch
Audio inputs
1 x Cinch
Number of Ethernet ports
16x PoE + 1x LAN
Bandwidth [Mbit/s]
384
Ethernet standards
10/100/1000 Base-T
PoE Standard
IEEE802.3at / IEEE802.3af
Number of PoE ports
16
Max. Power consumption (watts)
NVR: 17,5 (ohne HDD, zzgl. PoE)
ePoE / Long-Range PoE
Ja, Port 1-8
Long Range PoE
Ja, Port 1-8
DHCP support
Yes
RTSP Stream
Yes
Private zones
Kamera Modell abhängig
Watermark
Yes
external. Hard disk connectable
Yes
Safety functions
HTTPS, MAC/IP Filter, QoS, Login Sperre, Rechte Verwaltung, Jam und DoS Erkennung, Blocker - Abschaltung von nicht benötigten Funktionen, Online Update Suche
User management
Ja, inkl. Gruppen- und Rechteverwaltung
Firmware update
Netzwerk / USB / Cloud
Password protection
Ja, optional 4-Augen-Prinzip
Signal lost (alarm event)
Yes
Logbook function
Ja
Translation missing: en.technical_info_table.products.unterstützebrowser
Internet Explorer 11, Chrome, Firefox
Intelligent search algorithms
Ja
Max. IVA Channels
8/16
Motion Detection
Yes
Tripwire (IVA)
Yes
Zone and trip wire (IVA)
Yes
Zone / trip wire (IVA)
Yes
Counting applications (IVA)
Yes
Face recognition (IVA)
Yes
Spot monitor outputs
Ja, VGA oder HDMI
Remote control
Yes
Operating devices
Maus, KSC-USB-NET, IR-Fernbedienung
Preset positions
Geräteabhängig (von der Kamera)
PTZ protocols
PELCO-D, PELCO-P, SAMSUNG, SONY uvm
PTZ control
Ja
PTZ Tour
Yes
RS 232 interface
Yes
ISCSI
Yes
Fan
Yes
ONVIF
Profile S / G / T
Supported protocols
HTTP; HTTPS; TCP/IP; DHCP; IPv4/IPv6; Wi-Fi (mit Erweiterung); 3G/4G (mit Erweiterung); SNMP; UPnP; RTSP; UDP; SMTP; NTP; DHCP; DNS; IP Filter; PPPoE; DDNS; FTP; Alarm Server; P2P; Bonjour; IP Search
Supported software
ONVIF, CGI
Cloud service
Yes
Software support for remote access
BURGvms, diverse via ONVIF
Operating voltage
100 - 240 V AC
Operating temperature
-10 bis +55
Housing type
Metall
Operating system
Linux
Manual language
DE, EN
Packaging units
1
Time synchronization
NTP Protokoll
Noise emission [db]
50 (T_amb=-10-30°C)
Maximum resolution per channel
12 MP (4000x3000)
Alarm input controlled recording
Yes
Motion controlled recording
Yes
Alarm input controlled recording
Ja
Permanent recording
Yes
Schedule recording
Yes
Digital output message
Yes
Message audio
Yes
E-mail notification
Yes
Message Monitor Popup
Yes
Playback image data
1/4/6/9/10/13/16/25/36/49/64
Pre-alarm recording
Yes
Post-alarm recording
Yes
Max. Number of incoming connections
128
Image data export
Yes
Housing colour
Schwarz
Installation height
2
Dimensions w (width) x h (height) x t (depth)
440 x 415,1 x 75
Weight
4,7 kg (ohne HDD)
Storage temperature
-20 bis +70
Relative humidity
10 - 90, nicht kondensierend
Lieferumfang
LAN-Kabel, Festplatten Montage Set, Maus
Special features
AI IVA als Rekorderfunktion, Unterstützt 4K/UHD Kameras, 4-Augen-Prinzip, AI H.265(+), eSATA, iSCSI, Multi-Monitor Unterstützung
Note
Bei der Verwendung eines Digital Rekorders ist der Einsatz einer USV Anlage empfohlen. Dieser Rekorder wird ohne Festplatte ausgeliefert. In der Kategorie "Empfohlenes Zubehör" können Sie eine passende Festplatte wählen. Diese wird dann von unserem Serviceteam kostenfrei für Sie eingebaut.
Marking
CE