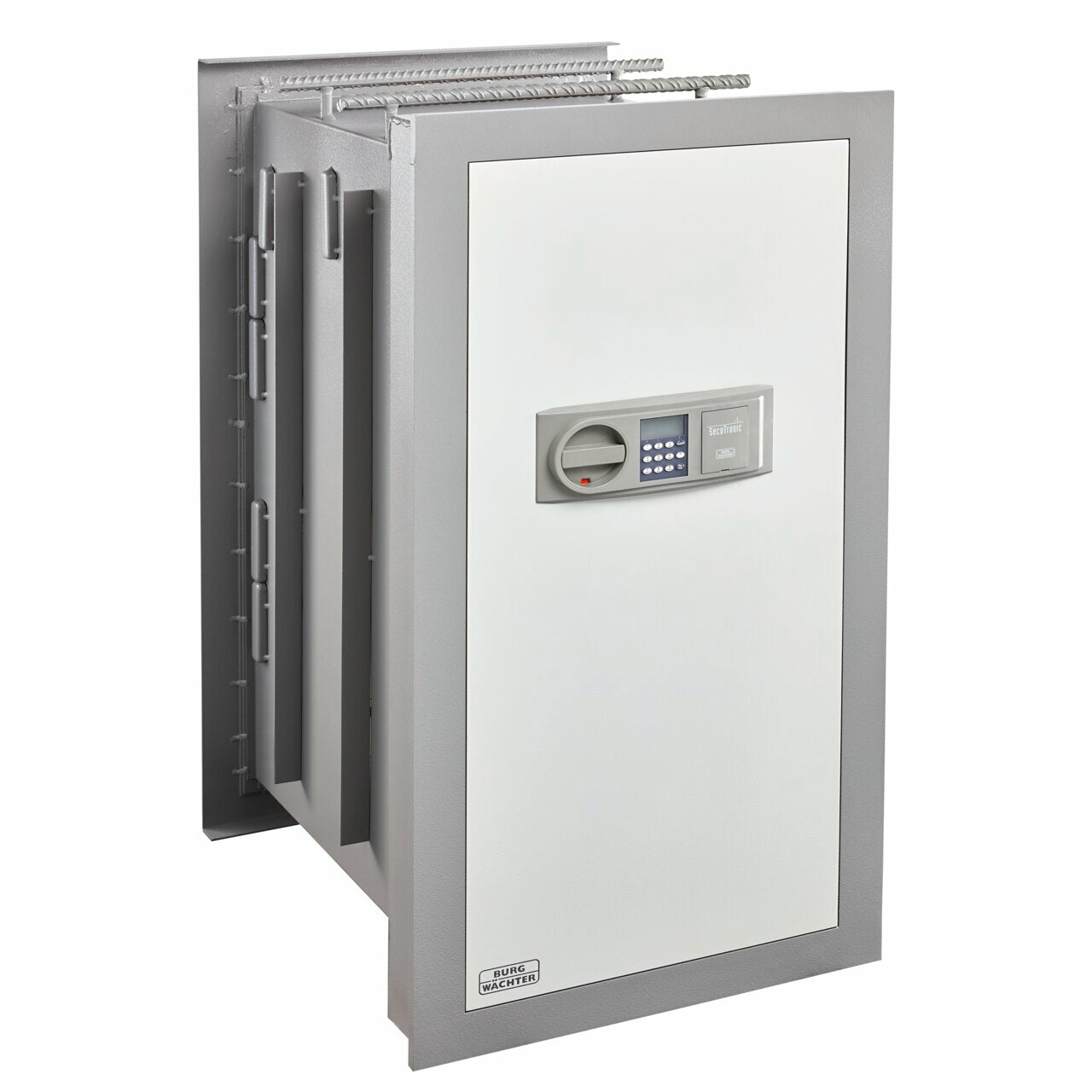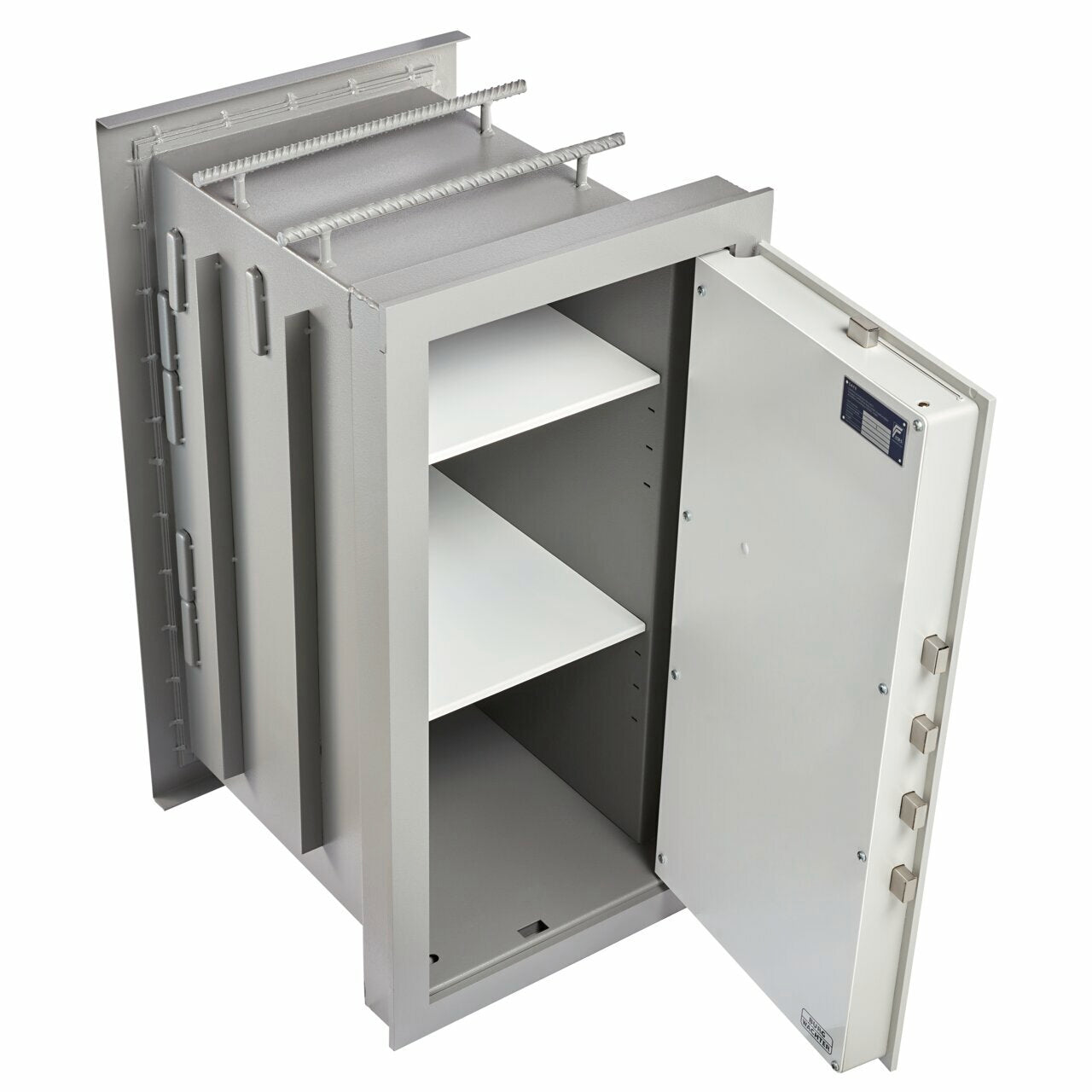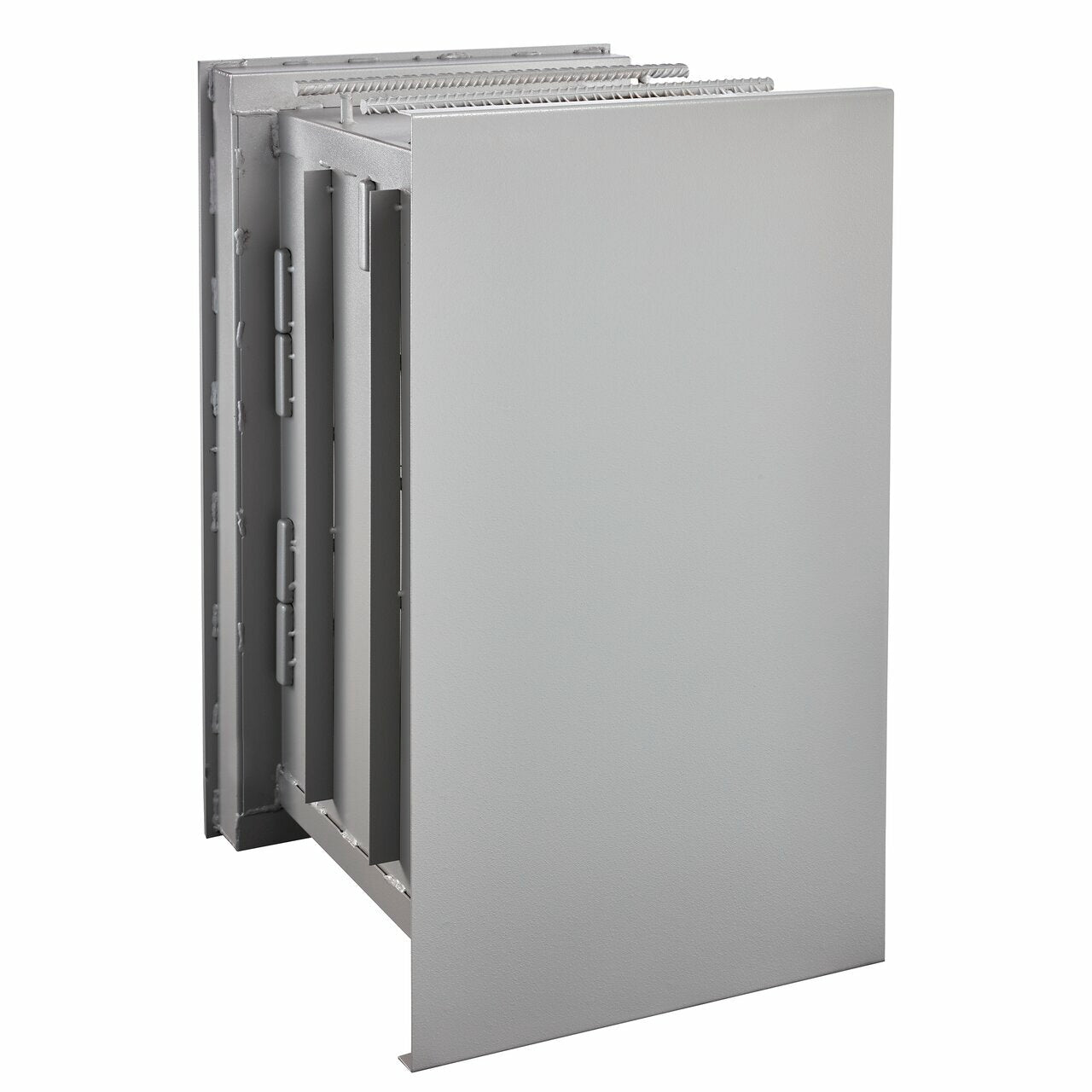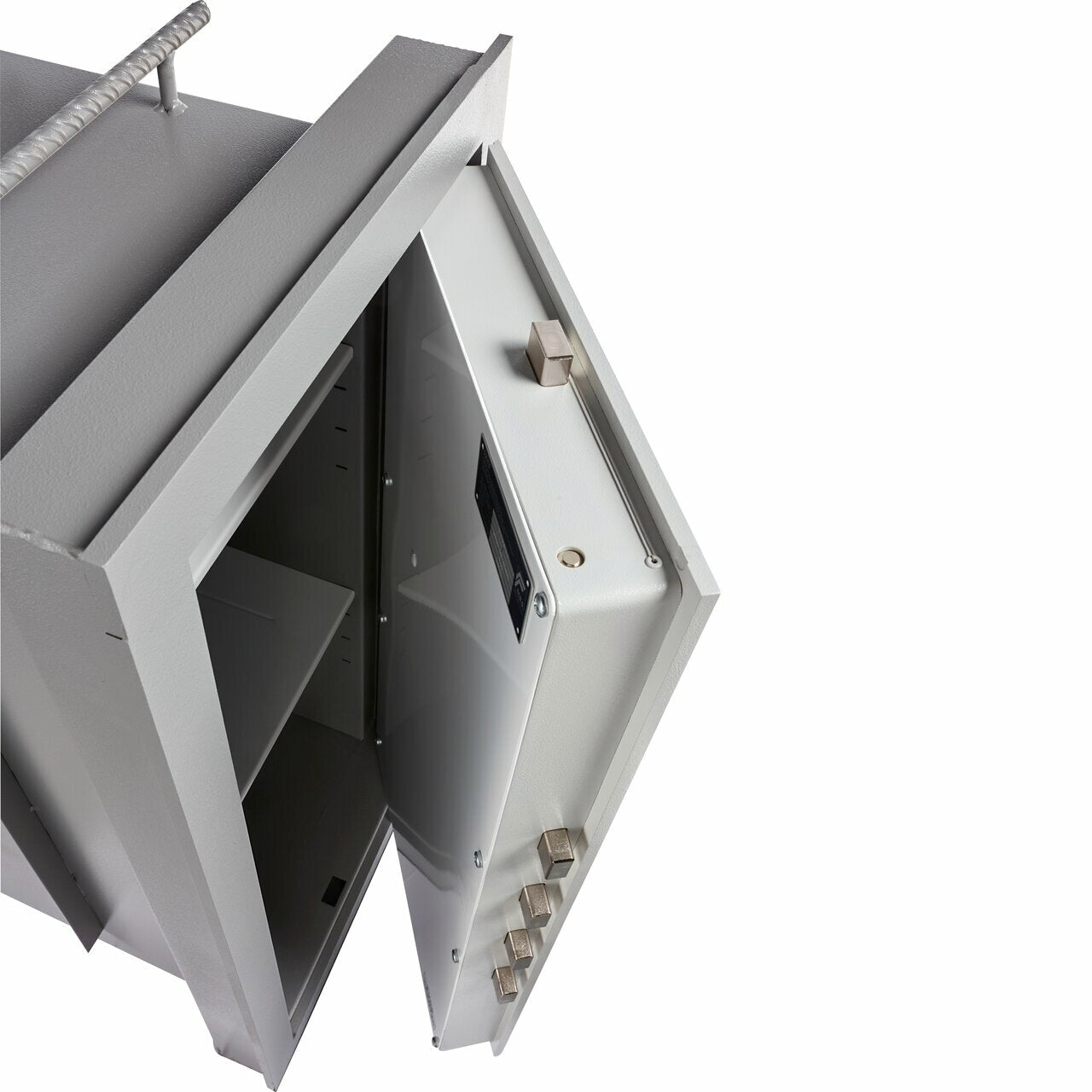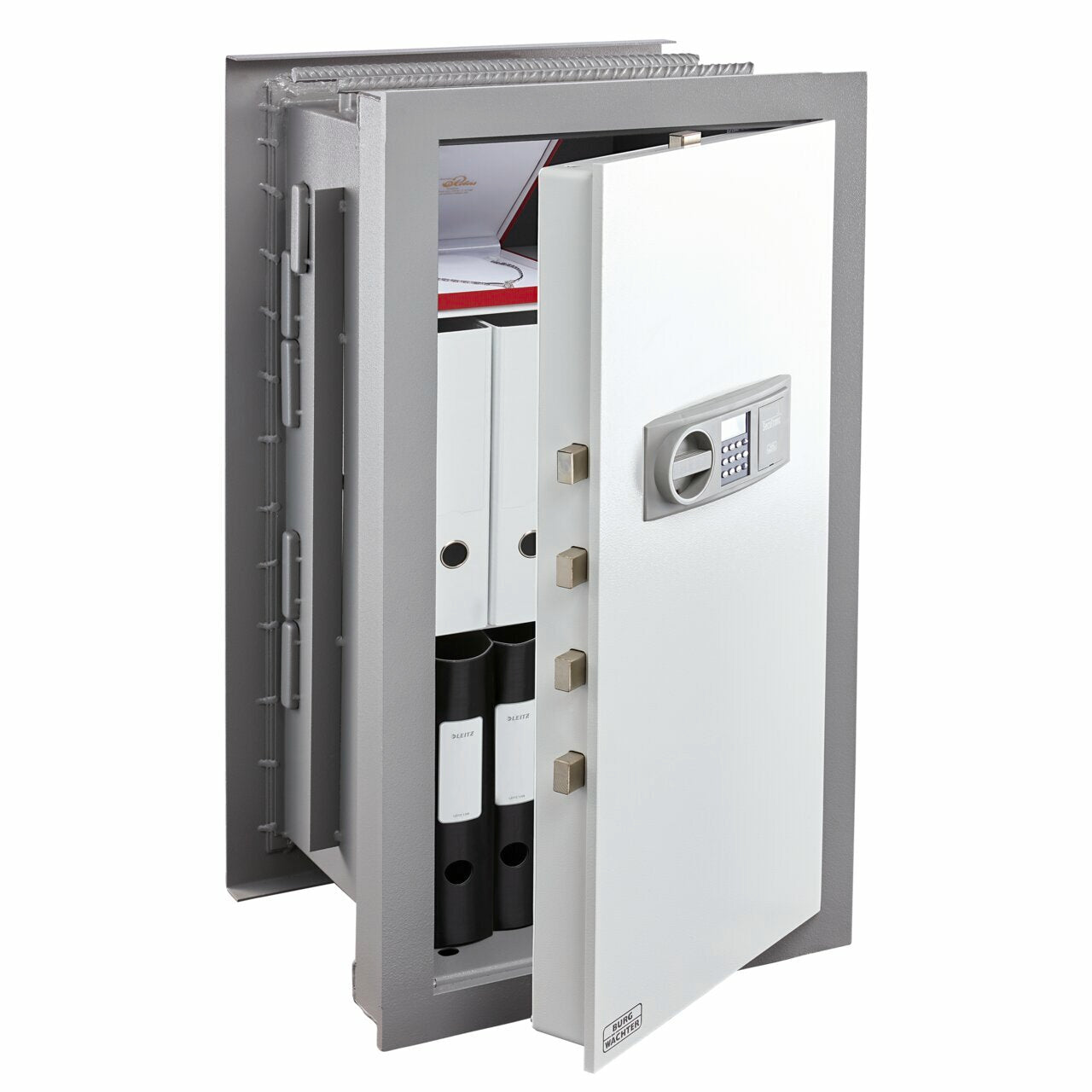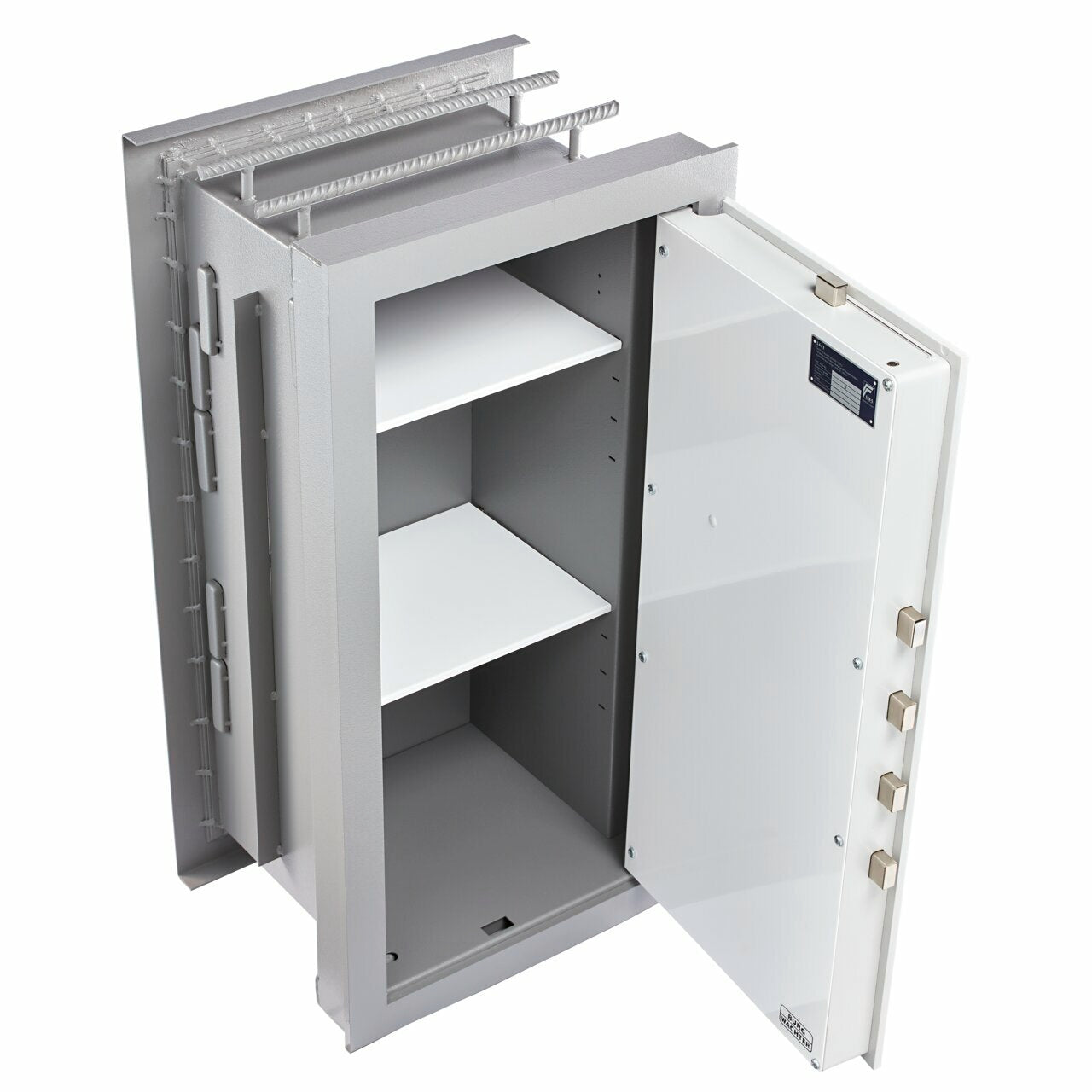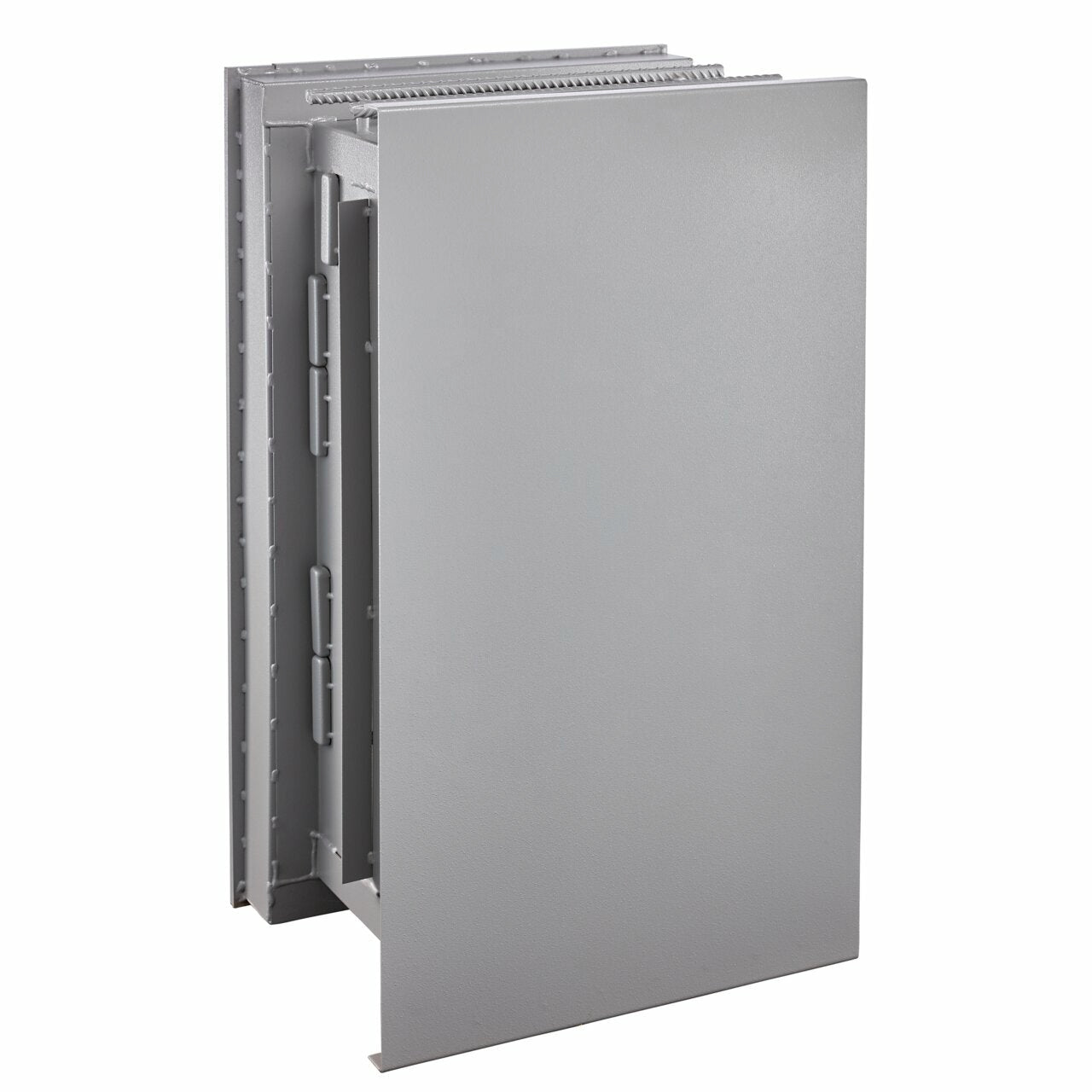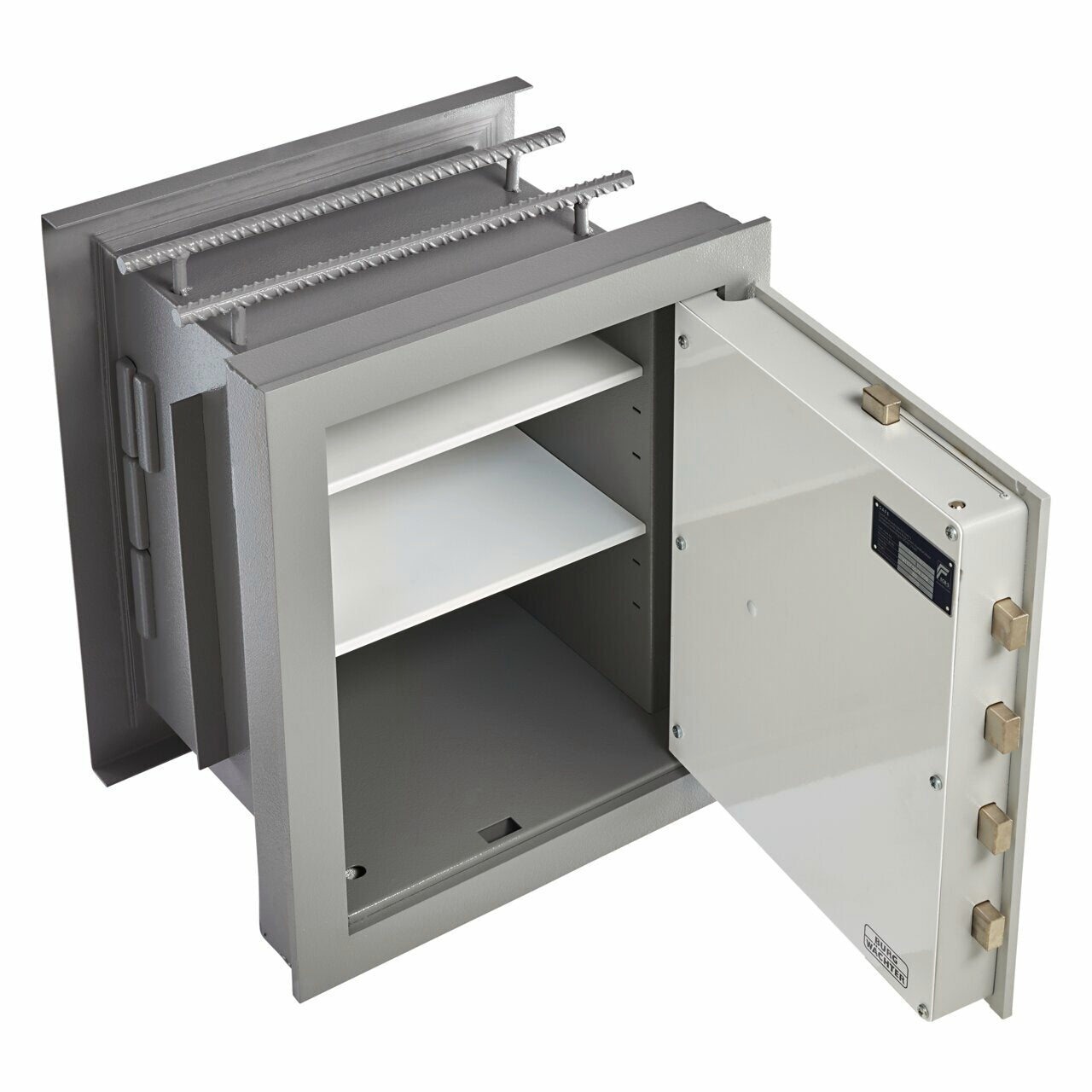 Safe wall safes | WTD Diplomat
WTD 710 5 350 E
The Diplomat for a sturdy immurement
Just in case: The wall safes of the "Diplomat" series with the robust body and the sturdy anchoring in the wall, offers a maximum resistance against forceful breaking. The safe is ECB•S certified, VdS tested and provides a certified protection against burglary according to EN 1143-1.
Robust steel construction
The wall safes of the Diplomat series are ideally equipped against burglary. The back wall consists of 10 mm strong steel with a proportion of stainless steel for an ideal protection against a breaking attempt with a fire cutter. The sturdy construction provides high security und best possible utilisation of the wall thickness. With the specially designed fire fold inside the body, the wall safe Diplomat additionally shelters the inside from fire and heat.
Resistant wall safe door
The door of this safe is double-walled and the door leaf is made of 10 mm strong SM steel. The lock of the Diplomat has a robust manganese steel plating as an additional protection. The locking happens three-sided through strong square bolts with two integrated steel core each for a double protection against fire cutting.Briefly: With this door, even an experienced burglar will have major difficulties – guaranteed. Moreover, the safe is additionally provided with fire-protective material according to DIN 4102-A1 to offer extra safety in a case of fire.On request, the door hinge is also available on the left hand side – without extra charge.Your security advantage: Due to the patented, non-resettable double emergency locking mechanism, the inside is optimally protected against theft in every situation. The special protection against a break-through in front of the lock each bolt contribute to the outstandingly high security of the wall safe.
VdS tested "SecuTronic" combination lock
The programmable, electronic combination lock "SecuTronic" is certified according to VdS class 2 and offers one million different combinations. Due to the intelligent menu-driven operation, an organised administration of up to ten 6-digit user codes. Via the optionally available TSE PC software, you can additionally administrate user names, access times and rights, calendar options and much more.For an immediate commissioning of your wall safe Diplomat, there are already two batteries enclosed.Please note that the lock armature protrudes 32 mm.
All around protection for your valuables
Safely store away cash money, jewellery, documents and other valuables. The interior offers enough space for more than one common sized file. Separately available is an additional interior safe with a cylinder lock, suitable to keep common sized files as well. Version WT 10/5 of the wall safe Diplomat is equipped with one, version WT 10/6 and 10/8 with two adjustable shelves. The two-coloured design is plain, elegant and does not attract unwanted attraction.The wall safe "Diplomat" offers a commercial insurance coverage of up to 20.000 € and a private coverage of up to 65.000 €. Please note that due to differing insurance conditions, an agreement with your insurer is necessary.
• type tested and supervised security by
ECB·S
• certified protection against burglary
according to EN 1143-1
• back wall made of 10 mm strong steel
with stainless steel armouring for
flame-cutting protection; more secu-
rity and maximum utilization of the
wall thickness, no concrete back wall
necessary
• double-walled door, door leaf made of
SM steel, thickness: 10 mm
• manganese steel plating as additional
protection of the lock
• 3-sided locking through strong
square bolts with 2 integrated steel
rolls - double protection against
flame-cutting
• all-over rear gripping bar on the
hinge side
• door with fire-protective material
according to DIN 4102-A1
• body with all-round fire fold
• convenient depth for common sized
files
• adjustable shelf:
size 5: one shelf
size 6 and 8: two shelfs
• available with optional
internal safe
• paintwork: two-coloured
• extra security: door with double
emergency locking mechanism, not
resettable, patented. Extra armoring
in front of all bolts and lock
• also available with left-sided hinge Version E "SecuTronic"
Electronic combination locks
• VdS certified, class 2
• up to 10 six-digit user codes
• incl. 2 Mignon LR 06 AA batteries
• locking armature protrudes 18 mm
Number of batteries
2
Product outer width
500 mm
Product outer height
465 mm
Product outer depth
385 mm
Verpackungseinheit
1.00 Stk
Weight
62,000 kg
Battery type
Mignon LR06 AA
Main material
Steel
Incl. fixing material
no
Number of shelves
1.00 Stk
Fire protection
- without
History function
optionally via TSE software
Interior width mm
370,00 mm
Interior height mm
345,00 mm
Interior depth mm
300,00 mm
No. of max. permitted weapons
unlimited
Non-binding insurance guidelines commercial*
20.000 €
Non-binding insurance guidelines private*
65.000 €
Emergency lock
no
File depth
yes
Door opening HxW in mm
345*340
Gun cabinet for short weapons
yes
Gun cabinet for long weapons
no
Storage of narcotics
Hospital subunits (departments or similar), doctors' practices, old people's and nursing homesHospital pharmacies, public pharmacies
* The sums insured stated are non-binding guide values for Germany. The sums insured should always be agreed with the insurance company.
Packaging width mm
535,00 mm
Packaging depth mm
535,00 mm
Type of packaging (carton, blister)
neutral carton
Protrusion locking system
18,00 mm
Door height
361,00 mm
Updateable firmware
no
History function
optionally via TSE software
Locking bolt
Ø 28 mm