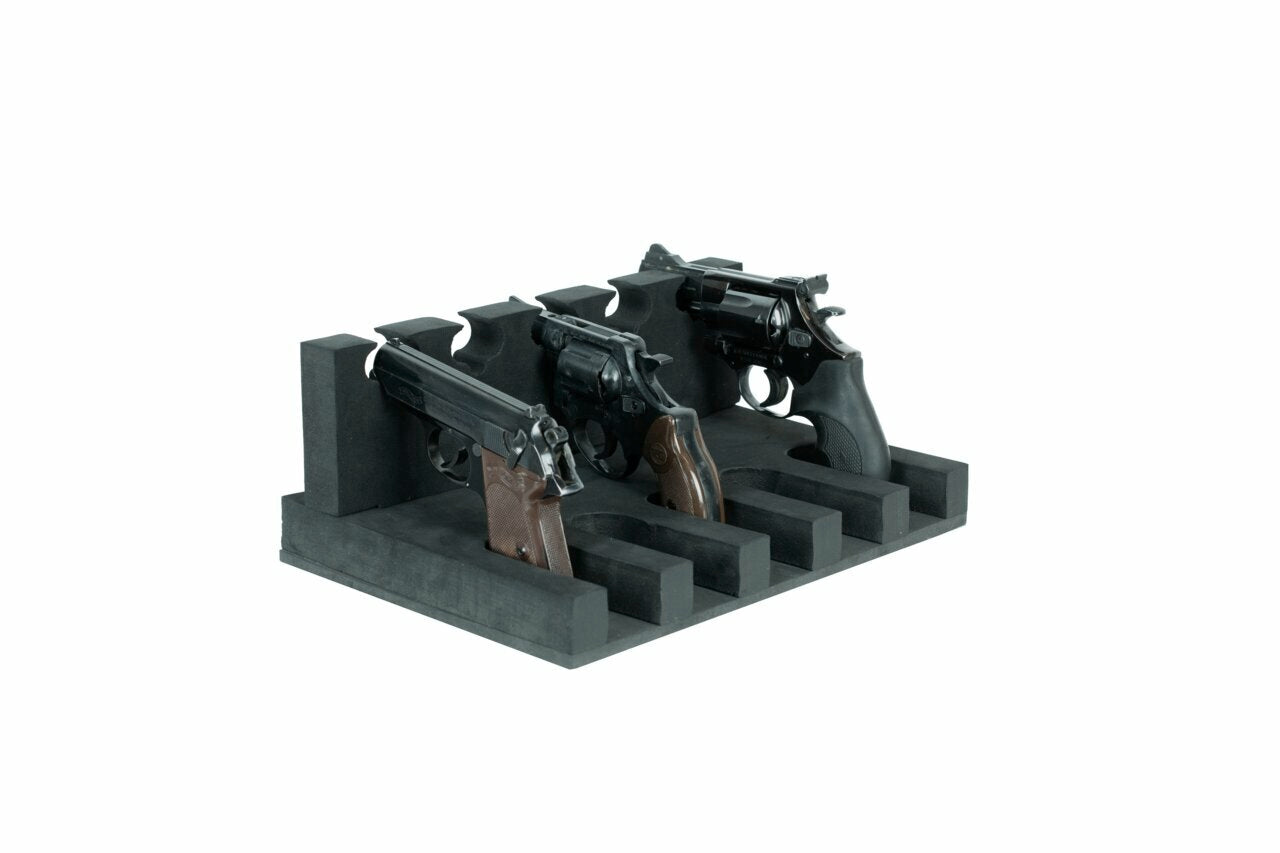 Tresore-Zubehör Tresore | KWH 5
KWH 5
KWH 5 handgun holder for easy storage
Whether you have a safe or gun cabinet, with the KWH 5 handgun holder, every gun will be safely stored. With the handgun holder you can store up to five handguns separately from other contents in your safe. After all, handguns of course need to be stored in a safe place and cannot be freely accessible to unauthorized people.The KWH 5 consists of two sturdy foam parts that you simply put together. Thanks to the two integrated adhesive strips, you can fix the holder securely in the safe or gun cabinet. It only takes a few seconds to put it together and fasten it. Afterwards, handguns of different sizes can be stored in your safe and are stored in a permanently upright position.
Fits perfectly for the Magno short gun safe
The KWH 5 handgun holder is ideally suited for use in our Magno M 520 and Magno M 540 small weapon safes. It can also be used with all other safes with a resistance grade of 0 (N) or higher.Thanks to the robust construction of the foam parts, the KWH 5 has a long service life. In addition, the solid-coloured black foam is insensitive to stains and dirt. So that you can use the KWH 5 handgun holder for many years without any problems.
• made from robust foam
• suitable for use in small arms safes
(e.g. BURG-WÄCHTER Magno M 520
and M 540)
Location (indoor/outdoor)
n.a.
Product outer width
335 mm
Product outer height
130 mm
Product outer depth
230 mm
Verpackungseinheit
1.00 Stk
Weight
0,160 kg
Main material
Foam
Incl. fixing material
no
Number of shelves
0.00 Stk
Fire protection
- without
History function
No
Interior width mm
0,00 mm
Interior height mm
0,00 mm
Interior depth mm
0,00 mm
No. of max. permitted weapons
none
Non-binding insurance guidelines commercial
without
Non-binding insurance guidelines private
without
Emergency lock
no
File depth
no
Door opening HxW in mm
0
Gun cabinet for short weapons
no
Gun cabinet for long weapons
no
Storage of narcotics
Storage not permitted
Packaging width mm
363,00 mm
Packaging depth mm
237,00 mm
Type of packaging (carton, blister)
n.a.
Matching key blank
OUTDATED
Updateable firmware
no
History function
No