Gun cabinets & gun safes
Store weapons safely!
Important note for owners of gun safes with key lock:
According to current case law, the keys must be stored in a safe of equal security. (German OVG NRW, 30.08.2023 - 20 A 2384/20)
Therefore, the CID recommends: when purchasing a new gun safe, choose one with an electronic combination lock!

Are you affected by the current legislation and the owner of a gun safe with a key lock? Then our Magno-Safe is the best choice.

The right gun cabinet for long guns and handguns
A gun cabinet is an important safety accessory for every gun owner. It serves as a safe place to store long guns, handguns and ammunition. By the end of 2020 alone, 36,140 privately owned firearms had been lost in Germany.
When choosing the right gun cabinet, you should pay attention to the following criteria:
Certification: Make sure that the gun cabinet has certification according to German or European standards (VdS, ECB-S). These standards ensure that the cabinet meets certain security standards.
Resistance grade: Weapons cabinets are divided into different resistance grades (e.g. 0, I, II, III). The higher the resistance grade, the higher the security. In Germany, at least class 0 weapon cabinets (according to EN 1143-1) are required for long weapons. A maximum of 5 handguns may be stored in a gun cabinet with resistance grade 0 and a weight of less than 200 kg. In gun cabinets with resistance grade 0 and a weight of over 200 kg, on the other hand, you can store up to 10 handguns.
Size and capacity: Choose a gun cabinet that offers enough space for your long guns, handguns and ammunition. Also consider whether you will be adding more weapons in the years to come. If an unlimited number of long weapons can be secured in gun cabinets with security level 0 or higher, there are narrow limits for handguns (see above).
Lock: Choose a gun cabinet with a high-quality lock (e.g. double-bit lock, electronic lock or biometric lock). A good lock provides additional security and protects your weapons from unauthorised access.
Important note: According to a recent ruling of the OVG NRW from August 2023, the keys of a gun cabinet with key lock must be secured at least equally! BURG-WÄCHTER therefore recommends the purchase of gun cabinets with electronic and/or biometric locks.
Anchoring: Make sure that the gun cabinet has anchoring facilities so that it can be firmly fixed to the floor or wall. Good anchoring prevents the cabinet from being easily taken away in the event of a break-in.
Price: Gun cabinets can vary in price depending on size, material and security features. Check your needs, consider whether more weapons may be added in the next few years and then compare different models to find the right gun cabinet.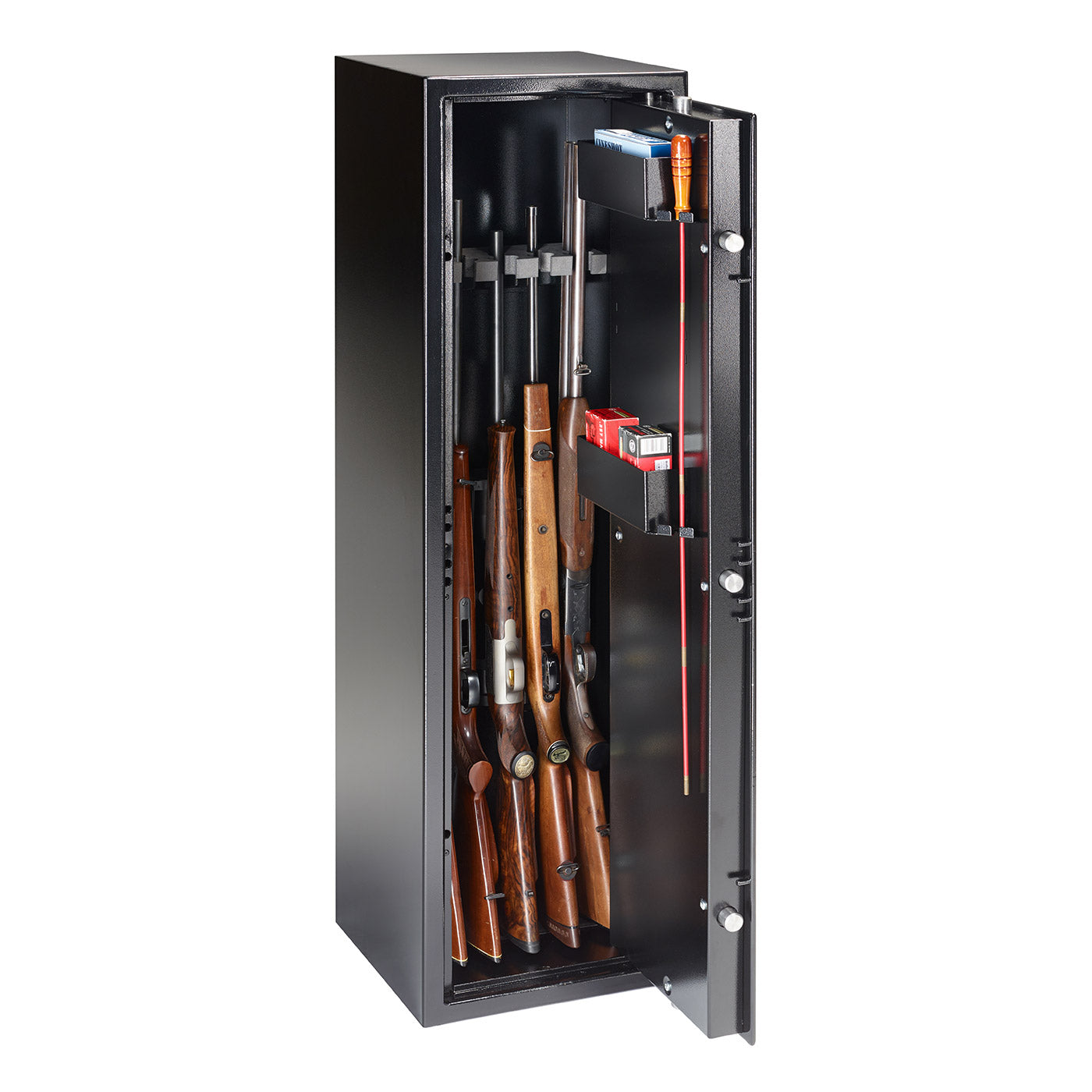 Weapons cabinets of class 0 according to EN 1143-1
BURG-WÄCHTER Ranger N5 and N7 gun safes
The Ranger N7 and N5 gun safes with resistance grade 0 comply with the stricter German weapons law, ensuring responsible storage for long guns and up to 5 handguns. Both models are available with either a key lock or an electronic lock. The Ranger N7 can hold up to 7 long guns, the N5 up to 5.

Both have a three-walled body, double-walled door and 25 mm thick round bolts in common.
Weapons cabinets class 1 according to EN 1143-1
BURG-WÄCHTER Ranger 800 gun safe
The Ranger 800/8 gun safe ensures responsible storage of weapons. The Ranger stores up to eight long guns, any number of handguns and ammunition in accordance with § 36 of the German Weapons Act. The Ranger 800/8 with resistance grade I is monitored by the ECB and offers an extremely high level of security according to EN 1143-1-certified burglary protection. Its double-walled body consists of two 3 mm thick steel panels (total wall thickness 71 mm). The door is also double-walled and closes with 28 mm thick round bolts on three sides. The Ranger 800 is available with an armoured high-security double-bit lock or electronic combination lock with fingerprint module.
Magno-Safe - Short gun safe and strongbox
Whether hunter or sport shooter: gun owners bear a great responsibility. That is why § 36 of the German Weapons Act prescribes a safe with at least resistance grade 0 (N) for the safe storage of weapons. In the Magno you can store up to five handguns with ammunition. The Magno short gun safe is available in two sizes, 28 and 51 litres, and with two locking options. The ECB-S certified electronic "SecuTronic" combination lock and the ECB-S certified "SecuSafe" double-bit security lock.

Particularly practical: the optional KWH 5 handgun holder.