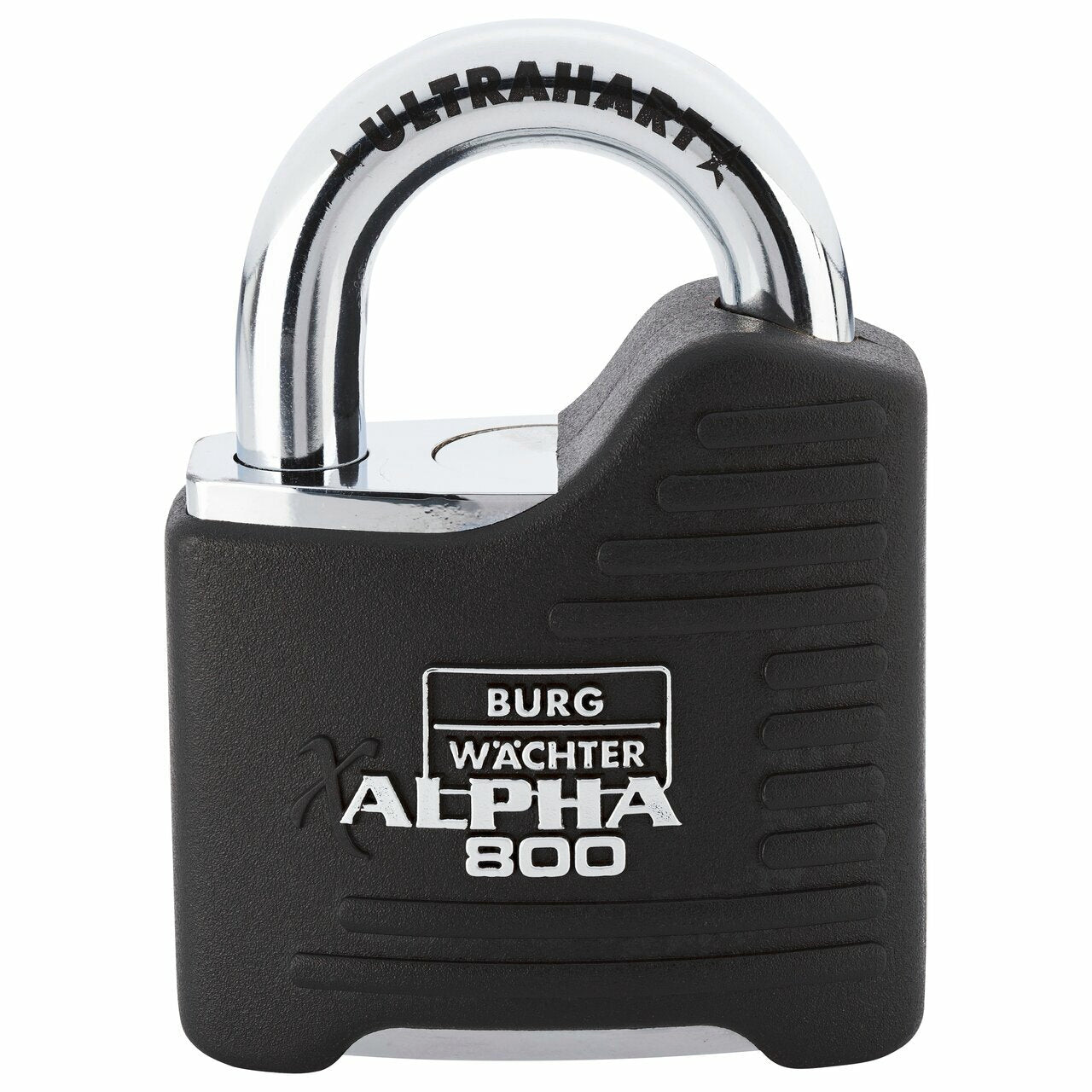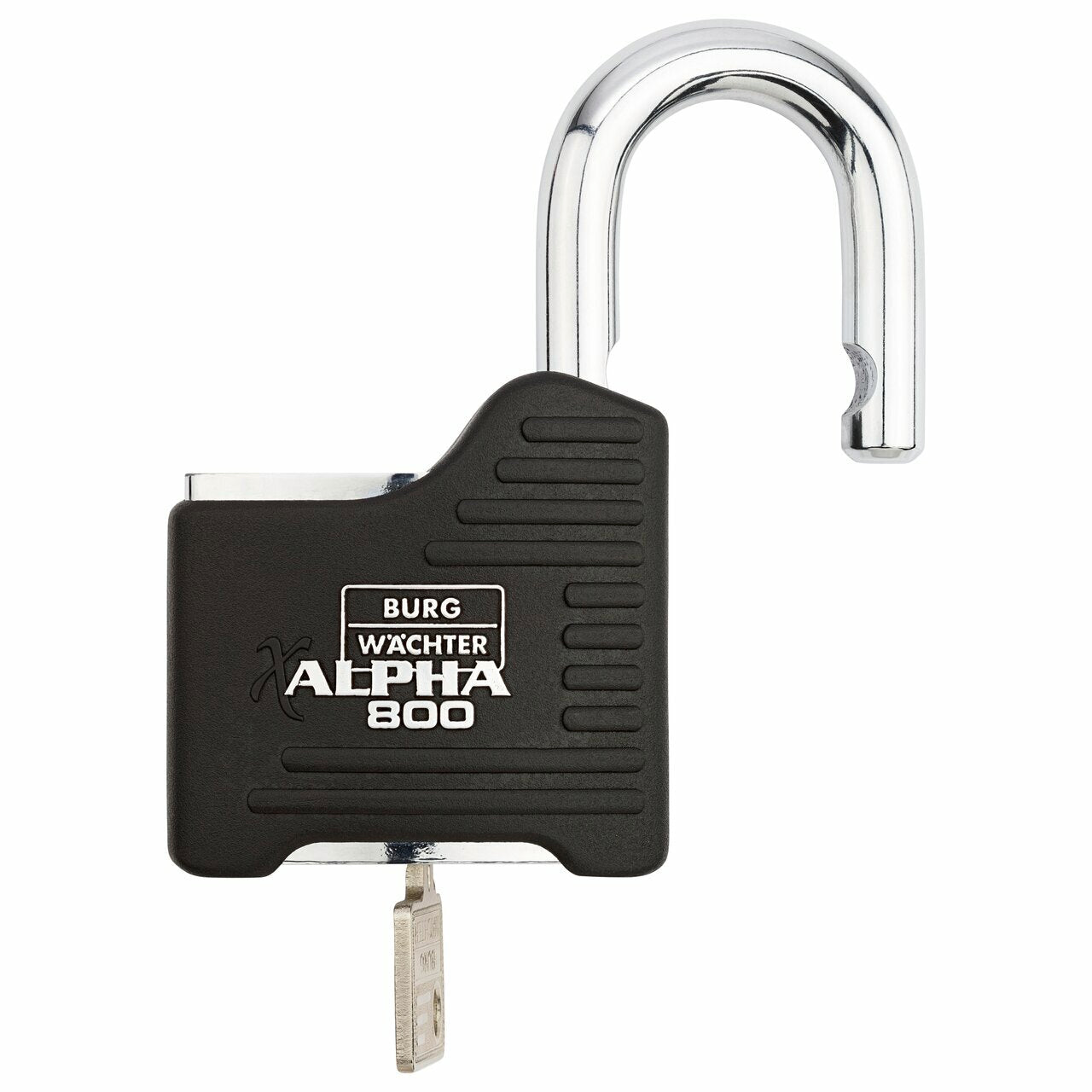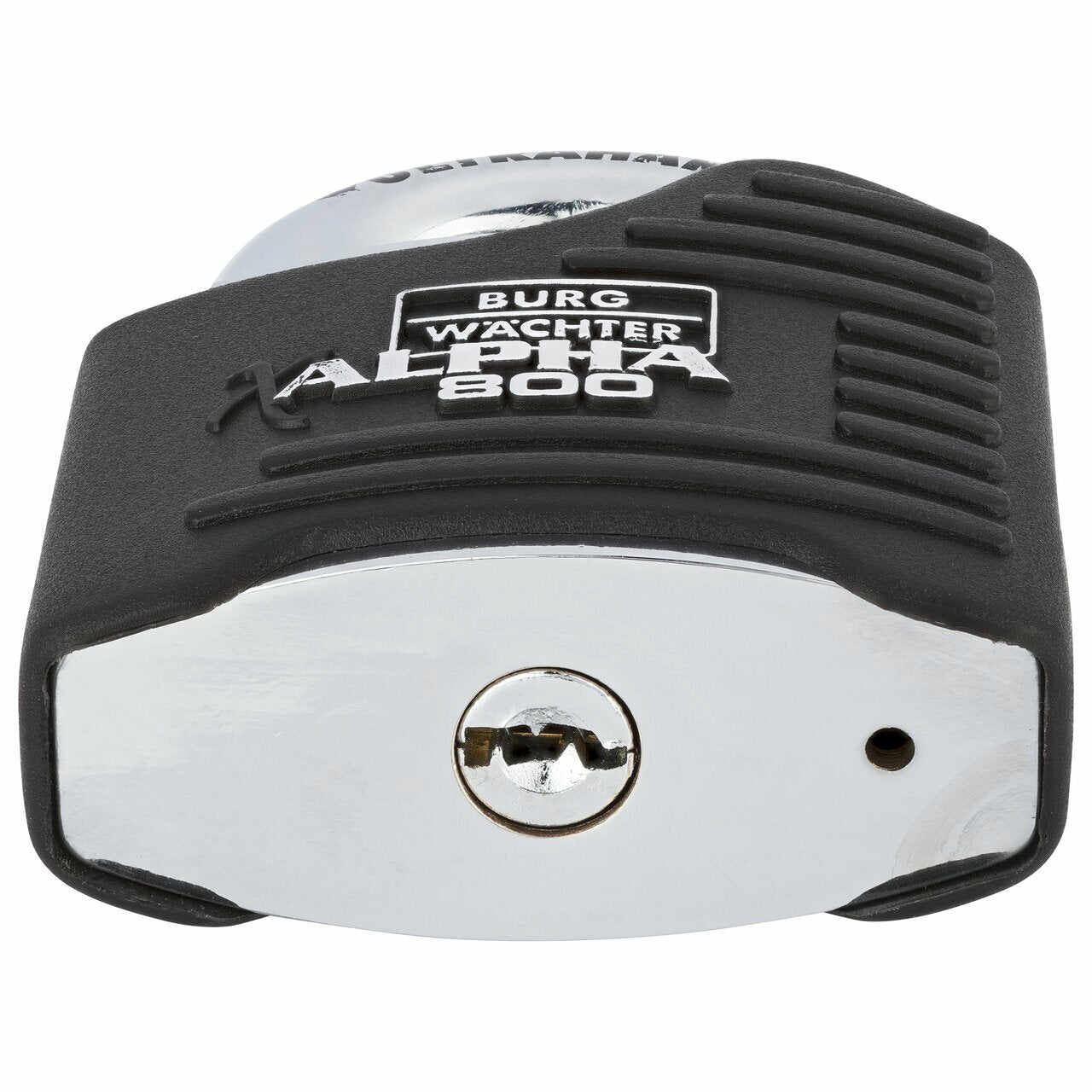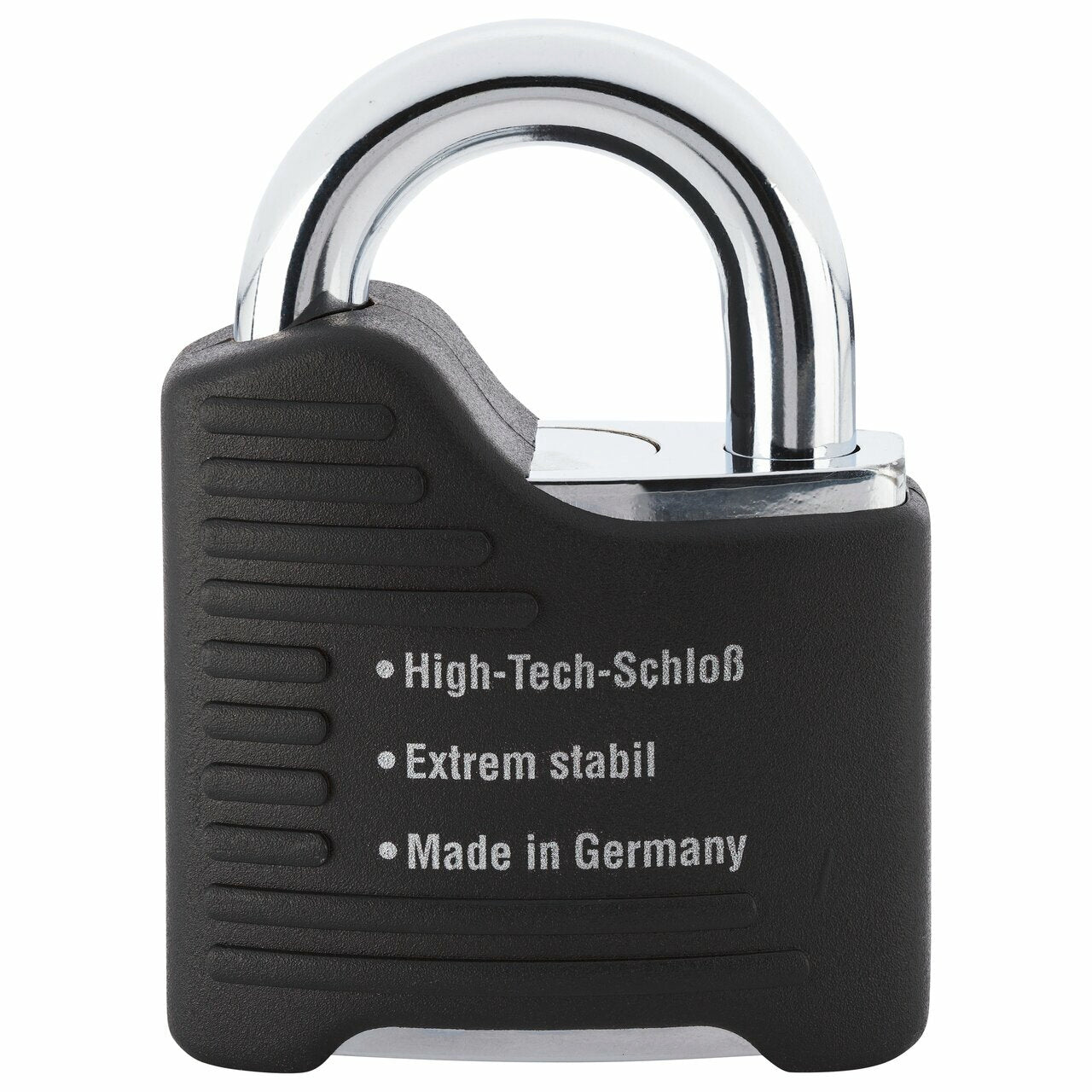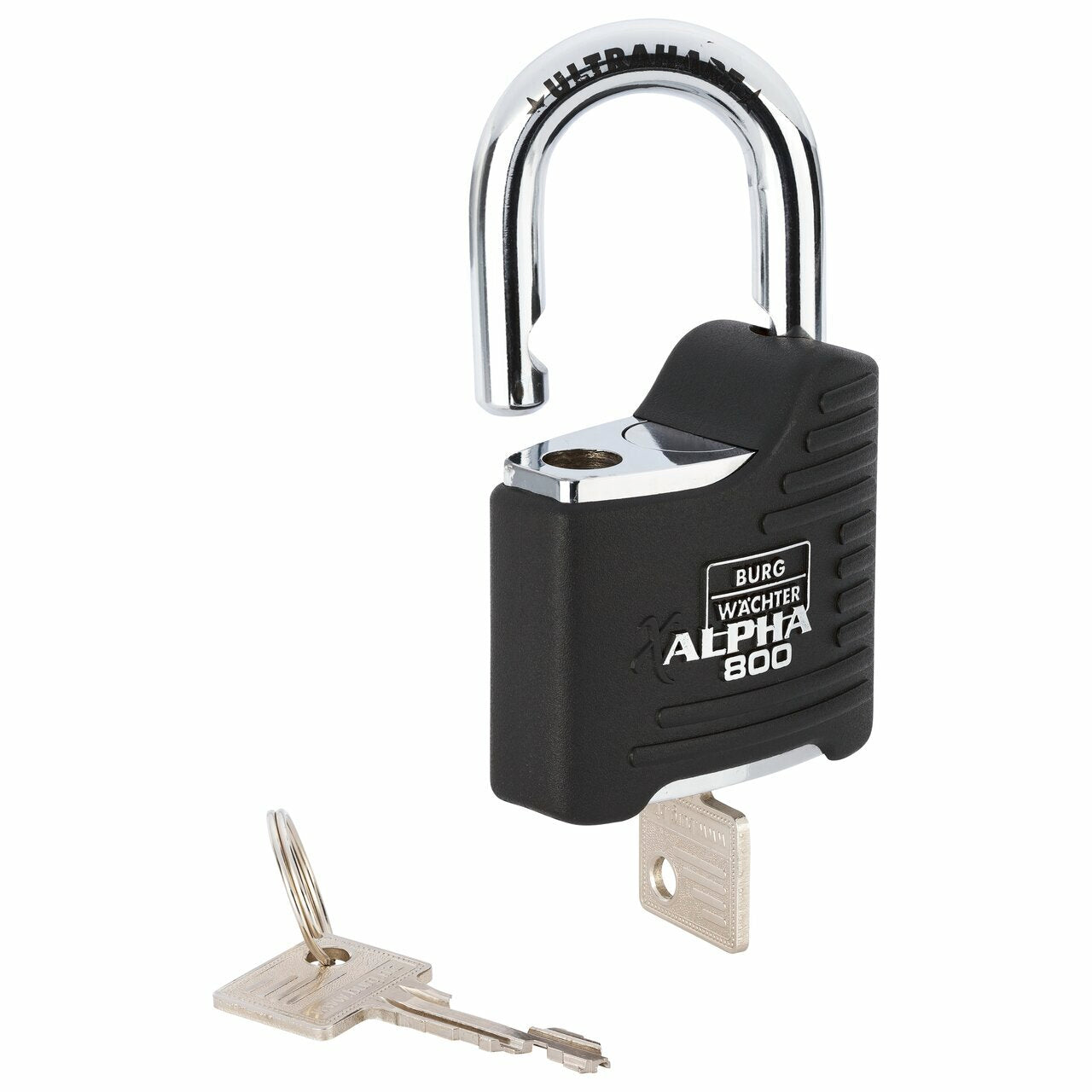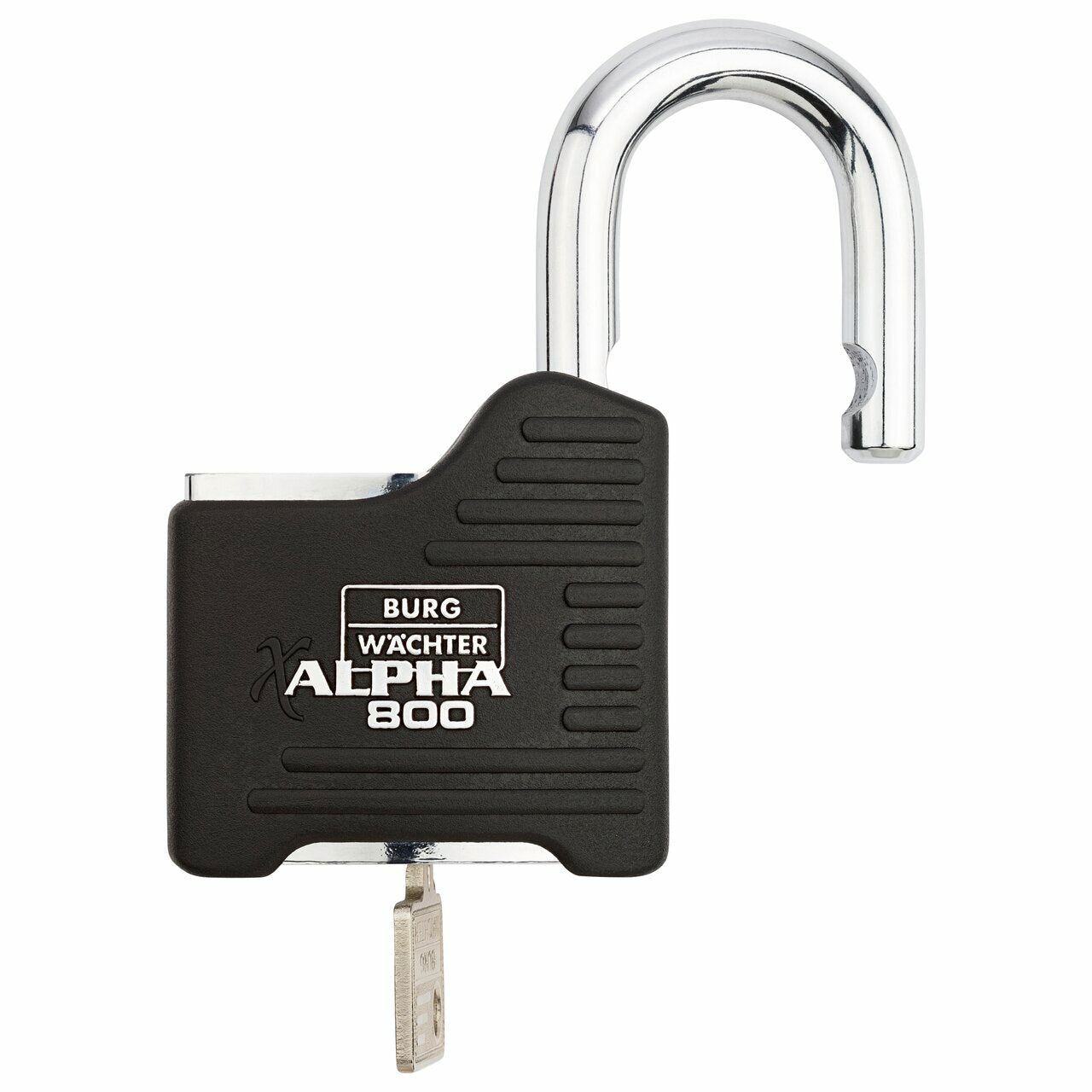 Lock & bolt padlocks | Alpha 800/65
800 65
The high-performance 800 Alpha padlock for high security requirements
With the padlock 800 Alpha from BURG-WÄCHTER you are always guaranteed to be on the safe side.The housing of the lock is hard as steel and additionally chrome-plated. Accordingly, it offers an extremely high level of bolt-cutting protection and all-round protection against drilling.The plastic casing ensures a firm grip and a pleasant feel.The shackle is made of MnCr steel, which makes it ultra-hard and extremely strongly protected by a double ball lock.The construction of the 800 Alpha withstands several tons of pull-out force.The high-tech locking mechanism is secured against extraction at all times.More than 300,000 different lockings are possible with this high-security lock.Info: Duplicate keys can only be ordered for this lock on presentation of the key card supplied.This must be presented to the respective dealer.
• several tons breaking strength
• high-tech cylinder
• more than 300,000 key differs
• cylinder protected
against extraction
• protected against opening by bolt cut-
ting and drilling (all-round protection)
• chrome plated hardened steel body
• protective plastic cover
• MnCr steel shackle with specially hard-
ened double ball bearing locking
Location (indoor/outdoor)
n.a.
Product outer width
64,20 mm
Product outer height
88,00 mm
Product outer depth
30,70 mm
Verpackungseinheit
1.00 Stk
Shackle height (inside)
26,00 mm
Shackle thickness
11,00 mm
Shackle width (inside)
28,00 mm
Rustproof interior
yes
Saltwater proof, rustproof
no
Main material
Steel
Incl. fixing material
no
Packaging width mm
70,00 mm
Packaging depth mm
35,00 mm
Type of packaging (carton, blister)
colour carton
Properties | Recommendations for use
Qualitätsmerkmale BURG-WÄCHTER Vorhängeschlösser
Seit mehr als 100 Jahre produziert BURG-WÄCHTER Vorhängeschlösser für unterschiedlichste Einsatzzwecke. Allen gemeinsam ist die hohe Qualität. Trotzdem unterscheiden sich die Vorhängeschlösser je nach Einsatzzweck in ihren Eigenschaften. Zu Kennzeichnung und besseren Orientierung haben wie Eigenschaften und Einsatzzwecke durch Symbole an den Produkten gekennzeichnet. 
Erklärung Eigenschaften-Symbole
"Hardened" steht für alle Schlösser mit gehärtetem Bügel, unabhängig vom Durchmesser

Doppelt verriegelter Bügel: für mehr Sicherheit gegen gewaltsames Öffnen
Schlösser mit besonders hohem Aufreißwiderstand sind Alpha, Gamma, Diamant, Quadra und Diskus
"Hardened" steht für alle Schlösser mit gehärtetem Bügel, unabhängig vom Durchmesser
Kneifschutz: Schlösser mit stärker gehärtetem Bügel und
Modelle mit verstecktem Bügel, z. B. Quadra, Diskus
Rostfreies Präzisions-Schließwerk: für lange und sichere
Funktion
Total rostfrei! Die Modelle Atlantic, Diskus Ni, 116 Ni, 116
PC 50 Ni und 460 Yacht sind absolut seewasserfest
Mit praktischem Wendeschlüssel, den finden Sie beim Modell Boccia
Dieses Modell ist auch in gleichschließender Ausführung lieferbar
Auf Wunsch mit sechs Schlüsseln pro Schloss lieferbar
Kombination verstellbar
Temple thickness
Bügelweite
Bügelhöhe
Gesamthöhe
Rohling-Nummer