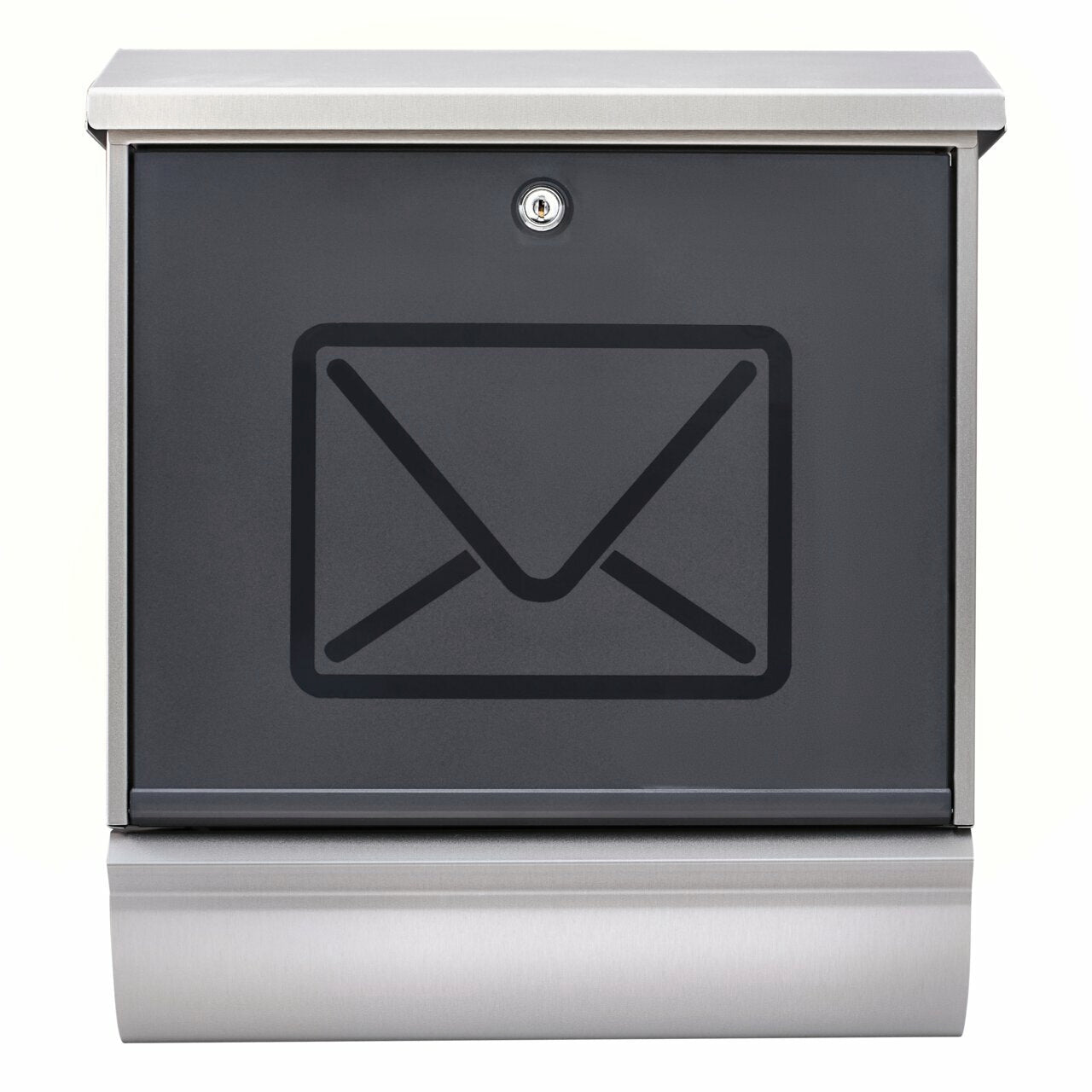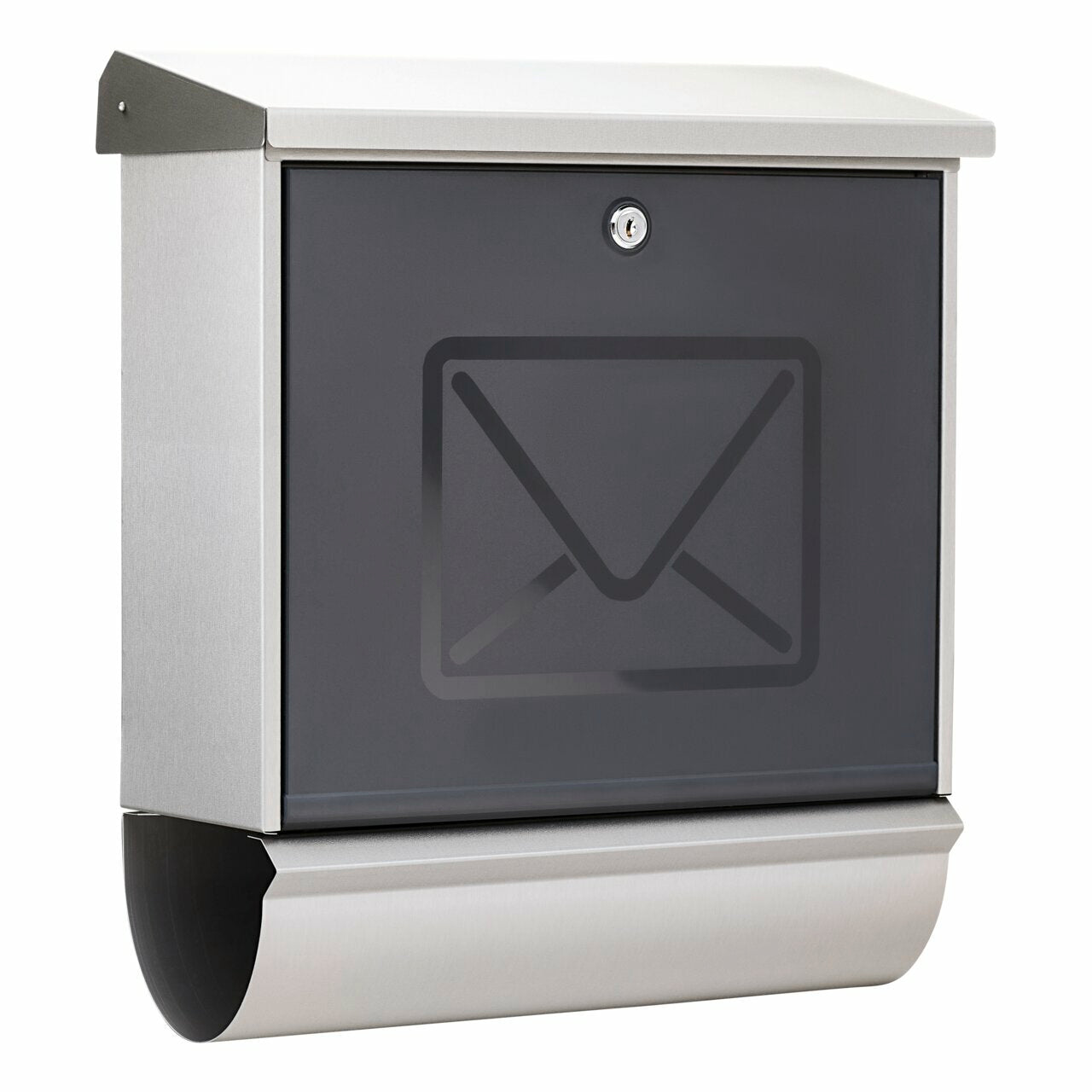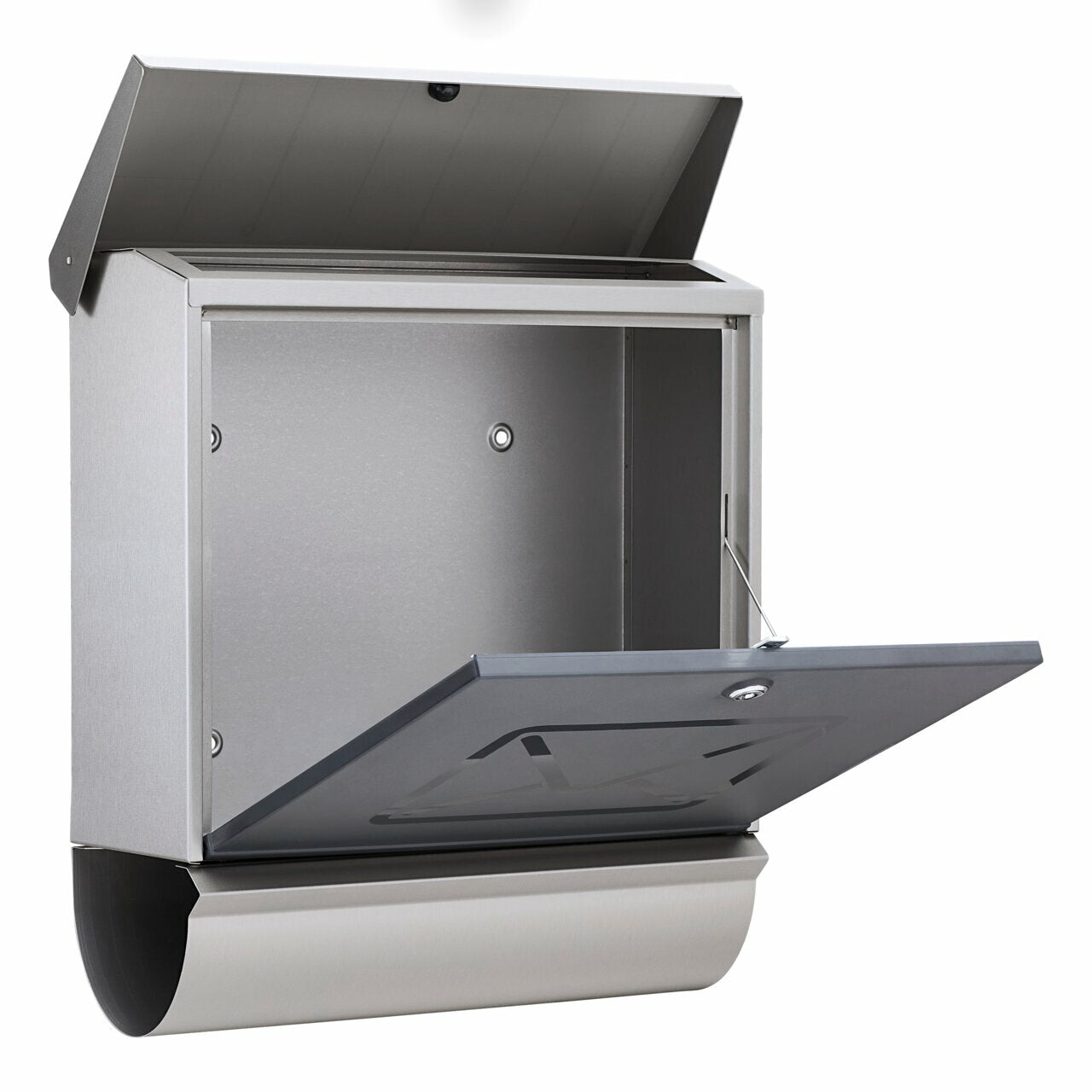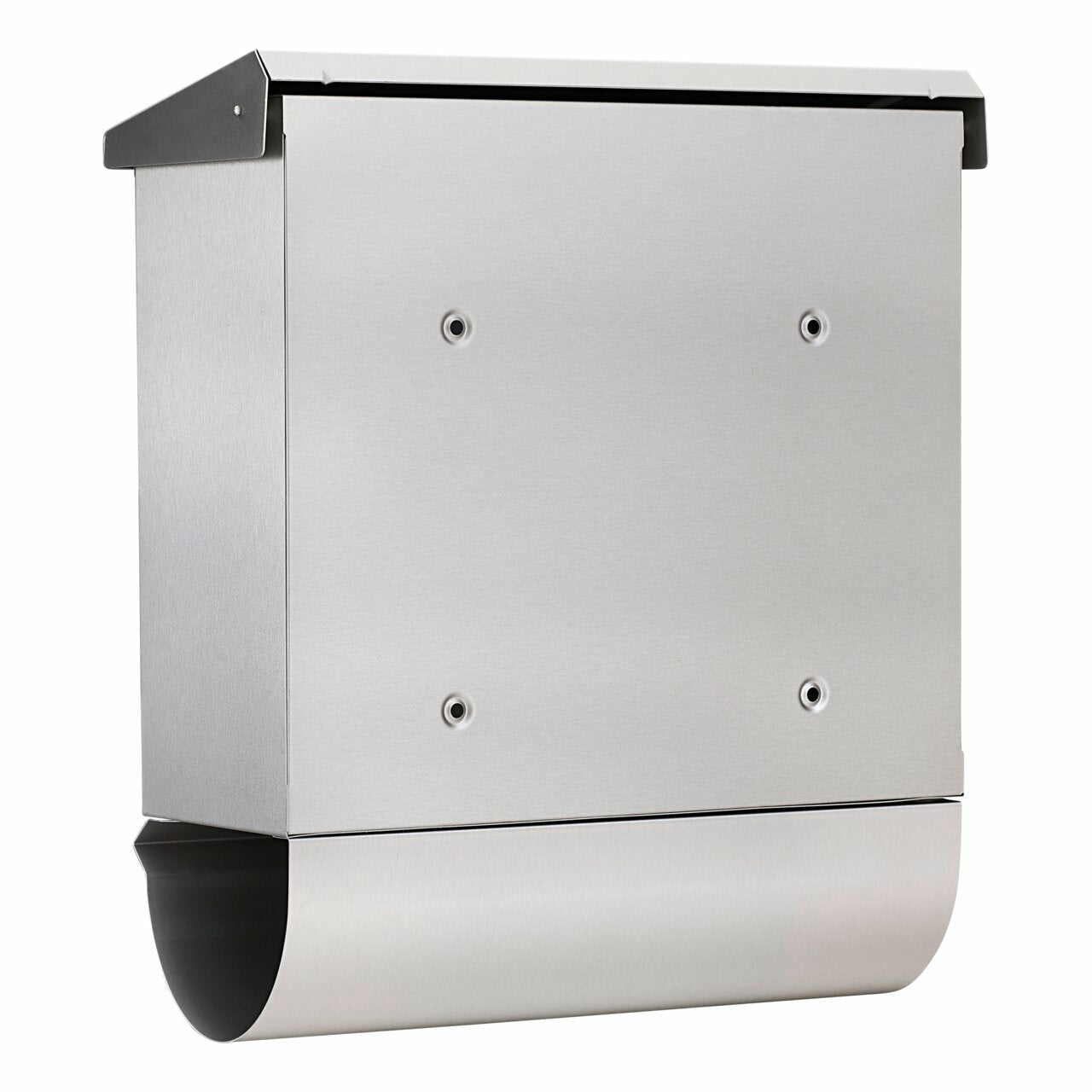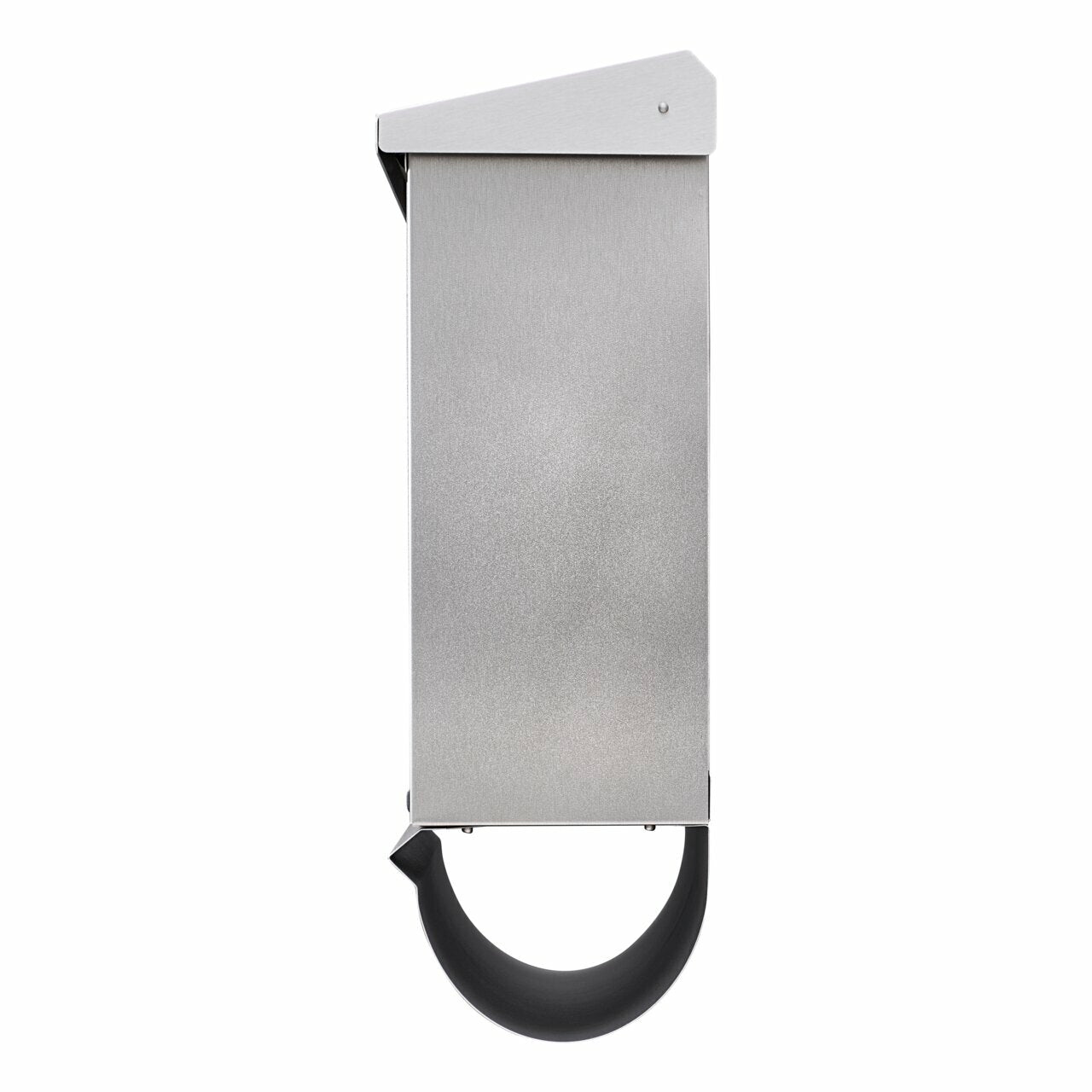 Mailboxes stainless steel mailboxes | Lucca set 37130 NI Letter
Lucca-Set 37130 NI Letter
Colour:
Stainless steel with transparent protective coating
Lucca letterbox with translucent door and chrome-plated precision lock.
The special feature of this stainless steel letterbox is the translucent, anthracite-coloured door made of satin-finish, high-quality plastic. Here you can see whether there is mail for you in the letterbox before you actually open it.
As a set with a practical newspaper box
The Lucca letterbox set comes with an additional newspaper box. It is sturdily mounted underneath the letterbox. This allows you to conveniently receive mail and newspapers together in one place.
See directly whether mail has arrived
With the Lucca letterbox, annoying checking is a thing of the past: From now on, you can see whether and how much mail is hidden inside before you even open the letterbox door. A more than practical solution! The large volume and the opening stop of the door provide even more comfort when removing the mail. Your mail is kept safe and secure throughout with the extra chrome-plated lock.
Anthracite meets stainless steel
The insertion is also particularly convenient with the DIN C4 format slot, which also allows for the delivery of larger envelopes. Furthermore, the design is convincing: the anthracite-coloured plastic door harmonises perfectly with the noble stainless steel body. The simple letter motif on the door is an additional eye-catcher. Of course, the Lucca stainless steel letterbox complies with the European standard EN 13724.
High-quality stainless steel with protective seal
The body of the Lucca is made of stainless steel. The transparent lacquering protects against scratches and ensures a pleasant feel. Furthermore, this model is weatherproof, insensitive and extremely durable. You can enjoy this letterbox for a long time to come. Cleaning is very easy: simply wipe regularly with a damp, clean cloth.
Installation tip for the Lucca letterbox
The Lucca should not be exposed to permanent, direct weathering. BURG-WÄCHTER recommends: Mount it on the house wall in a weather-protected area using the enclosed mounting material or place it freely in a location of your choice using a suitable letterbox stand. 
• Body of stainless steel, sealed with transparent protective lacquer
• Door made of satinised, translucent plastic
• Made in Germany
• Very high corrosion resistance
• Anti-theft and anti-break-in protection
• With opening stop
• Comfortable depth ensures large capacity
• Supplied with two keys
• Tested according to EN 13724
• With integrated newspaper box
• Slot format DIN C4
 
Location (indoor/outdoor)
n.a.
Product outer width
380,00 mm
Product outer height
440,00 mm
Product outer depth
148,00 mm
Verpackungseinheit
1.00 Stk
Weight
3,137 kg
Main material
Stainless steel
Colour reference
Edelstahl mit transparentem Schutzlack
Insertion height mm
32,00 mm
Insertion width mm
332,00 mm
Opening stop
yes
Portrait/landscape format
Horizontal format
With name window
no
Burglary protection
1*
EN 13725
yes
Translation missing: en.technical_info_table.products.korrosionsbeständigkeit
high corrosion resistance
With newspaper compartment
yes
Insertion format (DIN...)
C4
Packaging width mm
390,00 mm
Packaging depth mm
150,00 mm
Type of packaging (carton, blister)
4-colour carton with window
Type of fixing material
Niro-Schraube 4,5x45 Liko DIN 7995 A2; ; Dübel 6-er aus Nylon; ; Abstandhalter 20 x 4 x 13 mm; ; ; ; ; ; ;
Matching key blank
40 RW40 LW