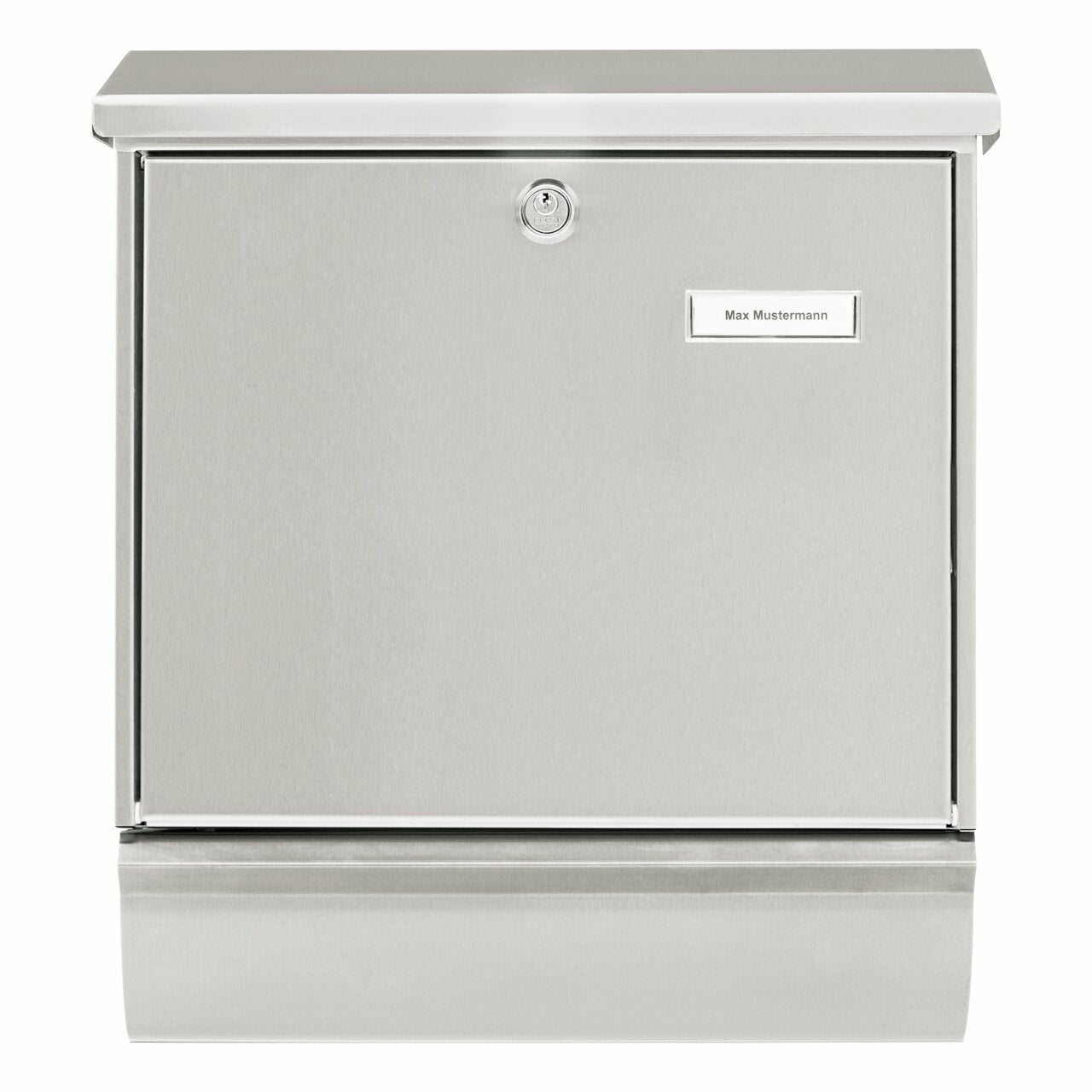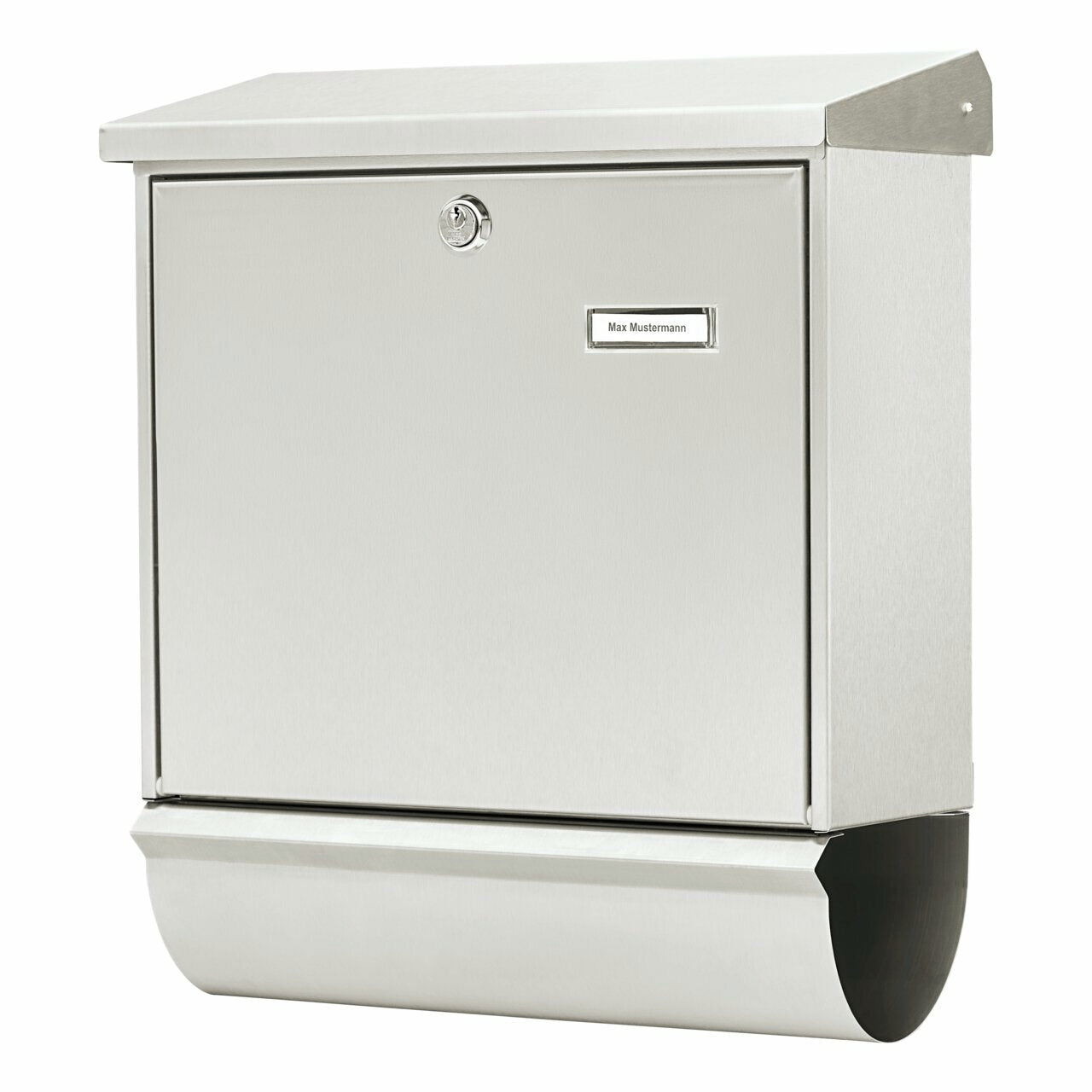 Mail Boxes Stainless Steel Letter Boxes | Comfort Set 39130 NI
Comfort-Set 39130 NI
Stainless steel letterbox Comfort Set with newspaper box
Here the name says it all: Because the Comfort letterbox offers timeless design paired with a simple look. For all those who are looking for a pleasant and convenient alternative to a standard letterbox. The Comfort letterbox comes as a set with a practical newspaper box at the bottom. This gives you easy access to your newspapers and magazines at any time.
Clear design, comfort depth
The Comfort letterbox with comfort depth not only offers a lot of volume for mail and other deliveries, but also enables particularly convenient removal of mail. In addition, the door's opening stop makes removal even easier.To ensure that all items reach you reliably, the insertion slot has a DIN C4 format. This means that even larger envelopes can be inserted without any problems. Of course, this letterbox from BURG-WÄCHTER also complies with the European Standard (EN) 13724.
Comfort letterbox made of high-quality stainless steel
Letterboxes made of stainless steel are rust-proof, very weather-resistant and durable. With the right care, you will enjoy the Comfort Ni for a long time to come. Simply clean your stainless steel letterbox regularly with a damp, clean cloth - that's all! 
Installation tip
The letterbox should not be exposed to permanent, direct weathering. BURG-WÄCHTER therefore recommends mounting the Comfort letterbox in a weather-protected area using the enclosed fixing material. With a matching letterbox stand, for example a round arch stand made of stainless steel, you can place the letterbox in a free-standing position of your choice. This shows off the Comfort even better.  
• High-quality workmanship made of natural, hand-wiped stainless steel (rustproof)
• Made in Germany
• Very high corrosion resistance
• Increased protection against theft and break-ins
• With opening stop
• Comfortable depth ensures large capacity
• Supplied with two keys
• Tested according to standard EN 13724
• With integrated newspaper box 
• Slot format DIN C4
 
Location (indoor/outdoor)
n.a.
Product outer width
380,00 mm
Product outer height
440,00 mm
Product outer depth
148,00 mm
Verpackungseinheit
1.00 Stk
Main material
Stainless steel
Colour reference
Edelstahl
Insertion height mm
32,00 mm
Insertion width mm
332,00 mm
Opening stop
yes
Portrait/landscape format
Horizontal format
With name window
yes
Burglary protection
2*
EN 13725
yes
Translation missing: en.technical_info_table.products.korrosionsbeständigkeit
high corrosion resistance
With newspaper compartment
yes
Insertion format (DIN...)
C4
Packaging width mm
390,00 mm
Packaging depth mm
150,00 mm
Type of packaging (carton, blister)
4-colour carton with window
Type of fixing material
Niro-Schraube 4,5x45 Liko DIN 7995 A2; ; Dübel 6-er aus Nylon; ; Abstandhalter 20 x 4 x 13 mm; ; ; ; ; ; ;
Matching key blank
65 R