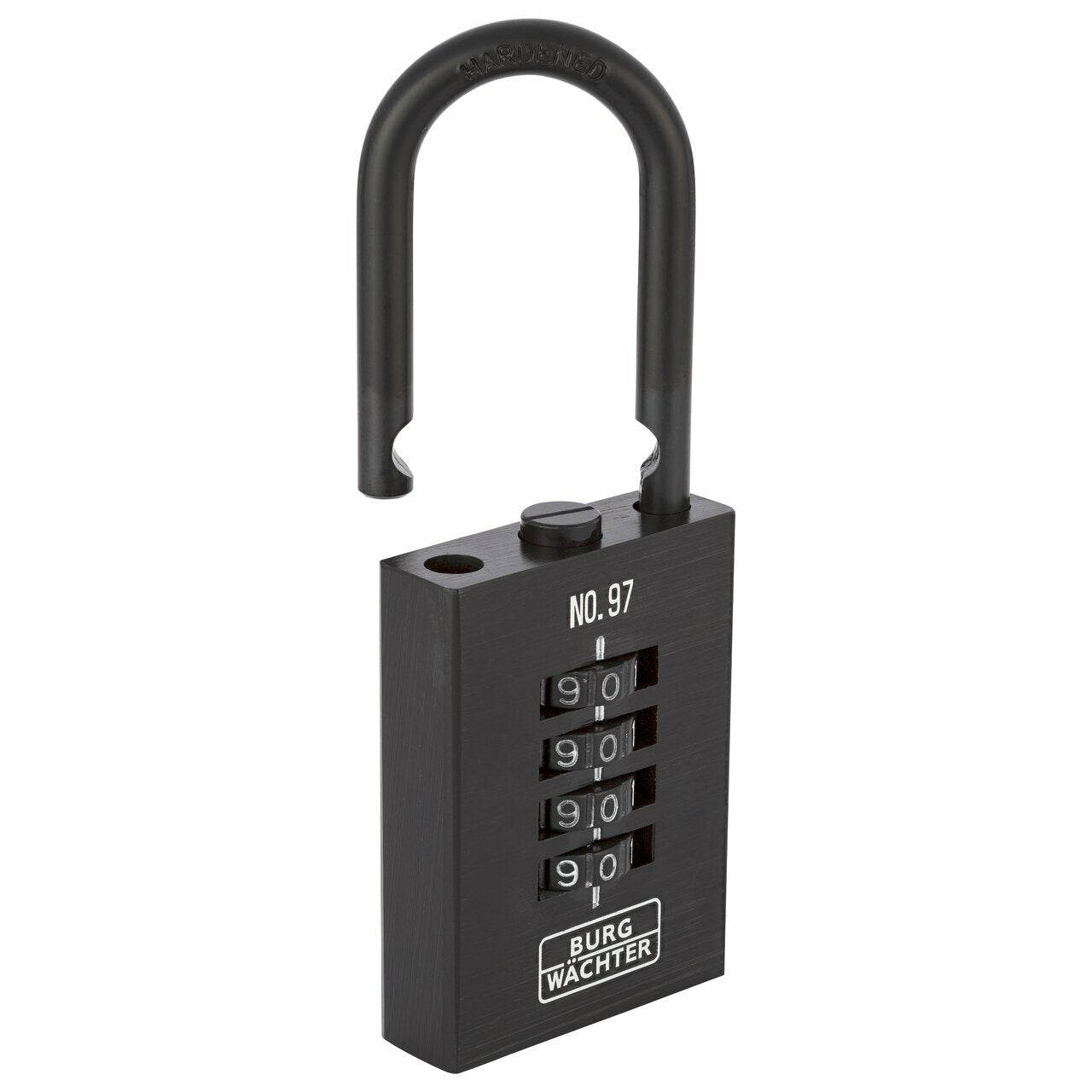 Schloss & Riegel-Vorhängeschlösser | Numero 97 50
Numero 97 50 SB
Quantity: (per packaging unit):
pc
Numero 97 combination lock - solid padlock in two sizes.
Heavy cast iron quality, classic design: with the Numero 97 padlock you can conveniently secure your property. And all without a key. The Numero 97 combination lock can be opened and closed using a four-digit combination. Of course, you determine the number code yourself and can change it at any time with a few simple steps. As a security feature, you have to push the locking pin in the lock body up or down when opening and closing. Only then can the lock shackle be moved.The Numero 97 is provided with a high-quality corrosion protection for use in wind and weather in outdoor areas. Of course, it can also be used indoors for a wide variety of applications. The shackle and parts of the locking mechanism are hardened. Furthermore, the shackle of the robust padlock offers great resistance to tearing. Thus, the Numero 97 combination lock ensures a high level of protection against attempts to break it open. In addition, the padlock fits comfortably in the hand thanks to its straight shape.
Four smooth-running and robust combination rollers
The padlock 97 is available in two sizes: On the one hand the smaller model with a body width of 40 millimetres and a shackle height of 32 millimetres. Then there is the larger version (body width: 50 mm) with a shackle height of 34 millimetres. Both padlocks are characterised by robust yet smooth-running number rollers. This means you will enjoy Numero 97 for a long time.The padlock is suitable for a wide range of applications. You can use the combination lock to lock your summer house, gates or cellar rooms. Of course, you can also secure garden furniture or tools in combination with a spiral cable.
• high quality corrosion protection
• shackle and locking mechanism hardened
• solid, heavy cast quality
• shackle extremly resistant to pull-attack
• four combination dials
Location (indoor/outdoor)
n.a.
Product outer width
47,00 mm
Product outer height
108,40 mm
Product outer depth
15,20 mm
Verpackungseinheit
5.00 Stk
Weight
0,289 kg
Shackle height (inside)
30,90 mm
Shackle thickness
8,90 mm
Shackle width (inside)
23,40 mm
Rustproof interior
no
Saltwater proof, rustproof
no
Main material
Zinc die casting
Incl. fixing material
no
Packaging width mm
133,00 mm
Packaging depth mm
23,30 mm
Type of packaging (carton, blister)
Blister
Matching key blank
OUTDATED