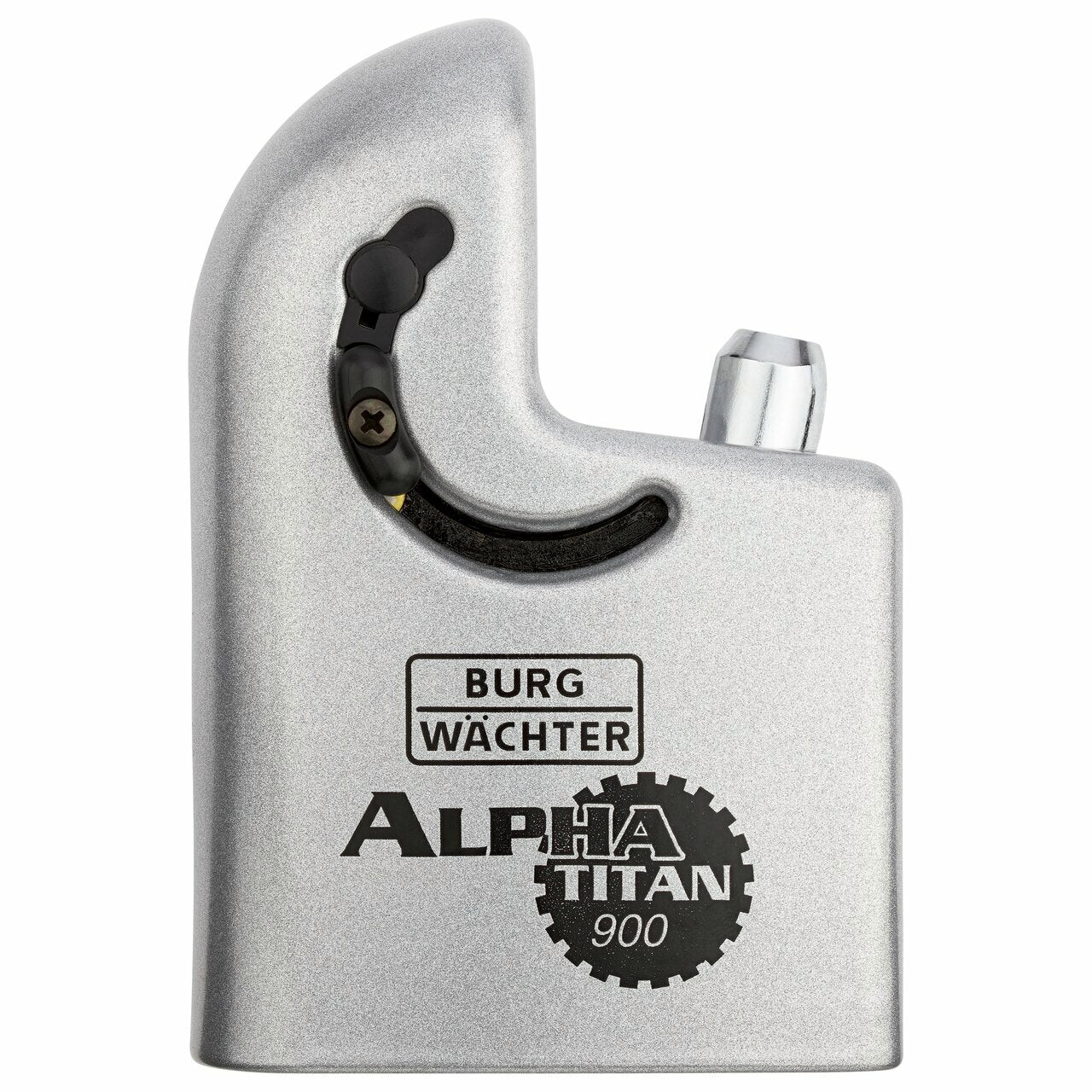 Lock & bolt padlocks | Titan 900/85
900/85 V
The high-tech security lock 900 Alpha Titan for the highest demands.
The special housing construction of the 900 Alpha Titan made of hardened and chrome-plated steel offers an extremely high level of break-in protection.The ultra-hard shackle is also optimally protected against forced opening and at the same time enables a smooth opening.
Prepared for half cylinder
Please note that this security lock is supplied without a half cylinder!Info: All profile half cylinders standardised according to EN 1303 (standard length 40 mm) with adjustable cam and all standardised Scandinavian 6-pin oval cylinders can be used in the 900 Alpha Titan lock.The installation effort here is extremely low and the conversion is carried out without modifying the respective locking cylinder.The insertable locking mechanism is always protected against drilling and corrosion.Always be on the safe side with the security lock 900 Alpha Titan from BURG-WÄCHTER!
• protected against drilling and corrosion
• easy to open shackle
• prepared for half-cylinders,
supplied without cylinder
• extreme high protection against cutting
and drilling due to a special body
construction
• hardened steel body
• ultra-hardened chrome plated shackle
Location (indoor/outdoor)
n.a.
Product outer width
83,50 mm
Product outer height
123,50 mm
Product outer depth
40,10 mm
Verpackungseinheit
1,00 Stk
Weight
1,186 kg
Shackle height (inside)
24,50 mm
Shackle thickness
14,00 mm
Shackle width (inside)
19,00 mm
Rustproof interior
no
Saltwater proof, rustproof
no
Main material
Steel
Incl. fixing material
no
Packaging width mm
94,00 mm
Packaging depth mm
44,00 mm
Type of packaging (carton, blister)
colour carton
Matching key blank
OUTDATED